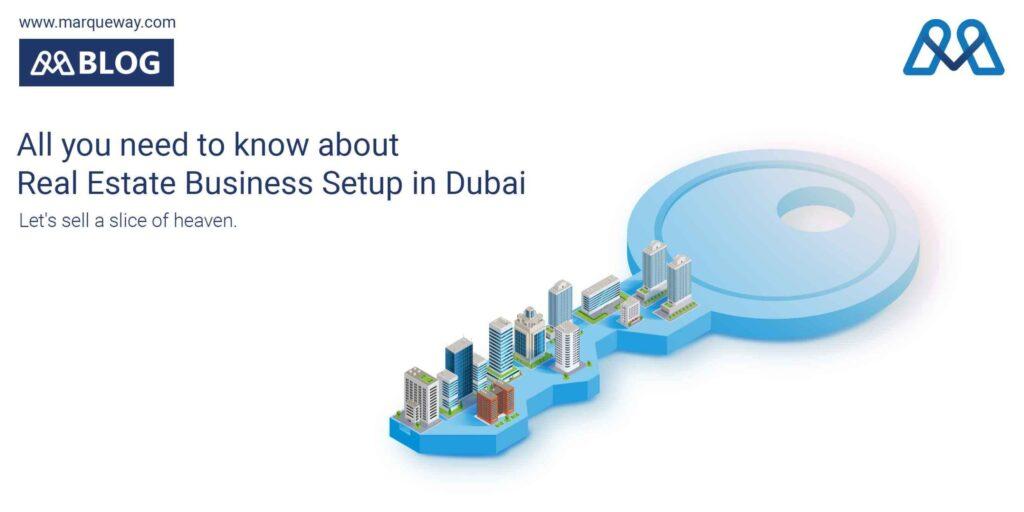 Dubai Market is a dynamic haven with plenty of room for creative company concepts and ideas. It has always given prospective company owners a place to grow into success. The real estate business setup in Dubai is no exception. People from all around the world are lured to Dubai by its developing infrastructure and services.
Real estate is a fast-expanding industry in Dubai that has drawn substantial investment from both domestic and international investors. The city is a desirable place for real estate investment because it offers a tax-free environment, a strong and diverse economy, significant demand for residential and commercial properties, world-class infrastructure, a stable political climate, and a solid regulatory framework.
Dubai's strategic location at the crossroads of Europe, Asia, and Africa has made it a global commerce and investment powerhouse. The city's solid and diverse economy, which is not primarily reliant on oil, makes it a more secure location for real estate investment. Real estate investing is a desirable choice for individuals trying to maximize their earnings due to the tax-free environment in Dubai, which benefits both international and local investors.
Due to the increasing demand for residential and commercial properties, Dubai is a well-liked travel and expat destination. Because of the increased demand, property values have risen, making real estate a profitable investment option. The city provides top-notch infrastructure, which is necessary for drawing businesses and foreign investment. A sophisticated healthcare system, enhanced telecommunications networks, and first-rate transportation networks are all part of this infrastructure.
The Dubai government has prioritized the creation of a business-friendly environment, which has assisted in garnering investment and fostering economic growth. For real estate investors seeking long-term security and stability, the city's stable political climate is essential. Dubai also has a robust regulatory structure that safeguards both domestic and foreign investors, with clear guidelines governing real estate deals that serve to reduce the risk.
Dubai's real estate market, in general, provides investors with a number of benefits, including a tax-free environment, a strong and diversified economy, high property demand, world-class infrastructure, a stable political climate, and a solid regulatory framework. These aspects have aided in the expansion of the city's real estate industry and make it a desirable place for real estate investment.
Setting up a real estate business in Dubai requires careful planning and a thorough understanding of the local market and regulations.
Here are some steps you can follow to set up a successful real estate business in Dubai:
1. Determine your niche
Dubai's real estate market is diversified, so it's important to decide which sector, such as residential, commercial, or luxury properties, you want to concentrate on. Your marketing efforts will be more targeted and successful if you have a defined focus.
2. Familiarize yourself with the local market
To comprehend the most recent trends, demand, and supply, conduct market research in your area. You'll be better able to make judgements and spot development possibilities as a result of this.
3. Obtain a license
The Dubai Land Department in Dubai issues licenses to real estate companies. Acquiring a license entails a number of processes, including registering with the Dubai Real Estate Regulatory Agency and obtaining a trading license. To make the procedure simpler, it is preferable to hire business setup consultants in Dubai.
4. Secure funding
It might be expensive to start a real estate business in Dubai, therefore you might need to find capital from a bank or another financial institution. Before requesting funds, make sure you have a solid business strategy and a thorough grasp of your finances.
5. Hire a team
Your company's success depends on assembling a solid team of real estate brokers, property managers, and other specialists. Think about selecting seasoned professionals that are informed of the neighborhood market.
6. Develop a marketing strategy
For the purpose of acquiring customers and creating revenue, a strong marketing plan is essential. To reach your target demographic, think about utilizing internet marketing, networking opportunities, and other marketing platforms.
7. Build relationships
Building excellent relationships with clients and industry leaders is critical to the success of your corporation. To develop your company in the neighborhood, think about participating in events, networking, and forming alliances.
8. Stay informed
Dubai's real estate market is constantly evolving, so it's important to remain up to date on new laws and market trends. To keep current with the business and continue learning, think about going to conferences and seminars.
9. Comply with regulations
To avoid penalties and fines, it's crucial to abide by all laws and regulations set out by Dubai's stringent real estate legislation. Be careful to comprehend the rules and confirm that your company is conducting itself legally.
10. Provide excellent customer service
Having a satisfied customer base is essential for attracting new customers and recurring business. Make sure you respect your clients, respond to their needs, and offer them useful advice as the process progresses.
It takes meticulous preparation and a full grasp of the local market and laws to launch a real estate company in Dubai. You may create a prosperous company and position yourself as a major participant in the Dubai real estate industry by adhering to these procedures.
For aspirants, the real estate industry in Dubai has consistently been one of the most lucrative. This company setup in Dubai has consistently experienced development throughout the years. We have spoken about the procedures to follow before starting a real estate firm in Dubai. By working with company setup consultants in Dubai, the difficulties of this journey might be reduced.
Let's check how Marqueway could guide you in grabbing a real estate license in Dubai:
Advising on the legal requirements
You may get the relevant details on the legal requirements for acquiring a real estate business license in Dubai from consultants. Marqueway can help you through it and make sure you satisfy all the requirements for getting a license.
Consultants may help you complete and submit the required documentation, such as the application form, business plan, and supplementary materials. Additionally, we may assist you in obtaining the required licenses and permissions from various government agencies.
Liaising with government agencies
The Department of Economic Development (DED), the Dubai Land Department (DLD), and other pertinent departments are just a few of the government organizations that consultants can interact with on your behalf. Professionals can follow up with the organizations to make sure the application process is proceeding without any hiccups.
Helping with company formation
By guiding you in choosing the best business structure, registering the company with the DED, and acquiring the required permits and licenses, consultants can help you establish your real estate agency in Dubai.
To administer your Dubai real estate company and adhere to all legal obligations, consultants may offer continuing assistance and guidance.
This was an elaborative blog on the real estate business setup in Dubai. If there are any further queries, contact Marqueway and have them corrected.