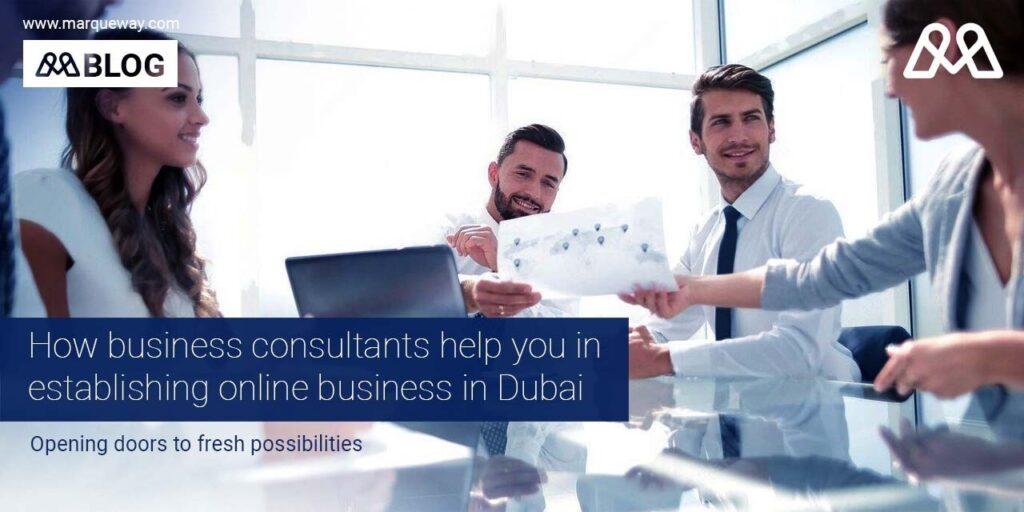 Following the COVID scenario, digital enterprises all around the world have seen tremendous growth. Business is migrating online, and even physical stores are launching online ventures to expand their markets. The future of the business is digital, and Dubai has become the gateway to the global market and new prospects. The world is currently moving towards stress-free buying and services. People want everything delivered to their doorstep. This is the ideal first step toward an internet company, particularly in Dubai. To establish an Internet business, you may obtain all the assistance you need from business setup companies in Dubai.
Marqueway is prepared and trained to assist you in starting an online company. We will talk about how to start the business and then how we can help you along the way.
An online business setup should get started by submitting an application for a commercial license in Dubai, just like a traditional business would. You could only offer products or services to clients if you owned a license. There are a few procedures to follow in order to launch an Internet business in Dubai. Let's start with a list of those steps.
Choose the type of company you are going to start.
Having a Physical store or address in Dubai
Company Registration place
Registering the name of the company.
License approval
Having a bank account
1. Choose the type of company you are going to start.
In Dubai, there are multiple options for starting an E-Commerce business. A limited liability company, which might be a branch of a foreign parent firm, a representative office, or a variety of other choices, is indeed a possibility. Many businesses from across the world want to establish a branch in Dubai, which opens up a plethora of possibilities. Having a thorough understanding of the type of enterprise you want to establish can help you develop an advanced plan. In Dubai, there is a significant amount of space for online business startups.
2. Having a Physical store or address in Dubai
To begin an Internet business in Dubai, you must establish a corporate address, which is mandatory. It is apparent that Internet businesses, unlike traditional retailers, do not necessarily require a physical location. However, the norms must be rigorously followed in order for the firm to emerge efficiently. There are numerous free zones in Dubai where you should execute your pursuits and register for the procedures to launch an online business setup in Dubai. Business setup companies in Dubai could be of immense help in locating the best and most profitable location for your business.
3. Company Registration Areas.
To obtain a license, you must first select a commercial area. A free zone might be an option for registering your business. You can also set up shop outside the free zone. Prior to choosing a registration location, cost should be the first consideration. Online enterprises may not necessarily necessitate a large amount of space to function. As a result, before validating the location, you should undertake a comprehensive investigation.
While registering your business in free zone you will need to work through a local distributor, a mainland license provides the flexibility to trade or sell your goods and services to the local market directly.
In addition, Dubai has more than 30 free zones. And each one allows for total foreign ownership as well as international trade.
4. Register the name of the company.
For Company Formation in Dubai, registering the name of the company is a vital step. A product's /service's identity is represented by its name. As a result, it should be tightly tied to the business and its concept. In addition, the words "PLC" or "LLC" should be added to the company's name. Before choosing a name, you need to be aware of various rules and guidelines. Your company name should not offend any religious or cultural views.
5. License approval
Also, bear in mind that mainland businesses must submit a licensing application to the DED. Firms in free zones, on the other hand, can seek their own authority. Furthermore, if extra government licenses are required after receiving a business license, you must obtain them. Once your application has been approved, the government will issue you a company license. From the date of application, it will take around seven days for the business license to be sanctioned.
6. Having bank account
Every firm established in Dubai must have a local bank account for all transactions. Local banks provide distinct incentives when opening an account. You cannot use your personal Bank account while conducting business. This might help you to have a precise understanding of corporate activity and economic statistics.
The methods listed above are the intrinsic procedures for starting an internet company in Dubai. However, you might engage business setup companies in Dubai to assist you with all of this. Marqueway is one of the most well-known business consultants in the UAE.
How business setup companies in Dubai help in completing the procedures.
Business advisors must be of significant assistance in establishing an E-Commerce business in Dubai. All procedures will be managed by skilled business specialists who will undertake the process without errors and in a quick and efficient time frame. In order to establish a firm, considerable research is required. Based on the actions of your online business, business setup consultants present the greatest suggestions for the enterprise's path of development.
We previously discussed how an affordable site is required to launch an Internet business in Dubai. Business setup companies in Dubai can assist you in selecting the best location for your needs. A foreigner may be unfamiliar with Dubai's locales or the UAE as a whole. Thus, business setup companies in Dubai may be of great assistance in locating that.
There are several prospects ripening in the Internet business world. Innovative Internet company ideas will almost certainly be successful. There are three sorts of online businesses: online portals or e-markets, e-commerce, and commercial or service licenses. Following the selection of the right business type, business setup companies in Dubai will carry out the necessary tasks. Business setup companies in Dubai guarantee success strategies, paperwork, innovative ideas, business counsel, and comprehensive assistance.
The possibilities in the realm of online business are unfathomable. Here are a few advantages that an entrepreneur in Dubai has when conducting internet business.
It is easy to set up a business in Dubai
Tax implications
Economical
Vast options in office selection
Zero import/export duties.
Multiple Visas
Business setup companies in Dubai are always developing new tactics and working methods to expand your company's potential. You should not overlook the extensive variety of advantages that are associated with establishing an online business. In the corporate world of Dubai, affiliates and independent enterprises are enthusiastically welcomed. Even if you are a seasoned entrepreneur, it is understandable that you have concerns about the procedures and working methods of Internet firms. If you are keen to join the online business setup, please contact us. Marqueway is one of the most prestigious business companies in Dubai. Come begin with us.