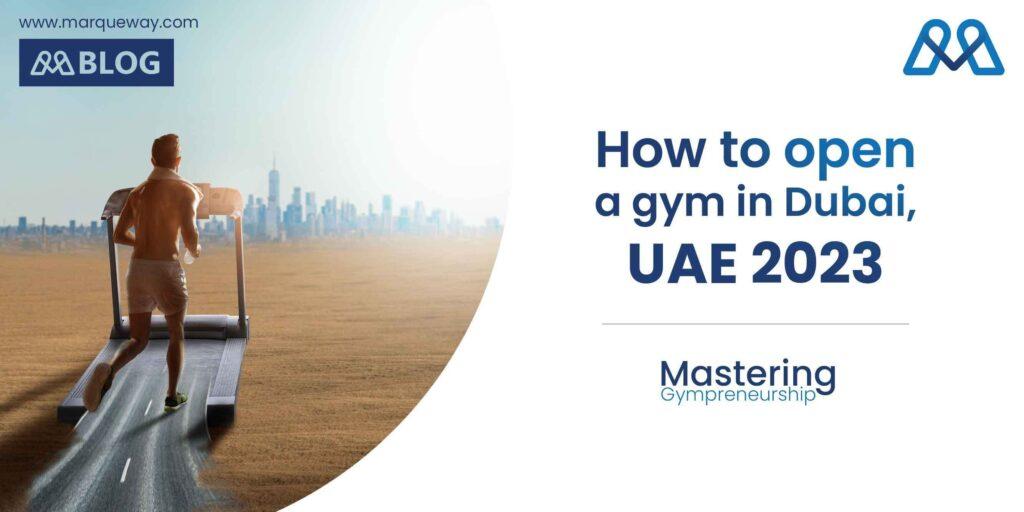 Welcome to the land of glitz, glamour, and gains! Dubai, the jewel of the Middle East, is not just a city of dreams but a city of fitness freaks too. From its picturesque beaches to its bustling malls, Dubai has a fitness culture like no other. If you've been dreaming of setting up a gym in this dynamic city, then you're in the right place.
Whether you're a seasoned fitness entrepreneur or a newcomer to the industry, this blog will take you on a journey from ideation to realization.
We'll share the secrets of Dubai's fitness industry, guide you through the maze of regulations and licenses, and help you find the perfect location, equipment, and staff. So, get ready to sweat it out, and let's embark on the adventure of setting up a gym in one of the world's most vibrant cities!
Setting up a business in Dubai, especially a gym may seem like a challenging endeavor, but it's an investment that can pay off handsomely. According to recent studies, the fitness industry in the UAE is expected to grow at a CAGR of 5.5% between 2020-2025, driven by rising demand for fitness and wellness services.
Furthermore, the pandemic has accelerated the adoption of home fitness and digital fitness solutions, making it a ripe time to enter the market. With an increasingly health-conscious population, Dubai presents a unique opportunity for fitness entrepreneurs to tap into a growing market and make a positive impact on people's lives. But before we delve into the nitty-gritty of setting up a gym, let's first understand the market dynamics and trends in the UAE fitness industry.
Requirements For Opening A Gym In Dubai
Are you planning to set up a gym in Dubai? Congratulations on taking the first step toward a lucrative business venture! To ensure a smooth business setup in Dubai, you need to meet certain requirements. Here are the essential requirements for opening a gym in Dubai, along with a brief description of each one:
1. Business License
To legally operate a gym in Dubai, you need to obtain a business license from the Department of Economic Development (DED). This license allows you to conduct your gym activities and comply with the rules and regulations of the UAE.
2. Dubai Sports Council (DSC) Registration
The Dubai Sports Council regulates sports and fitness activities in Dubai. All gyms must register with the DSC and comply with their guidelines to operate legally in the city.
3. Minimum Space Requirements
The DSC mandates that mixed-gender gyms must have a minimum space of 150 sqm, while ladies-only gyms must have at least 75 sqm of space. This ensures that your gym has sufficient space for equipment and customers.
4. Changing Rooms and Shower Facilities
Your gym must have appropriate changing rooms, shower facilities, and lockers for your customers. This is crucial for maintaining hygiene standards and providing convenience to your customers.
5. Health and Safety Approvals
To ensure the safety of your customers, you must obtain necessary health and safety approvals from the Dubai Municipality. This includes fire safety certificates, sanitation approvals, and other permits.
6. Compliance with UAE Labor Law
As an employer, you must comply with the UAE Labor Law and provide work visas to your staff. This includes providing medical insurance for your employees.
By meeting these requirements, you can ensure a hassle-free company formation in Dubai and operate your gym legally and efficiently.
Process Of Starting A Gym In Dubai
Starting a gym in Dubai can be a rewarding endeavor, but it requires strategic planning and flawless execution to ensure a seamless business setup in Dubai. If you're ready to embark on this journey, here's a step-by-step guide to help you navigate the process of starting your own gym in the city.
1. Develop a Killer Business Plan
A solid business plan is essential for any successful startup. You need to determine your target market, competition, budget, and marketing strategy. A well-crafted business plan will guide you through the startup process and help you secure funding if needed.
2. Choose the Perfect Location
The location of your gym is critical to its success. You need to consider factors like accessibility, visibility, parking, and nearby competition. Make sure your commercial space meets the minimum space requirements set by the Dubai Sports Council.
3. Register Your Business
To start a gym in Dubai, you need to register your business with the Department of Economic Development (DED). You can choose from several business structures, such as a sole proprietorship, partnership, or limited liability company (LLC).
4. Obtain Necessary Licenses and Permits
To operate your gym legally, you need to obtain a gym license from the DED and register with the Dubai Sports Council. You also need to obtain health and safety approvals from the Dubai Municipality and comply with the UAE Labor Law.
5. Build a Dream Team
Hiring experienced and qualified staff is crucial to running a successful gym. Consider hiring personal trainers, receptionists, and maintenance personnel, and ensure you comply with the UAE Labor Law by providing work visas and medical insurance.
6. Equip Your Gym to Perfection
The quality of equipment and supplies you provide is essential to your gym's success. Invest in high-quality equipment like treadmills, weights, and yoga mats, and ensure they meet safety and quality standards.
7. Get Your Gym Noticed
Once your gym is up and running, you need to promote it to attract customers. Use various marketing strategies, such as social media advertising, email marketing, and local promotions, to reach your target audience.
Documents Needed To Kickstart A Gym In Dubai, UAE
Business plan
Passport copy of the business owner(s)
No-objection certificate (NOC) from the sponsor
Acquaintance form
Personal photo from the shareholder
Starting a gym in Dubai is not just a business venture, it's an opportunity to create a community that inspires and transforms lives. By following the step-by-step process we've outlined, you can lay a solid foundation for your gym and offer a unique fitness experience that caters to the diverse needs of Dubai's dynamic population. Remember, starting a gym is not just about building a facility – it's about creating a movement that empowers individuals to achieve their fitness goals and lead healthier, happier lives. With passion, determination, and a commitment to excellence, you can become a leader in Dubai's thriving fitness industry and make a positive impact on the lives of countless individuals. So, what are you waiting for? Take the first step towards your dream of starting a gym in Dubai, and let your journey to success begin! For more details, contact Marqueway!