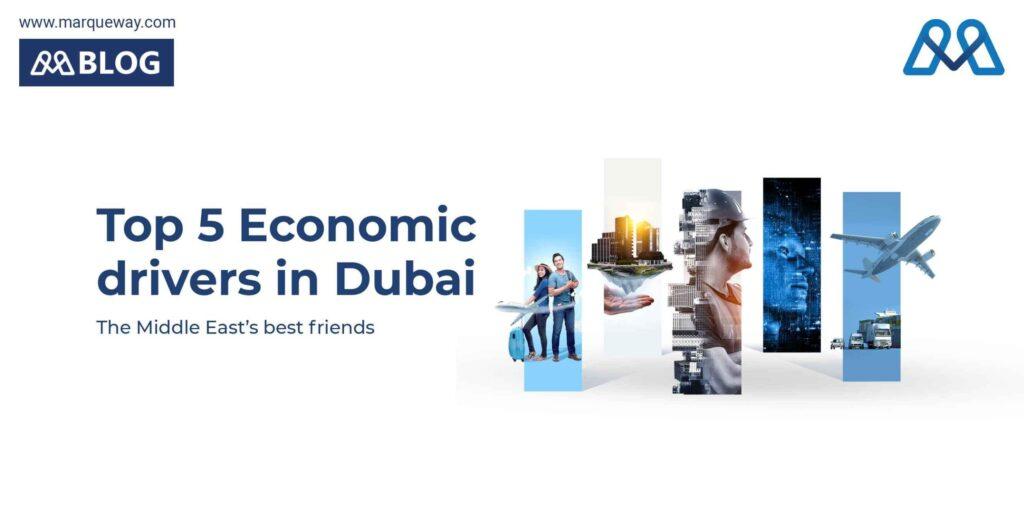 Dubai is a city that glitters like a jewel in the wide and long desert. The shimmering skyscrapers and the futuristic architecture are a testament to the limitless imagination of the natives. Dubai can never be ignored with its luxurious hotels, premium shopping malls, and other exciting entertainment options which are the top economic drivers in Dubai. This city is where traditional customs and modern innovation fuse together in a unique and fascinating way to create a wonderful spectacle.
The reason Dubai has this identity as a futuristic city is because of the various revenue streams that it has. But you could imagine how the Dubai government generates revenue without imposing any income tax on its population. The most obvious answer would be oil, but that is a wrong assumption. Dubai discovered oil just 50 years ago, and it accounts for only one percent of its earnings. The rest of the 99% consists of a variety of different sectors, and this is because of the future-centric decision-making of the government.
So Here Is The List Of Sectors That Boost The Dubai Economy The Most:
Travel and Tourism
Dubai's grandeur attracts a lot of visitors. People come in large numbers to this city for various reasons, including work, business, and pleasure. Dubai has invested in developing tourist attractions, shopping festivals, and various other activities as a gesture to attract visitors. This investment has yielded a lot of profit and aided in the development of the infrastructure. The government and the people directly benefit from the money the tourists spent on various commodities. The flow of foreign currency has helped forge a strong economy in the emirate. As of now, the travel industry is a good option for business setup in Dubai because the government is always going to support this sector.
Real Estate
Dubai is known for its robust business environment, and its attractive real estate market has been one of the key factors driving the city's growth. Dubai is a popular destination for investors and expatriates seeking business opportunities and a place to reside. This has led to a significant increase in demand for both commercial and residential real estate in the city. The real estate market in Dubai offers some of the most luxurious properties in premium locations, as well as top-quality international standard schools and other amenities. Furthermore, the increasing number of company formations in Dubai has further contributed to the growth of the real estate sector. The diverse population and businesses in the city have created a thriving real estate market, which has had a positive impact on the overall business sector of Dubai.
Construction
Dubai is a place known for all the big industrial setups and huge construction plants. The construction sector is the essence of the Dubai economy, and it is poised to keep growing. It is the foundation for generating jobs in the construction sector, which stimulates the development of other industries, thus aiding in the rise of the economy. The construction sector has played a critical role in developing Dubai's infrastructure, including roads, bridges, airports, seaports, and public transportation. The use of advanced construction techniques and sustainable materials has helped to reduce costs and increase efficiency. Thus, the construction sector has helped to facilitate business growth, attract foreign investment, and stimulate the need for more construction company formation in Dubai.
Information Technology
Dubai has emerged as a global hub for business and commerce, and information technology has played a crucial role in its growth. IT has helped Dubai achieve better communication and connectivity with other countries and businesses. Dubai's advanced telecommunications infrastructure, high-speed internet connectivity, and use of digital technologies have enabled it to connect with businesses and customers around the world easily. Digital tools and platforms such as cloud computing, automated processes, and big data analytics have enabled businesses to automate tasks, manage resources more effectively, and make better decisions. This has also created job opportunities in the IT sector as well as in sectors that use IT extensively. All these reasons come together to prove that IT has a significant role in boosting the Dubai economy.
Transportation
Dubai's transportation infrastructure is a key factor in attracting tourists to the city. The city has invested heavily in building world-class airports, including Dubai International Airport and Al Maktoum International Airport, which serve millions of passengers every year. In addition, the city's public transportation system, which includes buses, taxis, and a metro system, makes it easy for tourists to get around and explore the city. The city's ports, including Jebel Ali Port and Port Rashid, are among the busiest in the world, and they handle a significant amount of cargo each year. This all led to the economic growth of Dubai.
These are just the five sectors that lead the plethora of sectors that aid in the development of Dubai. Never can we actually pinpoint which sectors are the best in terms of providing
the most revenue input to the company. It doesn't matter which sector you choose; a business setup in Dubai will always have a cauldron of different options. Whichever you choose, Dubai will help you nurture your ambitions and provide you with results that you never thought possible. For aiding businesses, the Dubai government has a lot of schemes and projects that ex-pats can join to expand their business aspirations.
The growth of Dubai was so fast that the whole world was in wonder. Your business could also grow like that, all you have to do is choose Dubai.
Impressed?? Then just give Marqueway a call, and we can help you setup your dream business without any hiccups.