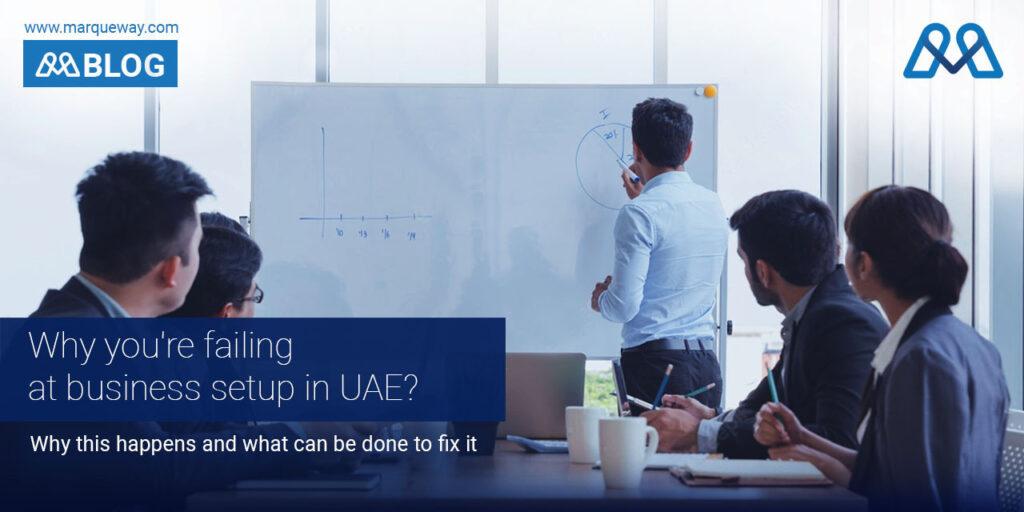 Why this happens and what can be done to fix it
Businesses searching for a centralized location for worldwide expansion now turn to the UAE as a business hub. The nation offers a variety of business options and is business-friendly with clear legislation and tax-friendly. However, the UAE presents various obstacles for newcomers, just like any other nation. The obstacles in conducting Business Setup In UAE can deter businesses from using the region as their first phase for their International Expansion.
There are various statistics on why a business fails and various scenarios of a business that cause failure at a given time period, but one thing there is almost a common reason is that about 80% of business failures happen in their first five years, according to the Entrepreneur Middle East. In the first year 20% of business fails, in the fifth year 50%, and after ten years, 70% of businesses fail. This article is for you if you're a company looking to launch or develop your Business Setup In UAE, or if you are looking to open a business in Dubai, few of the most frequent causes of business failure in Dubai are given below. Before you begin, take a look at this article since knowledge is power.
Lack of knowledge or experience
Business Entrepreneurs must learn how to handle their Finances, Legal obligations, Marketing, and other tasks in addition to providing goods or services. To earn the respect and trust of locals and stakeholders in a foreign location, they must also be familiar with the local business culture and decorum.
Selling a commodity or service that is not necessary
The fact that a company's product or service is simply not needed by the market is one of the main causes of most enterprises failing. Many business owners neglect to thoroughly interview potential clients to determine what they truly need.
Insufficient working capital
It's critical to maintain cost reality. Many business entrepreneurs overestimate the size of the market while underestimating operating expenses. Any Business Setup In UAE must grow slowly In order to succeed, thus it is wise to try to be as exact as you can when applying for a loan.
Unplanned Proliferation
The Business Setup In UAE may grow swiftly, but this can also lead to issues. If you're offering a service, you might have to keep them waiting for too long before they choose another provider. More raw materials will need to be bought if a product is being assembled and there is a high demand for it. Suppliers may also need more credit because it will take longer to get paid after delivering the product.
Careless Management
Your aim will be derailed if you get complacent. To prevent your company's demise, exercise self-control and manage your time wisely.
Credit Issues
In Dubai, it is difficult to obtain financial facilities for a startup for upto 6 months. As soon as you get over the beginning, make sure to advise your bank manager about your financial situation. Speak with them if you anticipate having a cash flow issue in the near future. It is preferable to do this as soon as possible to show that you are in charge of your company. Later, they will be allowed to set up additional overdraft facilities.
The wrong place
For retailers, eateries, and the like, accessibility, car park, visibility, and foot traffic are essential if the customer must travel there to make a purchase. Prior to choosing a venue, make sure that extensive study and planning have been done for starting a Business Setup In UAE.
Managing Operations from a different place
Even though their corporate headquarters are in another nation, many firms or business owners choose to incorporate in Dubai and run their operations from there. This strategy does not always succeed. Building trustworthy relationships with prospective clients, industry colleagues, stakeholders, and legal authorities is the foundation of doing Business Setup In UAE. To demonstrate your devotion to the members of your firm, it is crucial to be seen frequently.
Staff Problems
This is a significant roadblock for both big and small enterprises. Employees may be ineffective, obtrusive, or responsible for other issues. It's important to have a solid understanding of the methods and tools used in selecting and supervising the appropriate workforce.
Vision and Disposition
A majority of Business Setup In UAE are begun by expats. Additionally, they occasionally do not have long-term ambitions to remain in the nation. Because they have preconceived beliefs about the market, their outlook is short-term in character and dogmatic.
Employee Administration
Managing the local staff effectively in accordance with regional regulations and compliances is another difficulty of doing Business Setup In UAE. Due to the various differences in culture, language, and administrative style, managing employees can be challenging. It may appear challenging to manage payroll and tax employees in accordance with UAE law. The Wage Protection System (WPS), as well as the end-of-service gratuity payments and other perks, must also be followed by a foreign corporation.
Utilizing local talent
A foreign corporation establishing operations in the UAE would need to acquire local personnel to manage its operations. A multinational corporation must adhere to a certain set of rules that the UAE has established for this. For a small business that is unfamiliar with these rules and procedures, hiring local workers might be difficult.
Relaxed Time Management
The UAE takes a more laid-back view of time than the West, Europe, and APAC nations do. People in the UAE are more understanding and accept meeting cancellations and delays. The UAE has a distinct working week from other nations. Therefore, any foreign corporation looking to open up a company setup in Dubai would have to scale back on its demands for timeliness and a lengthy workweek.
Wrapping Up
Since Dubai is the commercial Centre of the UAE, it should come as no surprise that it draws in investors from all over the world. Dubai's centralized location gives it a particular
advantage in terms of trade and transportation. However, it's also important to assess the errors committed in the company formation in Dubai.
When beginning a Business Setup In UAE, the aspects mentioned above must be taken into account. After carefully reading the entire essay, you will have a solid understanding of the main mistakes that can be made when managing a firm. It can also be used as an analytical tool to determine exactly what went wrong with your company's operations and how to quickly fix it.