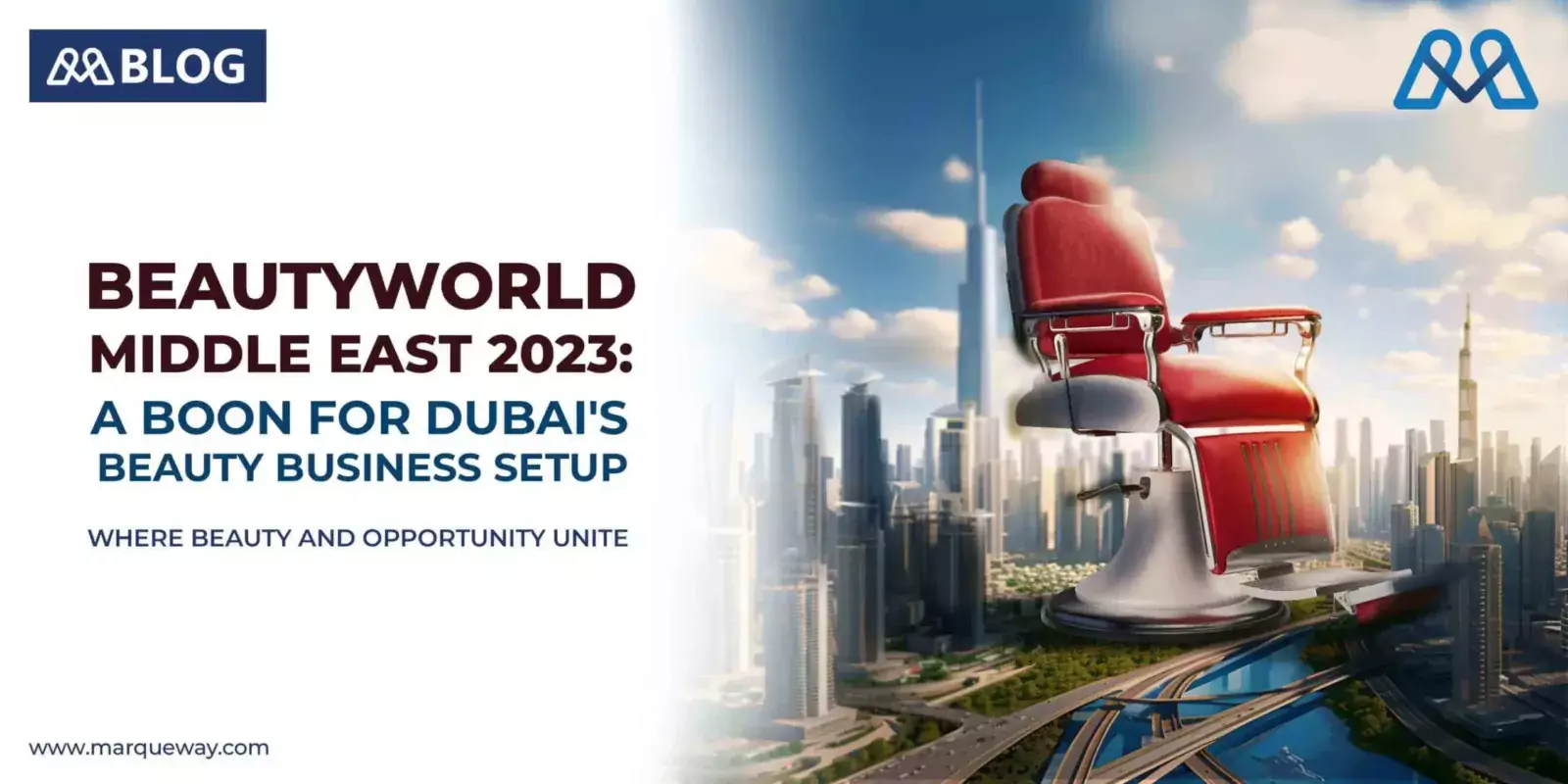 Where beauty and opportunity unite
This city that holds endless opportunities and opulence, is a dream come true for entrepreneurs seeking to establish their business setup in Dubai. It's a place that easily blends luxury and hospitality, making it an attractive destination for investors from around the world. Dubai is renowned for its remarkable development and booming business environment that welcomes innovation and creativity with open arms.
If you're considering launching a beauty and wellness business in Dubai, you're on the right track. The upcoming Beautyworld Middle East 2023, set to be hosted in Dubai, presents an array of promising opportunities that could be a game-changer for your business aspirations. This international trade show, scheduled to take place at the prestigious Dubai World Trade Center from October 30 to November 1, 2023, is a significant event that can supercharge your beauty and wellness business setup in Dubai.
In this blog, we will explore the prospects presented by this event for the beauty industry in Dubai and provide insights into how you can maximize these opportunities for your business establishment.
Dubai: The hub of beauty business
In recent years, the beauty industry in Dubai has been experiencing a consistent trend of exceptional growth. This trend is a reflection of the strong consumer demand for beauty-related products and services in the region. With a systematic strategy, your business can tap into this constantly developing market and get into the route to success. Dubai has emerged as the world's dream city for various beauty enterprises, including salons, spas, skincare, and cosmetics brands. Whether you're in the early stages of launching a startup, planning to expand an existing venture, or introducing a new brand, Dubai's vigorous and receptive market offers a handful of opportunities.
To stay ahead in this constantly evolving market, it's crucial to adapt to changing consumer needs and stay aligned with the latest industry trends. This adaptability is the key to achieving lasting success. The upcoming Beautyworld Middle East 2023 event further enhances the prospects for growth and innovation in the beauty industry, making it an even more exciting time for businesses in this sector.
The Global Stage for beauty business
The sheer magnitude of Beautyworld Middle East 2023 is a testament to its global significance. The event boasts an impressive assembly of 1,750 exhibitors hailing from 57 countries, occupying a colossal 15 halls. What's more, the exhibition space has expanded by an exceptional 20% compared to the previous edition, underscoring the growing importance of this event on a global scale.
For businesses aiming to establish or grow in Dubai, being part of this event offers unparalleled exposure and opportunities for expansion. The global reach of the event, with participants from around the world, provides a unique chance to connect with international distributors, partners, and customers, turning Dubai into a global hub for your beauty business .
It's The Ideal time for beauty and wellness business
To make a significant impact in the Dubai beauty and wellness industry, Beautyworld Middle East 2023 is your ideal launchpad. With the presence of local, regional, and international exhibitors under one roof, you can launch new products, innovations, trends, and services directly to an engaged audience of over 50,000 industry attendees.
Industry Insights on the event
Beautyworld Middle East goes beyond being just an exhibition. It serves as a treasure trove of market intelligence, emerging trends, and revolutionary technologies that are reshaping the beauty sector, not only in Dubai but on a global scale. Staying ahead of the curve in terms of trends and technology is critical for any beauty business setup in Dubai.
What is "Next in Beauty" in the event
One of the standout features of the event is "Next in Beauty," a platform where industry luminaries share insights into global trends, beauty tech developments, sustainable practices, and cosmetics regulations. This knowledge is invaluable for anyone considering to step up into beauty and wellness industry.
To succeed in Dubai's beauty market, which is known for its discerning customers and diverse preferences, it's essential to stay on top of global trends. Understanding the latest beauty tech developments can also give your business a competitive edge, making it more efficient and customer-friendly.
"Signature Scent" and "Quintessence" -Segment of Uniqueness and Luxury
The "Signature Scent" segment is another unique and intriguing feature of Beautyworld Middle East. It showcases top international fragrance houses creating their interpretations of a signature scent. This adds a unique and personalized touch to the Dubai beauty market, appealing to those with a keen interest in fragrances.
For those who are interested into niche fragrances and explore the artistic side of the industry, "Quintessence" offers an exclusive platform. This segment can be a goldmine for businesses looking to offer something distinctive and luxurious in the Dubai beauty industry.
Beauty Tech – Staying Ahead
Beauty Tech is a key focus at the event, showcasing game-changing solutions and future developments in the beauty industry. For entrepreneurs considering a beauty business setup in Dubai, staying ahead in technology and advancement can set you apart in this competitive market.
Embracing the latest advancements in beauty tech, such as AI-driven beauty solutions and digital skincare analysis not only enhance the customer experience but also streamline your business operations.
Premium Club – Networking Opportunity
The "Premium Club" is a unique feature that connects senior buyers and key decision-makers in the beauty industry. It offers an invaluable networking opportunity for those interested in the Dubai beauty and wellness sector.
Building relationships with industry leaders can open doors to business collaborations and growth. The Premium Club provides a platform to meet and interact with high-profile individuals who can help shape the future of your beauty business in Dubai.
Summing up the blog
In summary, Beautyworld Middle East 2023 transcends the label of a mere trade exhibition; it's an extraordinary trail towards the beauty and wellness industry. As interest in the industry surges, entrepreneurs and investors seeking the next big venture should seriously contemplate a beauty business setup in Dubai.
This event's sharp focus on global trends, innovation, and valuable industry connections positions it as the perfect springboard for success in this dynamic and lucrative market. Don't let the opportunity slip through your fingers to become a part of the flourishing beauty and wellness market in Dubai. If you have any doubts regarding setting up a business in Dubai or queries related to the evolving procedures, feel free to contact us.