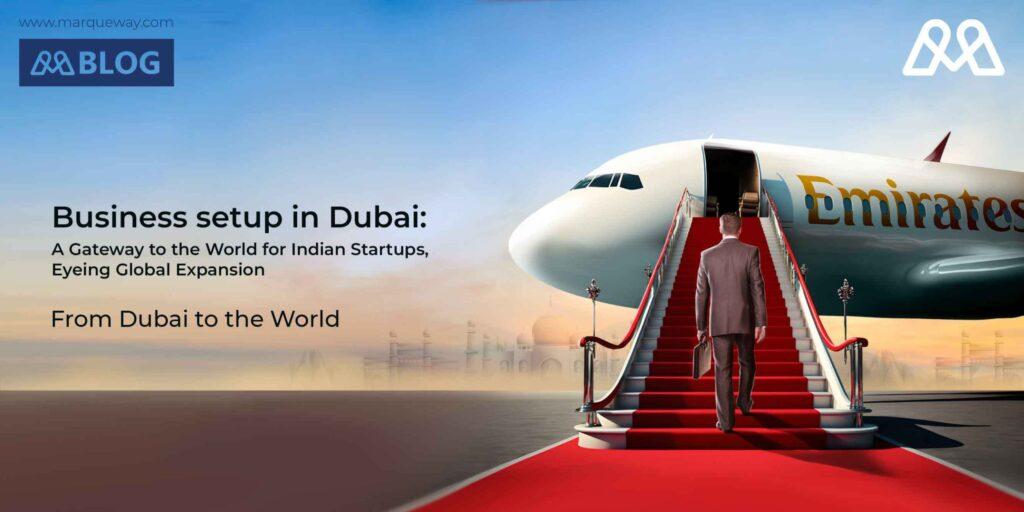 In a rapidly digitizing world, Indian startups are setting their sights on global expansion, with Dubai emerging as a prominent gateway to the world. With its favorable business environment, supportive policies, and strategic location, Dubai offers a multitude of opportunities for Indian entrepreneurs looking to establish their presence in international markets. In this blog, we explore how Dubai serves as a catalyst for Indian startup's global aspirations, providing them with the ideal platform to thrive and grow.
Exploring Global Potential: Business Setup in Dubai:
Dubai serves as a strategic launchpad for Indian startups looking to expand globally. By choosing Dubai for business setup, entrepreneurs gain unparalleled access to international markets. The city's prime location at the crossroads of Europe, Asia, and Africa makes it an ideal hub for reaching a diverse customer base and forging global partnerships.
Nurturing Growth in Dubai's Supportive Business Ecosystem:
Setting up a business in Dubai provides Indian startups with a supportive ecosystem to thrive. Dubai's pro-entrepreneurship policies and streamlined processes facilitate a smooth business setup experience. Entrepreneurs can leverage the city's robust infrastructure, incubators, and accelerators to scale their operations and tap into the vast resources available.
Driving Innovation and Growth through Business Setup in Dubai:
Dubai's visionary initiatives, such as the D33 economic agenda, drive innovation and propel economic growth. For Indian startups, establishing a business in Dubai means aligning with a knowledge-based economy that prioritizes advanced technology and human development. This fosters an environment where startups can develop innovative products and solutions best suitable for global markets.
Business-Friendly Policies and Regulations:
Dubai's business-friendly policies and regulations create a favorable environment for entrepreneurs and startups. The city provides various options for business setup, including free zones, mainland companies, and offshore entities, each offering distinct advantages. Free zones, such as the Dubai International Financial Centre (DIFC), provide foreign entrepreneurs with 100% ownership of their businesses, exemption from corporate taxes, and streamlined procedures. These benefits, coupled with investor-friendly regulations and robust legal frameworks, make setting up a business in Dubai a straightforward and rewarding process.
Easy transactions of money:
Easy global money transaction is a key advantage for businesses setting up in Dubai. The city's well-developed financial infrastructure and connectivity enable seamless international financial transactions. Dubai's robust banking system, advanced online payment solutions, and extensive network of correspondent banks facilitate secure and efficient cross-border money transfers. Whether you need to send or receive payments from clients or partners worldwide, Dubai's financial ecosystem provides a range of options, including online platforms, international wire transfers, and fintech solutions, ensuring quick and easy money transactions globally.
Business setup in Dubai, A Magnet for Global Tech:
Dubai's status as a global tech hub attracts tech giants and innovative companies from around the world. Through business setup in Dubai, Indian startups gain a competitive advantage and access collaborations with global tech players. The city's multicultural workforce and business-friendly policies create an ecosystem that supports the growth and expansion of startups.
Unlocking Talent and Digitization through Business Setup in Dubai:
Dubai's concentration of tech talent makes it an attractive destination for Indian startups to establish their local centers. By setting up businesses in Dubai, entrepreneurs can tap into the city's rapid digitization, similar to the tech revolution witnessed in India. This enables startups to harness Dubai's tech talent pool, collaborate with local stakeholders, and drive digital transformation initiatives.
Why waiting? Get your phone and give us a call!
Dubai's business setup opportunities empower Indian startups to commence on their global expansion journey. With its business-friendly environment and strategic location, Dubai serves as a gateway for entrepreneurs to unlock international markets. By establishing their businesses in Dubai, startups gain access to global opportunities, leverage a supportive ecosystem, and position themselves at the forefront of innovation and growth.
Looking for bigger opportunities in a dynamic business environment? Look no further than Dubai with Marqueway as your trusted business setup consultants. Turn your dreams into reality with unparalleled global exposure while having the company in your hometown. Dubai opens doors to endless possibilities and effortless global interactions. Contact Marqueway now and push the potential of Dubai for your business.