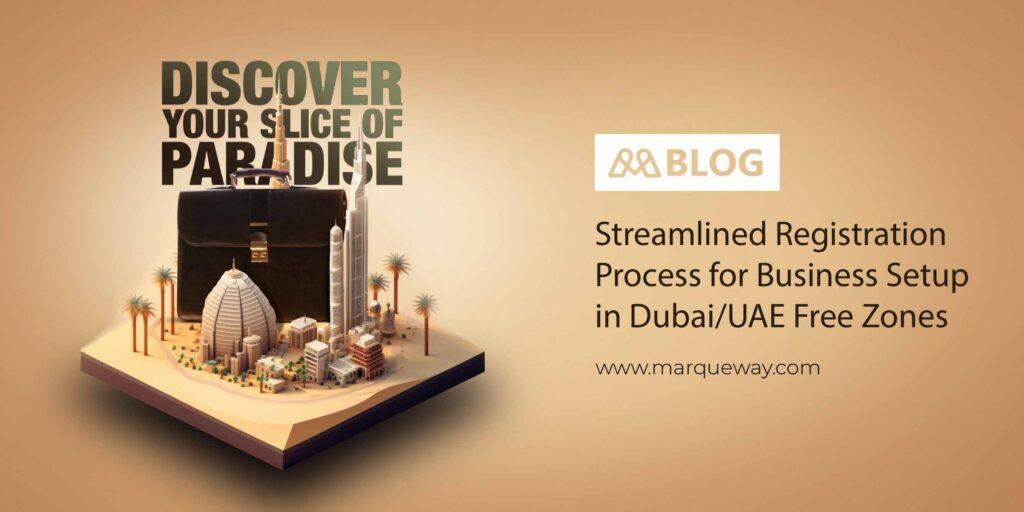 As the bustling epicenter of global trade and commerce, Dubai has long been a magnet for ambitious visionaries and savvy investors. The Free Zones, with their alluring blend of business-friendly policies and magnificent infrastructure, stand as beacons of opportunity amidst the ever-evolving market. But with recent updates reshaping the business landscape, it's crucial to stay informed and navigate the registration process with finesse. So, in this blog, we are going to streamline the registration process and highlight the major things to keep in mind when you are setting up a business in Dubai, UAE Free Zones.
What Exactly Is UAE Free Zone?
The UAE Free Zone is an important part of establishing a business setup in Dubai. By permitting 100% foreign ownership and giving a range of incentives and perks, these designated regions offer business-friendly conditions for entrepreneurs and investors. UAE Free Zones are a top option for businesses wishing to establish a presence in Dubai due to their simplified procedures, tax advantages, and excellent facilities. The Free Zones are a perfect platform for regional growth due to their advantageous placement close to important transportation hubs.
Why Should You Establish A Business Setup In Dubai, UAE Free Zones?
100% Foreign Ownership: A business setup in the UAE Free Zone allows for 100% foreign ownership, offering international entrepreneurs full control over their businesses in Dubai. This ownership freedom eliminates the need for a local sponsor or partner, empowering entrepreneurs to make independent decisions and maximize profits from their business setup in Dubai.
Tax Benefits: Businesses operating in UAE Free Zones enjoy significant tax advantages, making it an attractive option for business setup in Dubai. These Free Zones offer exemptions from corporate and income taxes for extended periods, ranging from 15 to 50 years. This tax exemption enhances profitability, giving businesses in Dubai an edge over competitors.
Simplified Procedures: The process of establishing a business setup in Dubai's Free Zone is streamlined and efficient. The Free Zone authorities provide comprehensive support and guidance, simplifying company registration and licensing procedures. This expedites the setup process, enabling entrepreneurs to start their businesses in Dubai quickly and efficiently.
Customs Duty Exemption: Setting up a business in the UAE Free Zone exempts companies from customs duties on imports and exports. This benefit plays a vital role in international trade and logistics activities, allowing businesses in Dubai to engage in cost-effective import and export operations. The customs duty exemption enhances competitiveness and profitability for businesses in Dubai.
World-Class Infrastructure: UAE Free Zones offer state-of-the-art infrastructure and modern facilities for businesses setting up in Dubai. With access to high-quality office spaces, warehouses, manufacturing units, and industry-specific zones, entrepreneurs can establish their business setup in Dubai with ease. This world-class infrastructure supports growth and expansion plans, enabling businesses to thrive.
Strategic Location: The strategic location of UAE Free Zones enhances business setup in Dubai. With proximity to major transportation hubs, including airports and seaports, companies can efficiently manage their supply chains and engage in seamless international operations. Dubai's central location also provides a gateway to lucrative markets in the Middle East, Africa, and Asia, enabling businesses to expand regionally.
Enhanced Digital Infrastructure: Dubai's Free Zones have made significant investments in digital infrastructure to support businesses in the digital age. With advanced telecommunications and IT infrastructure, high-speed internet connectivity, and smart technology integration, companies setting up their business in Dubai's Free Zones can leverage cutting-edge digital capabilities and thrive in the digital marketplace.
Flexible Office Spaces and Co-Working Options: Dubai's Free Zones offer a range of flexible office spaces, including serviced offices and co-working spaces. These options provide cost-effective alternatives for startups and small businesses, allowing them to establish their presence in Dubai without the need for significant upfront investments. Flexible office spaces also foster collaboration, networking, and a dynamic work environment.
What Are The Procedures Of Setting Up A Business In Dubai, UAE Free Zones?
Research and Select the Appropriate Free Zone: Begin by conducting thorough research on Dubai's Free Zones to identify the one that aligns with your business activities and requirements. Consider factors such as industry specialization, location, infrastructure, and available facilities. Once you have chosen the Free Zone, proceed to the next step.
Determine the Legal Structure: Determine the legal structure for your business setup in Dubai's Free Zone. Options typically include a Free Zone Establishment (FZE) for a single shareholder or a Free Zone Company (FZC) for multiple shareholders. Consult with legal advisors or Free Zone authorities to determine the most suitable legal structure for your business.
Name Reservation and Initial Approval: Choose a unique name for your business and submit it for reservation. The Free Zone authorities will review and approve the name based on their guidelines. After name reservation, apply for initial approval, providing details about the business activities, shareholders, and proposed capital. Pay the required fees along with the application.
Prepare the Legal Documentation: Prepare the necessary legal documents for your business setup in Dubai's Free Zone. These typically include a Memorandum of Association (MOA), Articles of Association (AOA), and a lease agreement for the office space within the Free Zone. Ensure that the legal documents comply with the Free Zone regulations and meet the specific requirements.
Obtain the Trade License: Submit the completed legal documents and required application forms to the Free Zone authorities. They will review the documents and conduct any necessary due diligence. Once approved, you will be issued a trade license for your business activities in the Free Zone. The trade license specifies the permitted activities and validity period.
Open a Corporate Bank Account: Proceed to open a corporate bank account for your Free Zone business. Contact banks within the Free Zone or those approved by the Free Zone authorities to inquire about their requirements and documentation. Provide the necessary documents, such as the trade license, legal documents, and identification proofs, to open the account.
Visa and Employee Sponsorship: If you plan to hire employees, initiate the process of obtaining visas and sponsoring employees through the Free Zone authorities. Follow the prescribed procedures, including obtaining the necessary employee documents, medical examinations, and Emirates ID registration.
Office Setup and Commencement of Operations: Set up your office space within the Free Zone as per the lease agreement. Install the necessary infrastructure, equipment, and furniture to start operations. Adhere to the Free Zone regulations regarding office setup and ensure compliance with any additional requirements specific to your business activities.
Conclusion
Now that you've delved into the realm of business setup in Dubai's Free Zones, it's time to take action and make your dreams a reality. But remember, navigating the intricate landscape of setting up a business in the UAE Free Zone requires expertise and knowledge. That's where Marquee comes in – your trusted ally in this exhilarating journey.
With Marqueway as your business setup consultant in Dubai, you gain a true partner who understands the intricacies of the market. We're here to ensure that every step you take is strategic and well-informed. Let us be your guiding light as we analyze, identify, and pinpoint the perfect Free Zone spot that aligns with your unique business requirements and investment goals.
From the initial stages of research and selection to the moment you settle down in this paradise of opportunity, Marqueway will be by your side, providing unwavering support and expert guidance. We know that your dreams deserve to soar, and we are committed to helping you spread your wings and reach new heights.