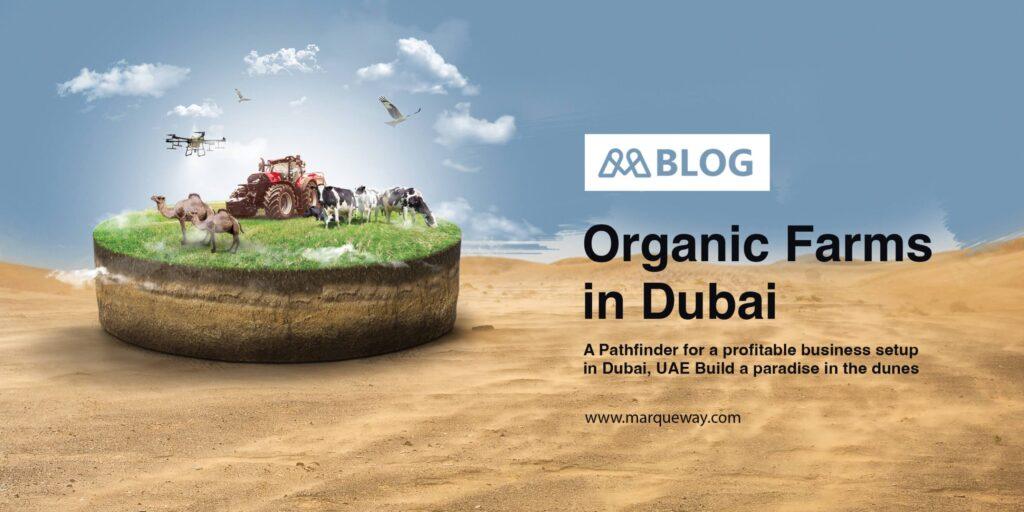 The business environment in Dubai is very radiant and futuristic. Which ever business sector you choose, Dubai offers a complete package of infrastructure and technology to support your desires all throughout the business journey. Business setup in Dubai, UAE has the potential to change your life positively and helps you get the maximum returns out of your business investments. These compelling benefits act as a magnet, attracting a diverse range of investors and entrepreneurs to explore the abundant opportunities available in Dubai's booming business landscape. Starting an organic farming in Dubai could definitely help you thrive in the UAE market.
SCOPE OF ORGANIC FARMING
At some point in your life, thoughts about the quality of the food that you eat must have crossed your mind. This is primarily due to our awareness about the presence of artificial ingredients in the food that we consume. The answer to this problem is to use products that are cultivated through Organic Farming practises. People from all around the world have started to lean towards organic products and this has led this industry to be worth north of USD 180 billion per year. You can receive similar or better or the best rewards for your Organic business setup in Dubai, UAE.
As we all know, the life style of Dubai citizens is closely related with luxury. So, their lifestyle choices are definitely healthy and more on the safer side. This is why starting an Organic Farm in Dubai is a very thoughtful and profitable business. It is not only going to be beneficial for the health of the citizens but also for your business as well. The modern trend is to eat healthy and this forges a strong foundation to plunge into this sector for your business setup in Dubai, UAE.
POSITIVE ASPECTS OF ORGANIC FARMING IN DUBAI, UAE
Health Benefits: Your organic farm business setup in Dubai, UAE could thrive because it is going to keep the consumers healthy. This is a win-win situation for both the parties, the consumer as well as the entrepreneur. By giving the customers a healthy alternate for the food they eat, we give them positive feel towards life, thus giving your organic farm business a vast customer base. The less use of man-made pesticides and growth hormones on this farming method makes the out products very clean and fresh.
Environmental Benefits: Organic farming don't use artificial farming practises, so the soil strength won't get affected. It reduces pollution by having more nutrient-rich and natural crops. Greenhouse gas emissions would be controlled with organic farming and ultimately giving the citizens the most perfect solution for their food worries.
Economic Benefits: Organic farming is more beneficial than traditional farming business. The organic products attract a lot of customers in Dubai and this means you can sell your products at top tier rates. You can also lessen your cost of farming as you don't have to use pesticides, synthetic chemicals or fertilisers. The demand for organic products is on the rise and this is actually a very great opportunity for you to setup an organic farm in Dubai and acquire lion's share of the market.
REGISTERING AN ORGANIC FARMING BUSINESS IN DUBAI
Foreign investors need to complete standard procedures before their organic farm business could be setup in Dubai. For that they must complete a business setup process which includes choosing a trade name, a business form, preparing and filing memorandum, and other paperwork related to Department of Economic Development. You can seek the help of a business setup consultant in Dubai to ease the process as they have immense knowledge in this field and you won't even have to break a sweat. Foreign Investors should also hire local agents who will handle the business setup procedures for your Organic Farm business.
Types Of Farming Activities For Business Setup In Dubai:
Aquaculture
Livestock Farming
Agriculture activities
It is essential for you to select one of the above-mentioned activities and acquire the related business license for starting your farming business activity. In Dubai, you can submit license application for more than one activity and reap the benefits forever. The businesses should clearly mention what their out products will be and reveal the organic farming techniques in order to acquire the licenses.
The organic farming business setup in Dubai, UAE will be a streamlined process with the help of experienced business setup consultants in Dubai as they have the expertise in filling out applications, look into whether your name complies the Emirate naming law and create a step by step structure for your Organic business setup process and so much more.
Documents Required For The Application Process Are:
Filled out application form
Passport copies of shareholders
Specifics of your farming activity
A residency visa could smoothen your process as it helps you to bring in employees as well as your family members. The number of visas that you could apply depends upon the nature of your business activity, size of the company, income etc.
THE FUTURE
Organic farming has emerged as a sustainable solution to address the challenges of global warming and contribute to creating a better world. Unlike traditional agricultural practices that rely on artificial methods, such as the use of chemical fertilizers and pesticides, organic farming adopts a more natural approach to overcome common agricultural obstacles. By breaking away from these barriers, organic farming prioritizes enhancing crop quality through environmentally friendly methods.
There are certain new technologies that could create impact for Organic farming businesses like precision agriculture, agroecology and permaculture, vertical farming, Aquaponics and hydroponics, AgTech and loT integration, Agricultural bots etc. These are just some of the methods as there are lot more that could prove to be cost efficient as well create a very healthy out products. It's important to note that these techniques have the potential to revolutionize organic farming, their implementation should align with organic principles and certification standards to ensure the integrity of organic production systems. If you follow all the right path and setup your Organic business in Dubai, then it is no doubt that your Organic farm in Dubai is going to grow limitlessly.
For more information on this matter, Contact Marqueway business setup services.