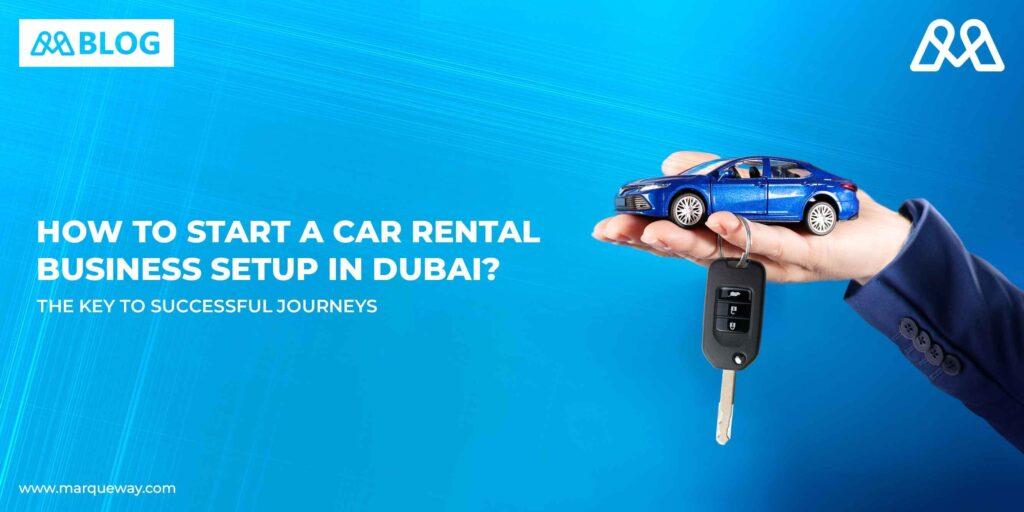 Dubai is known for its immaculate craze on cars and people are so fascinated to try out new varieties every time. Starting a car rental business setup in Dubai is thereby a profitable business idea which has a lot of possibilities in the desert of dreams. The car rental business not only has a target of natives but also the tourists who are so fascinated in driving car in the most wonderful roadways of Dubai. In the recent years Dubai has emerged as the most attractive destination for tourists. This wide opens the door of opportunities for car rental business setup in Dubai.
Choosing the right business setup is the primary aspect to check out and car rental business is a top pick. Read more to know more about the procedures and key factors to know before starting car rental business setup in Dubai.
Benefits of starting a car rental business setup in Dubai
Dubai, despite being a city, is renowned as an impressive business center that showcases extravagant luxury. It boasts facilities, maintains a captivating appeal, attracts a number of tourists, and provides numerous compelling reasons to consider starting a car rental business setup in Dubai. Let's explore the reasons that make this lively city a place, for launching such an enterprise.
Dubai, despite its size, stands out as a center for business with luxurious amenities, modern infrastructure, and a timeless appeal. This makes it an ideal location for starting a car rental venture.
The automotive sector in Dubai is known for its profitability and offers abundant opportunities for growth and success.
Car rental companies in Dubai can attract customers by offering competitive rental fees along with attractive discounts and flexible packages for daily, weekly, and monthly rentals.
Car rental providers based in Dubai go the extra mile to ensure customer satisfaction and convenience. They offer benefits like 24/7 emergency assistance and complimentary delivery and pick-up services.
Services are experiencing innovation in the industry, such as the emergence of car-sharing services like U Drive. These services offer a convenient and user-friendly way to rent cars by charging customers per minute through mobile applications.
Although Dubai has an extensive public transportation system, there are still some areas that it doesn't fully cover. Car rentals serve as a complementary option, bridging the gap and providing a seamless means to reach different destinations.
Dubai's constant influx of international tourists, armed with valid international driving licenses, fuels the demand for rental cars. This provides travelers with the freedom to explore without relying on taxis or public transport.
Car rental fees, often starting as low as AED 30 per day, present an economical option compared to taxi fares, driving a sustained demand for rental services.
Certain areas in Dubai have limited public transportation options, creating a niche for car rental businesses to serve local residents and tourists. Dubai's world-class road network, coupled with iconic skyscrapers, appeals to driving enthusiasts and wanderers, further boosting the attractiveness of car rentals.
With a significant percentage of ambitious global professionals, Dubai's need for efficient transportation solutions supports the growth of car rental services.
Dubai's year-round heat, combined with reasonable fuel costs, makes renting a car a practical choice for both residents and visitors.
The availability of rental cars appeals to a wide range of customers, including residents, expats, and travelers, who prefer the affordability, convenience, and comfort of renting over owning.
Establishing a car rental business in Dubai is facilitated by an efficient and straightforward setup process requiring minimal formalities.
Achieving full ownership of a car rental business on Dubai's mainland is feasible. While a local service agent is required, the process for acquiring a service or professional trade license is streamlined.
How to setup a car rental business in Dubai
Marqueway simplifies the process of initiating a car rental business setup in Dubai seamlessly and stress-free. As one of the leading business setup consultants in Dubai, our dedicated professionals are fully committed to ensuring your satisfaction as an entrepreneur in the region. Prior to that, let's take a look at the procedural details outlined in this blog section.
Select a location
Choosing the optimal site for a physical office with ample parking is a crucial decision when establishing a car rental business setup in Dubai, UAE. The prime location would be near the heart of the city, where tourists and individuals initially arrive, ensuring convenient access to their preferred vehicle. Whether situated on the mainland or in a free zone, the selected location must be perfectly suited for a car rental venture.
Confirm and present the operations
Ensuring operational clarity and a comprehensive description is a fundamental initial step that everyone should adhere to. Neglecting this could potentially lead to future complications, as engaging in unlicensed operations might result in fines or even the revocation of your license.
Depending on the specific nature of your vehicle rental operations, you might require various permits. The most prevalent one is the 'Passenger Transport and Car Rental' license, though if your business falls slightly outside this category, a different license might be necessary. The roster of eligible activities is provided by the Department of Economic Development. To obtain this information effortlessly, you can seek assistance from Marqueway's business setup consultants in Dubai.
Choose a name for the business setup
It's crucial to understand that there are particular and rigorous regulations for naming that must be followed. To make it clear, any use of unsuitable or offensive words should be steered clear of. Also, if your intention is to name the company after yourself, please avoid the use of abbreviations or names of existing organizations.
Grab your business license
As you establish your car rental business in Dubai, it's crucial to obtain specific business licenses that align with your operational activities. Additionally, alongside your business license, you'll need approval from the Road Traffic Authority (RTA), and your staff might necessitate RTA training.
To secure your business license, you'll need the following documents:
A properly completed application form detailing the range of car/vehicle rental categories you offer.
Photocopies of your passport, accompanied by passport-sized photographs.
A copy of your resident visa, if applicable.
A copy of your Emirates ID, if applicable.
Get your Visa
The final stage of the process involves obtaining your necessary work visa to operate within the region. By enlisting the support of Marqueway's business consultants in Dubai, you can expedite this step efficiently. If you possess a UAE business license, you also have the opportunity to sponsor visas for others. This could extend to family members such as a spouse, parent, child, housekeeper, or other domestic aides. The number of visas you can apply for will be influenced by factors like the scale of your business, your chosen business setup, and, in the context of dependent visas, your financial status.
Conclusion
Establishing a car rental business in Dubai holds immense potential for profitability, provided you invest your dedication and effort into it. Dubai proves to be a rewarding environment when equipped with a well-thought-out plan and a resolute determination for execution. Marqueway believes that a "perfect journey requires a perfect companion," and in the pursuit of entrepreneurial aspirations, we aspire to be that ideal companion, transforming dreams into reality. With your sincere commitment, Marqueway stands as a trustworthy partner, facilitating the journey by simplifying procedures.
Marqueway is committed to offering timely guidance and updates in alignment with the evolving legal landscape. Our dedication extends beyond mere business setup; we offer ongoing assistance, from establishing bank accounts to addressing any queries you may have, ensuring comprehensive support.
A simple call to Marqueway's business setup consultants in Dubai is all it takes to initiate your business venture here at a reasonable cost.