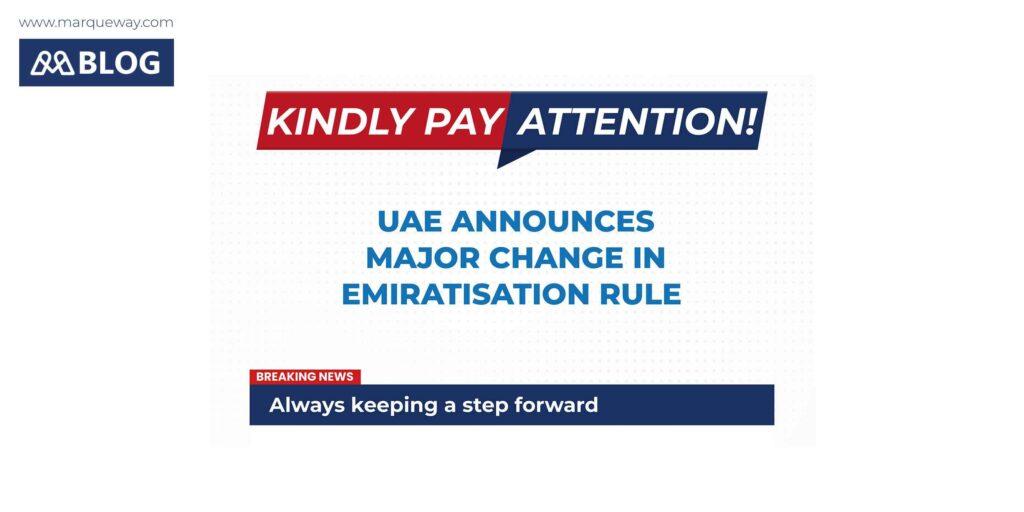 The UAE has always welcomed people from all over the world, giving them the chance to live and work with all the rights and benefits. Moreover, the nation has equally prioritized providing top-notch infrastructure and facilities for its Emirati citizens. As part of a strategic initiative, the UAE government has proactively introduced forward-thinking regulations to enhance the integration of Emiratis into the country's workforce. These progressive laws have been enacted with the determined objective of increasing the involvement of UAE nationals in the private sector.
Furthermore, the nation continues to hold a deep appreciation for its residents, with a primary focus on ensuring a superior quality of life for all. The recent Emiratization regulations demonstrate the country's steadfast dedication to giving priority to employment for Emiratis across all public sectors. This commitment is steady and a testament to the country's values. This article provides a thorough analysis of the major changes that have resulted from the Emiratization regulations, which were ratified in July 2023.
What is an Emiratization rule
In July 2023, the Ministry of Human Resources and Emiratization (MOHRE) of the UAE introduced new Emiratization regulations impacting small businesses operating within the country. Under these rules, UAE-based private sector enterprises employing between 20 and 49 individuals are now required to hire a minimum of one UAE national staff member by the year 2024. This quota must be further increased by employing an additional Emirati employee before the conclusion of 2025.
This update represents a noteworthy shift from the previous criteria, which exclusively encompassed companies with a workforce of 50 employees or more. Specifically, businesses of Emirati origin with staff counts surpassing 50 were obligated to maintain an Emirati workforce comprising at least 4% of their total employees.
A recent development introduced in February has added an innovative dimension to these regulations. Accordingly, companies are now obliged to augment the proportion of Emirati employees by 1% every half-year period.
The path towards advancement is demarcated by significant milestones. By the conclusion of the ongoing year, the target is to achieve a 4% threshold, followed by a progression to 6% by the culmination of 2024. This trajectory continues with a projected 8% objective for the ensuing year, culminating in an ambitious aim of 10% by the close of 2026. The transformation of the UAE's workforce is a visionary and carefully calculated evolution.
The new Emiratization regulations encompass 14 specific private sectors, necessitating all businesses falling under this category in Dubai to adhere to the recently updated rules.
Sectors that come under the recent Emiratization rule
The new rule applies to 14 sectors, which are mentioned below:
Information and communications
Financial and insurance activities
Real estate
Professional and technical activities
Administrative and support services
Arts and entertainment
Mining and quarrying
Transformative industries
Education
Healthcare and social work
Construction
Wholesale and retail
Transportation and warehousing
Hospitality and residency services
Emiratization New Rules in UAE
The recent Emiratization regulation marks a significant shift in the workplace landscape, presenting highly favorable prospects for native Emirates residents.
Implementation of Quota: Enterprises employing a workforce of 20 to 49 staff members are now subject to the new decree, mandating an augmentation of Emirati personnel. By 2024, they are required to onboard a minimum of one UAE national, followed by an additional Emirati staff member by 2025. This phased approach not only promotes inclusivity but also allows for strategic adaptations.
Reduced requirement for adherence: The Emiratization criteria has been readjusted to establish a more inclusive parameter. In contrast to the previous criterion of 50 or more employees, the revised guidelines encompass a wider array of businesses. This proactive stance substantially broadens the array of opportunities available to UAE citizens across diverse sectors.
This development opens avenues for all UAE natives to access enhanced prospects in their professional and personal spheres. The ongoing changes reflect the continual efforts towards enhancing the nation's overall quality of life.
Consequences if the Emiratization rule is broken
Non-adherence to the updated Emiratization regulations could lead to a penalty of AED 96,000. By 2025, this penalty is slated to rise to AED 108,000 for firms that have not engaged a pair of UAE nationals. This recent revision to the Emiratization directive is part of the Nafi's Program.
What is Nafi's Program
This notable advancement is a component of the UAE's Nafi's Program, aimed at facilitating the integration of UAE citizens into roles within the nation's private sector. Initiated on September 13, 2021, as a component of the UAE's "Projects of the 50," the Nafi's Program stands as a pillar of support for Emiratization and the local workforce.
Marqueway, one of the leading business consultants in Dubai, remains consistently informed about this initiative, ready to address any inquiries that may arise.
Stay updated with Marqueway business setup consultants in Dubai
The UAE diligently maintains a dynamic approach to refining rules and regulations for establishing business setup in Dubai, UAE, aimed at enhancing the efficiency of governance. Staying well-informed about these evolving regulations is crucial, especially if you're considering launching a business in Dubai. Prior to engaging in the procedural journey, feel free to reach out to Marqueway. We are committed to providing the best support throughout the process.
Marqueway proudly hold the position of being the foremost consultants for business setup in Dubai. We extend an invitation to all aspiring entrepreneurs to connect with us, allowing us to collaborate in transforming their dreams into reality.