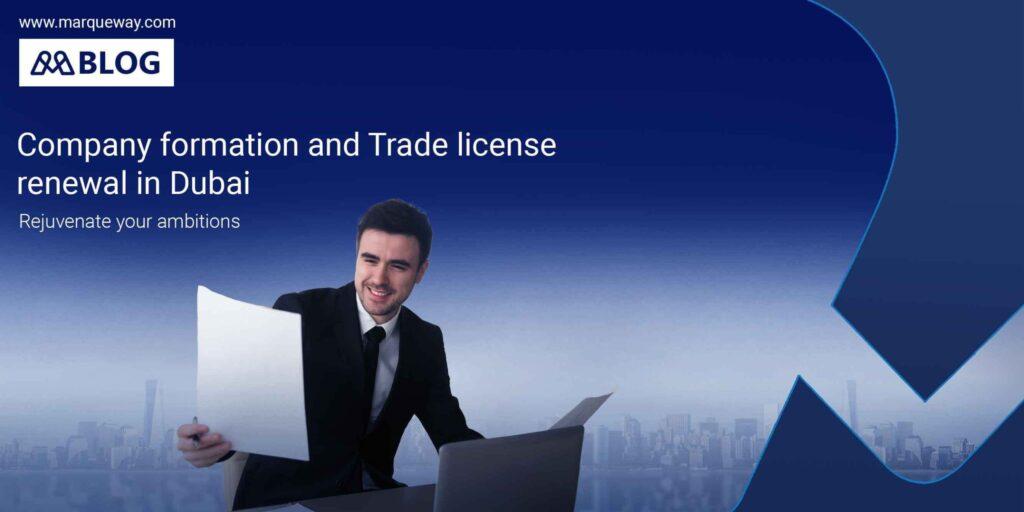 Dubai is a very futuristic place where business opportunities always keep calling for you. Every entrepreneur who is either established or just started, in Dubai will give you unlimited benefits and a sure shot at the return for your investment. Company formation in Dubai is a great venture as the eye-popping infrastructure, high-end technologies, diverse culture, welcoming government, booming economy etc: – will make your job a walk through paradise.
All you have to do is to decide to have a business setup in Dubai and your fortunes will come and find you in all its glory. The first step of starting a business in Dubai is to decide upon the nature of the business, find a suitable word that might awaken certain communities' emotions), wait for different approvals and clearances from different government entities, etc. These activities can be done with ease opting to go with an expert business setup service like Marqueway. One of the most important steps for a business to flourish in the exuberant world of Dubai is to acquire a trade license.
After registering your business in Dubai, the next step is to apply for a trade license. For orchestrating a business, a trade license is one of the documents that is of utmost importance. Department of economic development (DED) issues the license and each emirate has its own rules and processes. Every company will need a trade license depending upon the type of business they run and the cost of a trade license in Dubai will vary from business to business.
There are mainly 4 types of trade licenses in Dubai.
1. Commercial License
This is one of the most widely issued type of trade license that is available in Dubai. Every business that is indulged in any sort of commercial activity or trade activity needs to have a commercial trade license. These activities include importing and exporting of allowed goods and communities etc. With this license in your hand, you can perform up to 10 trading activities. This will also help in applying for a residence visa for your employees as well as eases the process of opening a bank account.
2. Professional License
If you are a professional and you have a particular area of expertise then you should apply for a professional trade license. A skilled professional can proceed to have a company formation in Dubai in the field of their choice with the help of this license. Mainly service-oriented businesses are granted this license and they include healthcare and medical services, management services, accounting, education, beauty salons, law firms, and a lot more. Sometimes a business activity falls under the bracket of both professional and commercial, so it is highly recommended to seek the help of a business setup service like Marqueway to guide you in the right direction. Businesses under this license can get a fixed annual fee and they can apply for visas for their employees.
2. Industrial license
Any business that is involved in the production and manufacturing of new products from natural or raw materials are mainly issued an industrial license. Business activities that come under product manufacturing, food industries, equipment and engine manufacturing, textiles etc are appropriate for this license. One of the most important prerequisites for applying for this license is to have an office, warehouse or industrial complex in Dubai. A business that beholds this license can acquire land at subsidized rates and can enjoy discounted rates for water, electricity and other essentials. If the product that you manufacture has the potential to benefit the national economy, the government will support your company immensely.
4. Tourism License
This license is issued by the Department of Tourism and commerce management (DTCM) and the Department of economic development (DED). As we all know, Dubai is the focal point of the world when it comes to business as well as tourism. The world wants to see the exuberance of the country and this will create massive business opportunities for tourism companies. A tourism trade license is an important document for setting up a tourism business in Dubai and any activity related to tourism like outbound and inbound tour operators, travel agencies etc are eligible to apply for the tourism license. This license helps the tourism business owner to conduct business in the tourism sector nationally and internationally.
These licenses are usually issued for a time period of 1 year and after that, you will have to renew your trade license to continue your business activities. Trade license renewal in Dubai is an important factor as it should be done yearly. If the trade license is not renewed on time it can lead to consequences such as penalties, a ban on the business, blacklisting, legal proceedings, etc. Thus, it is always good to renew your trade license some days before the expiry date. You can approach the trade license renewal in two ways, offline as well as online. Whichever you choose, the final word on your application will be from the DED. Without timely renewal of the trade license, if you wish to expand your business, it wouldn't be possible. You will also need to pay a fine in case the license is not renewed in a timely manner. All your worries will be alleviated, if you partner up with a business setup expert like Marqueway and your trade license renewal will be done with ease and in the appropriate time.
Documents essential for trade license renewal in Dubai are:
Trade license is an important document to run your business without any hindrance. So, for when applying for the renewal of your trade license, it is safe to keep the documents at ready and that will help you in a smooth application process. The documents required are:
One of the major documents required for the process of renewing your trade license is the tenancy contract. The validity period of the document should be at least 1 moth at the time of renewal application and it should be registered by the Ejari. If the attestation of the Ejari is not there while applying then the trade license renewal application could get rejected.
This is not a compulsory to present the original document itself, a copy would just work for the application. So, it is always safe to keep the copy of your old license and have a hassle-free trade license renewal in Dubai.
This is one of the mandatory forms to be presented during the trade license renewal application process. This form must have the signature of all the business shareholders and partners while submitting to the DED.
Photocopy of the passport of business partners
All the individuals involved in the business as a stakeholder should submit the photocopy of their respective passports along with the trade license renewal application.
With these documents and the right application process you will get your trade license or business license renewed. Trade license renewal in Dubai cost around AED 8000 to AED 15000 and will vary according to the location, nature of your business. The DED takes care of the trade license renewal in the mainland and in case of the freezone it is vested upon the respective freezone authority. If you have any doubts regarding the renewal date you can always check that on the government website. Renewing your trade license might require some prior knowledge about the process and we here at Marqueway are sure to help you in that case.
The trade license only allows you to trade in the area mentioned in the permit and to carry out business in another country or regions you need to get license from those respective regions. It is also not an ownership document and doesn't give the license holder to have any rights on the region he does his business activity. Trade license is document that mainly shows the legality of your business.
If you have any more queries and need assistance with trade license renewal in Dubai, then feel free to contact us!!