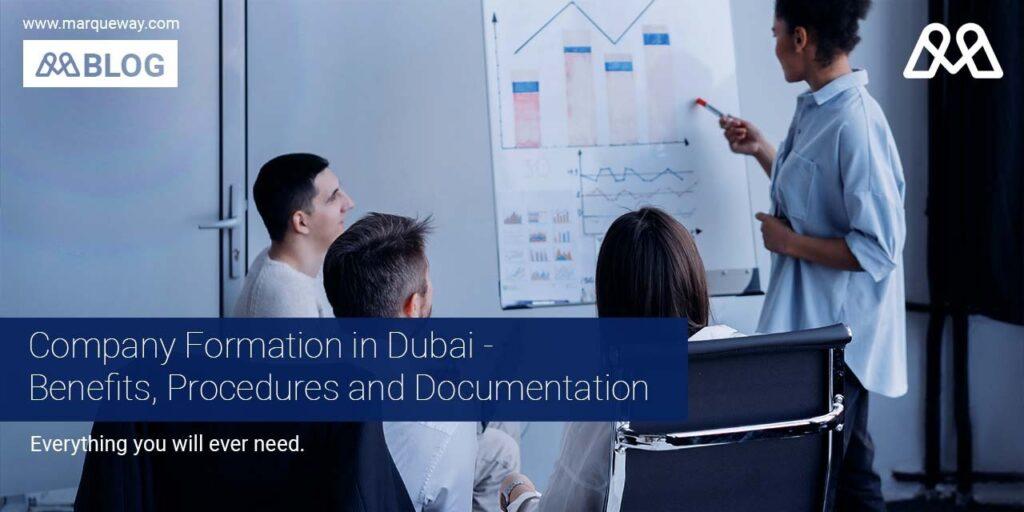 Dubai is one of the business paradises of the world. The infrastructure and opportunities Dubai provides is wide and prosperous. The reason for the development of this region as a business hub is because of the embracement of the government by providing all the support. Dubai provides the easiest and safest way for starting a business for budding entrepreneurs. Dubai also opens up an international market which helps every business structure to grow without boundaries. You can also seek help from company formation consultants in Dubai. Company formation consultants in Dubai function without any hidden charges or spamming. So company formation in Dubai is an easy task if you know all the facts and rules behind it.
Company formation in Dubai needs a clear vision of the business and how to build the company for the future. There are several business setup in Dubai that help you to grow as a successful businessperson. Selecting the appropriate business structure for it is a real task. Investors from all parts of the world have eyes on the business setup in Dubai. If your idea is innovative and futuristic there is a higher chance to attract investors towards your company.
Benefits of Business setup in Dubai
Company formation in Dubai is first of all a great opportunity to have an international identity. It's not the only privilege that you can have when you form a company in Dubai. There are more benefits you can count on.
1. Government support
The Dubai government gives you the best and most advanced business infrastructure. Other than development they also provide you the best security for your company. The rules and regulations in Dubai are so business friendly that you can enjoy all the privileges that are provided by the government. They also keeps on amending the rules to make the city a better place for new entrepreneurs. Global events like business expo helps you for your business expansion. Moreover they keep on hosting global events regularly. A person can start a business setup in Dubai by himself. Rules and regulations for company formation in Dubai are so easy to follow and implement within a few weeks. Company formation consultants in Dubai also help you with a tension free procedure for company formation.
2. No taxation
The best benefit that you can get for company formation in Dubai is the taxless service. The Dubai government offers total exemption of tax for all the sectors. This includes income tax and corporate tax.
3. Technological advancement
Dubai is a city where you get the most advanced technological facilities in the world. The digital advancement in Dubai has made the life of the emirates more easy. They are using technologies futuristically. From reducing traffic to entertainment they have used the technology in the most advanced way. E Commerce has grown in a more advanced way that provides online businesses a great opportunity to start in the Dubai market. World Class internet service, transforming medical infrastructure and developed living standards gives Dubai a favorite place to work.
4. Infrastructure
Infrastructure in Dubai is changing and developing on each and every day. It keeps evolving time after time. Dubai infrastructure is one of the major factors that attracts business persons from all across the world. Well-connected public transport, efficiently maintained traffic and connection with seaport and airport are the major attractions of Dubai. Dubai provides a quality lifestyle and comfortable living space for everyone.
7. Time-saving and cost-effective government procedure
If you get to know all the procedures and how it should be done in the appropriate way, company formation in Dubai is a simple plan of action. There are not any complicated procedures to deal with. Documents should be proper and genuine. Cost for the documentation is dealt with in the proper way that there are not any hidden charges or delays. For a smoother and tension-free deal with the procedures, you can get a company formation consultant in Dubai.
8. Genuine Company formation consultants in Dubai
Dubai is known as a genuine and scam free place for all the works. Company formation consultants in Dubai are providing the most genuine service for saving your time and making everything clear. Company formation in Dubai is an easy procedure when you have a genuine consultant.
Procedures for company formation in Dubai
Company Formation in Dubai is relatively easier on the free zones. Free zones need minimal paperwork and procedures to start your company. Dubai is known for the easiest place to start a company in your name. They provide you with 100% ownership and taxless service.
1.Determine the type of legal entity
You can set up two types of companies in the free zone. Free zone limited liability companies and Freezone establishment are those two sectors. Number of shareholders and the shareholding person's identity makes both different.
According to the activities of your company you can select whether freezone or mainland to start the business. It's an important procedure to determine the company activity and how the work should progress.
2.Trade name
There are many complicated guidelines to follow before selecting the trade name. It is an important procedure to follow before the company formation in Dubai. More than that, a trade name is your company's primary identity. It should reflect the nature of the business you are doing. Also follow the strict guidelines before registering the name. Avoid the names that provoke the beliefs of the religion or harass a person. The words should not duplicate any other.
3.Applying for the trade licence
Select whether to start your company in a mainland or a freezone. The procedures to apply for a trade licence in Dubai mainland is handled by the Department of Economic Development. You should apply on behalf of the rules and regulations implemented by DED.
For a freezone trade licence, you should apply at an independent regulatory authority. They are issuing the licence on free zones.
4.Open a bank account
After completing all the paperworks and procedures the last thing to follow is opening a bank account for your business. Before opening the account you should do a research on which bank you are going to reach for. Each bank provides different services based on the business setup in Dubai. So selecting an appropriate bank that meets your demands is also an important task to follow. Some companies give special concessions for selected business activities. They also assist you for the cost optimization of your business.
Documents needed for Company formation in Dubai
Photographs of the applicant.
Application form for the business establishment.
Passport copies of the applicant and the people relate with legal activities.
Properly notarised MOA and AOA documents.
Visa details of the applicant.
No objection certificate from the sponsor.
We have mentioned all the things to keep in mind before the company formation in Dubai. Dubai is a great place for starting a business or registering a branch of the company to have a global acceptance. The business industry in Dubai is always on the rise and registering a company here is an intelligent move. Even if you have a company in your homeland and you need foreign investors, then the wise decision to take is opening a branch in Dubai. Any doubts regarding the company formation in Dubai could be solved by the help of business consultants. Don't hesitate to contact us.