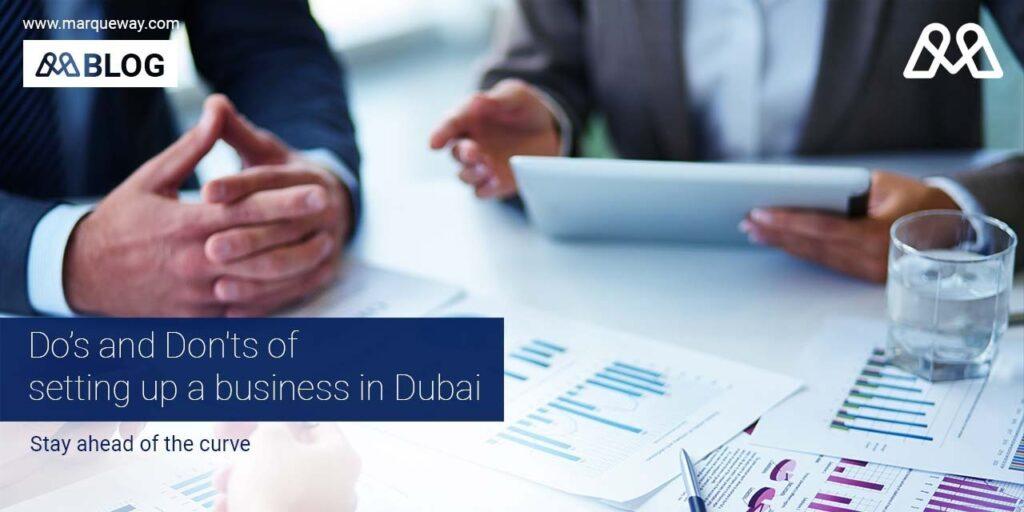 Setting up a business in Dubai is not a big deal if you know all the procedures and documentation. If you fail to have all the information about the procedure then you end up in misery. Things will get complicated and setting up a business in Dubai becomes tougher.
Company formation in Dubai is actually an easy process as the government tries to make the atmosphere more business-friendly. Dubai opens the best window towards international relations and easy trade deals with other countries. Dubai is the best place to expand your business and get internationally noticed. Flexible investment policies, tax exemptions, global marketing, and logistics are making Dubai a business paradise. Business setup in UAE will always help you to grow greater heights. But before setting up a business in Dubai, there are some dos and don'ts that should be remembered for saving your money, time and energy.
1. Invest time in researching the market
Each business setup in Dubai has different procedures to follow. Mainland Company formation, Freezone company formation, and offshore company formation are the types of business setup in Dubai. Each formation has different rules and regulations authorized by the government. If you understand all the rules and regulations regarding the business formation then moving forward with the procedures will be nice and smooth. So invest an ample amount of time in understanding the rules.
Research the competitors according to the type of business you are starting. Finding their way of working and how they deal with the target customers will always empower you. And before setting up a business in Dubai, have a clear vision of the market you are investing in. If you don't start with a plan and research then things will end up in a disaster. Determining your budget and how you are investing the amount is also crucial. If you are a foreigner, you should research the local culture also. Because it will help you to understand people. Research and selection of the type of company you are starting with will determine the business growth.
2. 100 % ownership in setting up a business in Dubai's mainland
From June 1 2021 DED (Department of Economic Development) has announced that there is no need for a local sponsor to start a business in Dubai. This applies to Commercial and Industrial Licence. It is not applicable for a Professional licence. Before this, investors needed UAE nationals as local sponsors. He used to manage all the formalities and procedures with authority. After the recent update in the rule, investors can directly carry on with their business without the sponsorship of a UAE citizen. From now on you don't have to worry about the legal agreements and issues with the local sponsor.
3. Choose a business license carefully
The business licence which you would like to pursue is divided into three sectors: professional, commercial, and industrial. You cannot select the licence randomly. Each sector is dealt with by different authorities and has different sections of laws for each of them. A separate set of supporting documents and fees is applicable for each. Some licence requires sanction from external ministries and various agencies regarding the licence.
6. Avoid verbal agreements with anyone
The agreements should be properly legalized and have them in valid papers. It will help the smooth run of the company and avoid tensions in the future. Do sign a legal agreement with the partners and authority. Don't put yourself in a commitment that is verbally agreed upon. These all could end up in a great tragedy. After the rule changed to start a business set up in Dubai without a local sponsor, issues regarding the legal agreements are partially solved. There are many cases in the UAE where people get trapped or cheated by others. The main reason this happens is not having a valid legal authentication.
7. Have a clear idea about the fees and charges.
Banking and official proceedings are carried out by fixed charges. This would not vary. So when you deal with the authorities with a third party, always have a comprehension of the fees they charge. Always have knowledge of this beforehand.
8. Get the right work visa
Depending on the time and business you are going to do in Dubai, you will require a work visa. Getting a work visa in Dubai is not a big deal as they promote investors and help them to have a business setup in Dubai in the easiest way. But having all the documents clear is the one thing you don't want to forget. If you maintain all the rules and regulations then setting up a business in Dubai is not complicated.
9. It will be better to have a seasoned business consultant
Doing all by yourself is not a smart idea to have in the UAE. As we aforesaid the procedures are easy when you read or listen. But things can get complicated sometimes or the other. Some of the business ideas want special sanctions and approvals. It varies according to the circumstances. Having a business consultant before setting up a business in Dubai is a wise decision to have.
10. Don't forget to socialize
Branding is a major factor that you don't need to forget. Taking part in the events and having conversations with business owners of similar domains will help your business to embellish. Share your ideas and inventiveness with other investors and entrepreneurs. It will only help you to take your business to greater heights.
11. Give respect to the tradition and people
As we said before, you should research the local culture and traditions. If you dream of company formation in Dubai, you should live there, you should be one of them. Learning Arabic words and customs will improve your business in a good way. Dubai is a multicultural place and foreign people from diverse countries live there. So it is important to respect all without any discrimination. Don't make any insensitive statements about people or any religion. Always give respect. If you believe in Dubai, this place will enrich you in every way.
Above mentioned are some dos and don'ts which will help you on the journey towards setting up a business in Dubai. For any details regarding consultancy or doubts, you can always reach us.