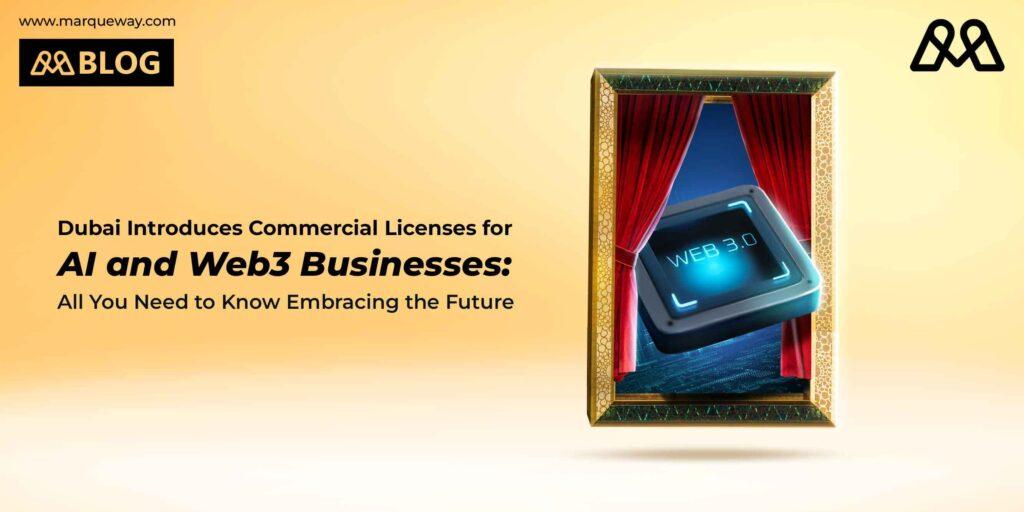 Dubai, a pioneering city known for its forward-thinking approach, has launched on a ground-breaking journey by establishing commercial licenses customized for firms operating in the fields of artificial intelligence (AI) and Web3. This strategic step is expected to promote growth in these important sectors, attracting investments and moving the United Arab Emirates (UAE) towards its goal of a digital society. With the AI and Web 3.0 Campus at the helm, these specialist licenses come with an amazing 90% subsidy, a resounding tribute to Dubai's dedication to supporting innovation and economic diversification.
Fostering Technological Advancement: The Subsidized Licenses
Issuing commercial licenses is the cornerstone of this imaginative project, a real step towards developing AI and Web3 technology. These licenses, which represent a paradigm shift in company structure, provide major assistance to a wide range of activities targeted at accelerating Dubai's digital transformation. They cover a wide range of activities, from specific AI research and consulting to distributed ledger technology services, IT infrastructure builders, technological research and development, and public networking services. The city's aim is to stimulate cooperation, innovation, and long-term prosperity.
A Magnetic Pull for Talent and Investment: Mohammed Alblooshi's Vision
According to Mohammed Alblooshi, the visionary Chief Executive of the DIFC Innovation Hub, these licenses are positioned to serve as a magnet for global talent and investments. The Dubai AI and Web3 Campus, which opened in June, aims to attract digital companies from around the Middle East and North Africa to start a business setup in Dubai. With an ambitious objective of luring over 500 high-tech businesses by 2028, putting $300 million in finances, and creating over 3,000 jobs over five years, Dubai is setting a new standard for innovation-led economic growth.
Positioning Dubai as a Global Tech Hub
The issuance of these permits marks an iconic moment for Dubai AI and Web3 Campus. It strengthens Dubai's position as the ideal business location for technology-focused businesses in a region brimming with prospects for world-class talent and diversified investors. This strategic effort is consistent with Dubai's goal to not just harness the power of technology, but also to reshape the economic landscape via collaboration and creativity.
The AI Revolution
AI has infiltrated all aspects of society and gained significant traction with the rise of the digital economy. Its applications have revolutionized businesses in areas like virtual assistants, internet commerce, data analysis, smart homes, and others. A recent study suggests that the impact of generative AI on business productivity could result in an annual addition to the economy of approximately $2.6 trillion to $4.4 trillion.
Transforming Economies and Workforces: The Promise of AI
Yet AI's influence extends beyond commerce, with predictions of creating around 200,000 jobs in the Middle East by 2025, as highlighted by the study. Concurrently, the ascent of Web3 – characterized by blockchain, decentralization, and user-centricity – is expected to inject $15 billion annually into GCC economies by 2030, primarily led by Saudi Arabia.
Envisioning Growth in Tech: The Dubai AI and Web 3.0 Campus
Nestled within the DIFC Innovation One premises, the Dubai AI and Web 3.0 Campus offers the best infrastructure, encompassing R&D facilities, accelerator programs, and collaborative workspaces. This environment nurtures and supports burgeoning businesses, cultivating an ecosystem conducive to growth and development.
Dubai's Resolute Steps in AI Advancement
Dubai's commitment to AI growth is palpable, as showcased by the launch of the Dubai Centre for Artificial Intelligence in June. Set to train over 1,000 employees from 30 government entities, this center underscores the emirate's dedication to propelling generative AI. The forthcoming Dubai Assembly for Generative AI in October, designed to shape AI's future trajectory, underscores the city's role in spearheading AI's transformative potential.
Conclusion
In essence, Dubai's stride in introducing commercial licenses tailored for AI and Web3 businesses marks a pivotal juncture in its journey of embracing innovation. As the city positions itself as a global tech hub, the UAE's commitment to driving technological advancement, attracting investments, and fostering a dynamic ecosystem for tech-driven enterprises is evident. The realm of possibilities has expanded in the city of dreams, as business setup in Dubai takes on a new dimension, propelling industries toward a technologically enriched future.
Contact Marqueway if you have questions about this license or launching a business in Dubai.