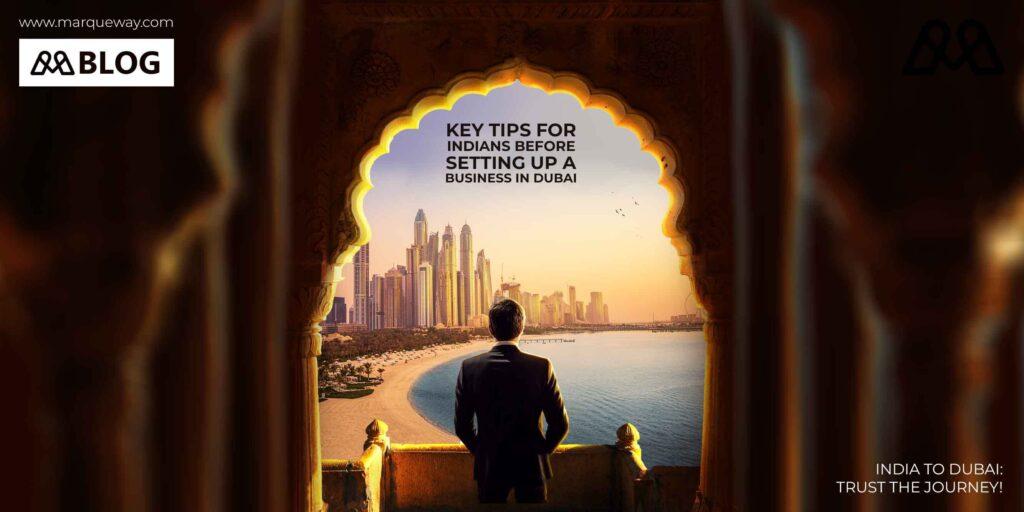 Dubai stands as a cherished aspiration for entrepreneurs, particularly among Indian residents, given its warm reception and profound support. The city's endearment towards Indians has fostered the UAE's role as a gateway to the global market, nurturing their business ambitions. The Middle East's unparalleled opportunities, coupled with exceptional infrastructure, a luxurious lifestyle, advantageous foreign policies, and a hospitable culture, create an ideal landscape for Indian entrepreneurs seeking to establish their ventures in Dubai.
The allure of these prospects has captivated Indian investors, with numerous triumphant entrepreneurs already savoring the fruits of accomplishment. Consequently, this dynamic environment has propelled the nation's growth beyond anticipated horizons. Read on to know the key tips for you before starting a business setup in Dubai.
Documents needed in setting up a business in Dubai
The following are the necessary documents that an Indian must obtain before starting a business setup in Dubai.
Shareholder details
Shareholder passport and visa documents
Completed application forms
Business plan in PDF format
Official board resolution records
Memorandum of Association (MOA)
Articles of Association (AOA)
Shareholder identity verification documents
Before considering investment opportunities in Dubai from India, it's crucial to have the necessary documents in order. Negotiating the procedures might prove challenging without thorough research and analytics. Engaging one of the reputable business setup consultants in Dubai is highly recommended to navigate the steps seamlessly. Notably, Marqueway has consistently stood out as the preferred choice for many Indians due to our strong national connections. Therefore, do not hesitate to contact us for further information.
Things to know about taxation for a Dubai company setup
For numerous Indians, the primary consideration in opting for company formation in Dubai is the taxation rates. Until a few years ago, the United Arab Emirates had virtually no taxes – no income tax, VAT (Value Added Tax), GST (Goods and Services Tax), or any other form of tax.
However, a significant change took place in June 2023. At that time, corporate entities on the mainland, with profits exceeding 375,000 UAE dirhams, became subject to a 9% corporate tax. It's important to note that this tax is applicable only to mainland-based entities; those operating in free zones are exempt. Aside from the 9% Corporate Tax, mainland companies engaged in sales within the UAE are also obligated to pay VAT. The standard VAT rate for most goods is 5%.
Things to know, especially for Indian investors in Dubai company setup
If you are looking to invest and are from India, there are a few things you should look for to ensure that the procedures are simple and straightforward.
Initially, the Indian Income Tax Return (ITR) Form necessitates that individuals holding stakes in a company setup based in Dubai declare the extent of their share ownership within the Dubai entity. Under specific conditions, these stakeholders of the Dubai-based company are also obligated to notify the Reserve Bank of India (RBI) regarding their association with the said Dubai company.
If you have any remaining doubts, please contact Marqueway.
Procedures of starting a business setup in Dubai by Indians
When entering the world of international business, Dubai stands out as an appealing place for Indian companies. Dubai provides an excellent foundation for corporate growth and expansion due to its strategic position, sound economy, and investor-friendly legislation. We will guide you through the necessary actions and considerations setting up a business in Dubai from India.
Research and Planning
Thorough research and precise preparation are essential before beginning the process of establishing a business setup in Dubai. Begin by performing market research to determine the level of demand in Dubai for your product or service. Determine your target audience, competition, and any obstacles. This research will form the cornerstone of your business plan.
Choose the Right Business Structure
Dubai offers various business structures, each with its own advantages and requirements. The common options include:
Free Zone Company: This option provides 100% ownership to foreign entrepreneurs and offers tax benefits, making it a popular choice for startups.
Mainland Company: Setting up a business in the mainland allows you to tap into the local market and engage in a broader range of activities. However, you will need a local sponsor or partner.
Offshore Company: Ideal for international trading and asset protection, an offshore company provides privacy and tax advantages.
Legal Formalities and Documentation
Once you've decided on the business structure, the next step is to complete the necessary paperwork. This includes:
Trade Name Registration: Choose a unique trade name for your business and register it with the relevant authorities.
Obtain Necessary Licenses: Depending on your business activity, you'll need to acquire the appropriate licenses from the Department of Economic Development (DED) or the relevant free zone authority.
Visa and Immigration Processes: If you plan to relocate to Dubai to manage your business, you'll need to apply for the appropriate visa and fulfill the immigration requirements.
Find a Local Sponsor or Partner
If you opt for a mainland company, having a local sponsor or partner is mandatory. This individual or entity will hold a certain percentage of ownership in the company and will assist you in navigating the legal and cultural aspects of doing business in Dubai.
Office Space and Infrastructure
Selecting the right office space is vital for your business's success. Dubai offers a range of options, from co-working spaces in free zones to commercial properties in the mainland. Evaluate your needs, budget, and location preferences to make an informed decision.
Bank Account and Financing
Opening a business bank account is a crucial step in managing your finances. Choose a reputable bank in Dubai that offers services tailored to your business needs. Additionally, explore financing options available for startups and small businesses.
Hiring Employees
As your business grows, you might need to hire local or international talent. Understand Dubai's labor laws, employment contracts, and visa requirements for employees. Hiring the right workforce will contribute to your business's efficiency and success
What business can Indians do in Dubai?
Cafeteria Business Setup (https://marqueway.com/open-your-cafeteria-business-setup-in-dubai/)
E Commerce Business (https://marqueway.com/e-commerce-the-best-business-setup-in-dubai-to-start-with/)
Event Management (https://marqueway.com/how-to-start-an-event-management-business-setup-in-dubai-uae/)
Spare Parts business (https://marqueway.com/start-an-auto-spare-parts-business-setup-in-dubai/)
Cleaning Business Setup in Dubai (https://marqueway.com/how-to-start-a-cleaning-business-setup-in-dubai/)
Organic Farms (https://marqueway.com/organic-farms-in-dubai-a-pathfinder-for-a-profitable-business-setup-in-dubai-uae/)
Vending Machine Business (https://marqueway.com/vending-machine-business-a-new-approach-to-business-setup-in-dubai-uae/)
Strat Ups (https://marqueway.com/business-setup-in-dubai-a-gateway-to-the-world-for-indian-startups-eyeing-global-expansion/)
The business opportunities listed here are just the beginning, and there are more possibilities to explore. You might consider expanding your successful Indian business to the UAE or pursuing a venture aligned with your passions. The options are wide-ranging.
Conclusion
We have meticulously compiled a comprehensive blog to guide Indian investors through the process of setting up a business in Dubai, UAE. The company formation procedures are relatively streamlined, and with accurate documentation, the journey becomes even smoother.
Despite the straightforward process, there may be instances where minor errors can pose challenges. In such situations, enlisting the expertise of a business setup consultant in Dubai is highly recommended. At Marqueway, our professionals are readily available to assist you. Feel free to connect with our experts for seamless support.