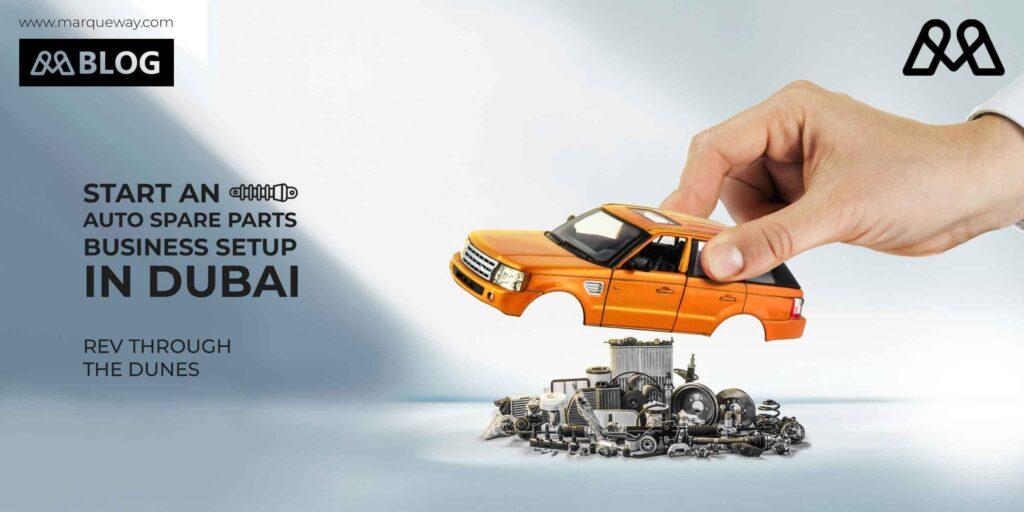 Dubai being one of the most active and commercially solid market in the world, would be like a wealth reservoir for your auto spare parts business setup. It would be a lucrative opportunity for entrepreneurs who are looking to bring their talents to the real gem of middle east- Dubai. The auto spare parts industry in Dubai is on the rise, as the commercial vehicle sales is also seeing a spike every passing year. New vehicles mean there is always need for spare parts.
Dubai is a hub of flashy and luxurious automotives across the global automobile industry. Dubai is a place where you can spot high-end hyper cars, commercial cars and cars of different sizes and variations. Dubai government sees the automotive industry as one of the most important sectors of their economy, so it is right to say that the same intention is with the spare parts market as well. The vehicle industry is going through a transformational change because of the arrival of autonomous cares, Artificial Intelligence (AI) and other technological advances. The growth is only going to improve and it is also going to positively affect the auto spare parts industry. The after-sales market, encompassing the sale of authentic spare parts and high-quality aftermarket parts, is also projected to experience significant growth in the coming years.
THINGS TO KEEP IN MIND5 BEFORE STARTING A SPARE PARTS BUSINESS IN DUBAI
Market Research
This is one of the initial things that you should do before starting any business venture. First you identify the existing demand for auto spare parts, the competitors and ultimately gain insights into customer preferences and interests. This research will help you determine the target audience, pricing strategy, potential areas of growth and finally how you can be different from the rest of the market.
Plan To Perfection
Creating a strong business plan to increase your chances of success in auto parts business setup in Dubai. Decide upon the appropriate legal structure for your business, such as sole proprietorship, partnership, or limited liability company (LLC). Determine the range of auto spare parts you intend to offer and try to land at a competitive price range.
Create A Network
You should try and create a closely-knit network of suppliers, manufacturers and wholesalers who can help you attain high-quality parts at reasonable prices. Negotiate favourable terms and maintain good relationships to make sure the supply of products is steady. You could attend automobile expos or other related events to meet new people and diversify your contacts.
Build A Strong Online Presence
You should have an aesthetically pleasing website or E-commerce store to showcase your product range and attract customers. Pay attention to your social media activities to increase user engagement and run targeted Ad campaigns to maximize your auto spare parts business setup's potential in Dubai. You should be ready with a solid marketing and sales strategy to effectively promote your business.
Be Customer-Centric
Differentiate your business by delivering exceptional customer service. Promptly respond to inquiries, offer expert advice, and ensure efficient order processing and shipping. Prioritize customer satisfaction to build a loyal customer base and earn positive reviews and referrals.
BENEFITS OF STARTING AN AUTO SPARE PARTS BUSINESS SETUP IN DUBAI
Vehicle Market Bond
The growth of auto spare parts industry is directly connected to the growth of vehicle market. Most of the car manufacturing brands in the world have their cars in the Dubai streets, so your chance of achieving success is very high. There is also another income source that could be identified as 'car modification'. The car enthusiasts in Dubai have a strong inclination to customize their vehicles to enhance their uniqueness and style. This trend presents a promising opportunity for spare parts dealers, who can continue to generate additional income even after the initial vehicle purchase.
Support From The Government
The Dubai government supports business, in this case auto spare parts business, as they know the importance of foreign investment and how it benefits the economy. The government also supports the local production of the spare parts through Original Equipment Manufacturers or OEMs. This helps you as the business owner to reduce the manufacturing costs and have more profit.
Unparalleled Amenities
As we all know the power of the technological brilliance that Dubai is showcasing to the world. The same applies to the spare parts sector as well. You could make use of the futuristic infrastructure and also the cutting-edge technology. The luxurious lifestyle, low taxes etc are just added bonus for your business setup dreams in Dubai.
Proficient Logistics System
The efficient logistics system in Dubai eases your transportation problems. You can use the swift and smooth transportation facilities in Dubai to give your customers a fast delivery. The strategic position of the Emirate and the presence of one of the world's best airports and seaports will also aid you in doing flawless local and international trading of your spare parts.
STEPS TO START AN AUTO SPARE PARTS BUSINESS SETUP IN DUBAI
Choose Your Business Activity
You should decide upon the nature of business. The options go like physical auto parts trading, online through an E-commerce store, 24/7 service providers etc. These should be resolved before submitting your documents in front of the Department of Economic Development (DED) or other legal entity.
Decide A Company Name
Before selecting a company name in Dubai, it is crucial to consider several rules. The name should be distinctive, appealing, and free from profanity or offense. Additionally, it should not be associated with any religious connotations. Keep these aspects in mind as you decide on a name for your company.
Business Location
The place where you establish your auto spare parts business setup in Dubai is very crucial. You should select your business location by keeping in factors such as customer demographics, accessibility, transportation, employee availability etc.
Documents Submission
Submit the required documents and paperwork in front of the respective authorities. This point could be kind of a confusing process for you, but your world could become way easier with the help of business setup consultants in Dubai.
Acquire License
When you complete all the required steps without any fail, you will receive a commercial license for your auto spare parts business setup in Dubai.
DOCUMENTS REQUIRED FOR YOUR AUTO SPARE PARTS BUSINESS SETUP PROCESS
Passport copies of shareholders and directors
Bank statements or utility bills for address proof
Initial approval receipt
Attested lease contract
Attested memorandum of association (MOA)
Approvals from government entities
Dubai's booming automotive sector and adhering to the regulations, aspiring entrepreneurs can embark on a rewarding journey in the auto spare parts business. With determination, strategic planning, and a customer-focused approach, success awaits those who seize the opportunities presented by Dubai's dynamic economy. So, take the leap and turn your passion for auto spare parts into a thriving business venture in the vibrant city of Dubai.
You should make your job easier by choosing a business setup consultant in Dubai. They will guide you through each step and help you make your business setup process a simple and smooth experience.
For more information regarding this topic, feel free to contact Marqueway business setup services in Dubai.