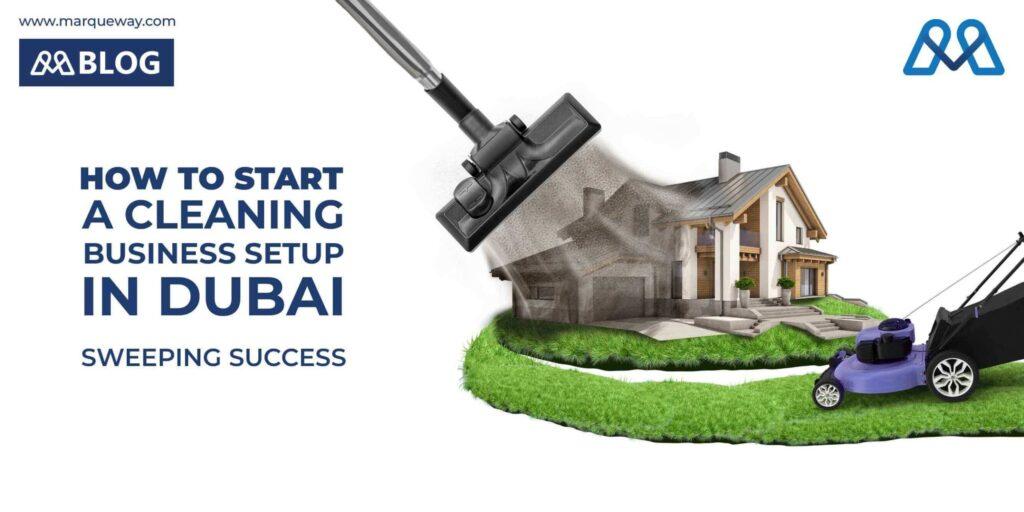 Establishing a cleaning business in the heart of Dubai is an increasingly sought-after idea. Dubai, being a bustling city, is filled with individuals who are primarily focused on their hectic lifestyles and jobs, leaving little time for other essential activities like cleaning. This presents a lucrative opportunity for entrepreneurs to tap into the cleaning business market in Dubai. With a significant expatriate population and their busy schedules, there is a growing demand for cleaning services that cater to their day-to-day needs.
Dubai has been experiencing substantial expansion over the past decade, and it is projected to continue growing at a compound annual rate of 9.6% until 2026. As the city thrives, the potential for the cleaning business industry also grows, providing an excellent platform for aspiring entrepreneurs to soar to new heights. One of the advantages of starting a cleaning business setup in Dubai is that it does not require specific training or entail significant risks, as the major investment lies in procuring everyday cleaning products.
However, before embarking on your journey to set up a cleaning business in Dubai, it is crucial to consider various factors. In this blog, we will guide you comprehensively to help you turn your entrepreneurial dreams into reality in the thriving market of Dubai.
Types Of Cleaning Services In Dubai
Residential Cleaning Services: This type of cleaning business focuses on providing cleaning services to private residences, apartments, villas, and townhouses. It involves tasks such as dusting, vacuuming, mopping, bathroom cleaning, kitchen cleaning, and general tidying up.
Commercial Cleaning Services: Commercial cleaning businesses target offices, retail stores, restaurants, hotels, and other commercial establishments. The services may include regular cleaning, floor maintenance, window cleaning, carpet cleaning, and specialized cleaning for specific industries such as healthcare or hospitality.
Industrial Cleaning Services: Industrial cleaning is essential for maintaining cleanliness, hygiene, and safety in Dubai's factories, warehouses, manufacturing plants, and construction sites. Specialized services tackle unique challenges, such as heavy machinery, hazardous materials, and complex cleaning tasks. By utilizing advanced equipment and techniques, industrial cleaning professionals ensure optimal functionality, compliance with safety regulations, and a healthy work environment.
Things To Keep In Mind Before Starting A Cleaning Business Setup In Dubai
Business setup and Licensing: Register your company with the Dubai Department of Economic Development (DED) and receive the essential licenses and permissions. This might be a business license, a commercial registration, or any particular license needed for the cleaning sector. Verify adherence to the DED's rules and recommendations for business setup in Dubai.
Name and branding: Choose a memorable and appealing name for your domestic cleaning service company. Check if the name follows the DED's standards. To establish your presence in the market, create a powerful brand identity that includes a logo, website, and marketing materials.
Financial Considerations: Determine your startup costs, including equipment, supplies, marketing expenses, and employee salaries. Create a financial plan and secure the necessary funding through personal savings, loans, or investors.
Equipment and Supplies: Purchase or lease the necessary cleaning equipment, such as vacuum cleaners, mops, brooms, and cleaning solutions. Establish relationships with suppliers to ensure a steady and cost-effective supply of cleaning products.
Offer impeccable service: Provide top-notch residential cleaning services consistently to establish a favorable reputation and foster customer loyalty. To preserve lasting client relationships, prioritize customer contentment, streamlined scheduling, and prompt communication.
How To Register A Cleaning Business Setup In Dubai
Registering your cleaning business setup in Dubai is a straightforward process that involves a few simple steps. Follow the guidelines below to complete the registration smoothly:
Visit the official website of Dubai Municipality and create an account or log in if you already have one.
Navigate to the "company registration" tab on the website, which will redirect you to the dedicated registration page.
Fill in all the required details as mentioned on the page. Make sure to provide accurate and complete information.
Upload the necessary documents in digital format as per the guidelines provided. These documents may include identification proof, business registration documents, and any other required paperwork.
Once you have submitted the registration form and uploaded the documents, you will receive an email confirmation regarding the status of your application.
If you encounter any difficulties during the registration process, you can seek assistance from Marqueway, a professional service provider experienced in business setup in Dubai. Additionally, you may refer to our blog, which offers valuable insights on the legal documents required for establishing a business in Dubai
What Are The Documents Required For Setting Up A Cleaning Business Setup In Dubai?
Application Form for Company Registration
Trade Name Reservation Certificate
Business Plan
Memorandum of Association (MOA)
Shareholder/Partner Documents: Copies of Passports and Emirates IDs
Local Sponsor Agreement (for LLC)
Proof of Address: Tenancy Agreement or Lease Contract
No Objection Certificate (NOC) from Current Employer (if applicable)
Health and Safety Certificates (if applicable)
Permits for Handling Chemicals (if applicable)
Environmental Compliance Certificates (if applicable)
The wrap-up
As we conclude this blog, we have provided comprehensive information about the key considerations before starting a cleaning business setup in Dubai. One crucial aspect to remember is the importance of passion and compassion in realizing your entrepreneurial dreams. With dedication and determination, success will follow. Should you require assistance in ensuring a smooth and seamless process, feel free to reach out to Marqueway. We are committed to providing the support you need to establish a strong foundation for your business journey.