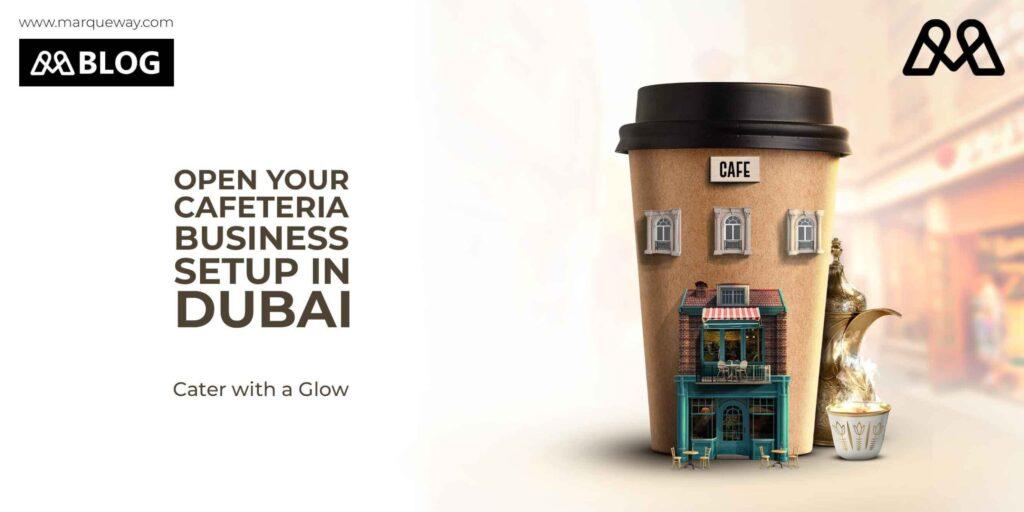 Who doesn't go to a cafeteria? Everybody now and then visits a cafeteria or café to enjoy a refreshing start to their morning or to unwind in the evening and on any other occasions. With the right planning and excellent service, your plan of a cafeteria business setup in Dubai or any other part of the world is going to skyrocket beyond limits. All you have to look for is to do the right thing and execute the required steps without any failure.
For now, let's take a deeper look into the cafeteria market of Dubai.
People are more likely to hold conversations in cafeterias rather than in restaurants. Dubai is a bustling city where the streets are overflowing with people, both the natives as well as foreign nationals, so the chances of these people catching a break at a cafeteria are off the charts. Cafeterias have become a go to place for people who are preferring to have their coffee or snack on-the-go, that too from any age or income group. The effortlessness that a café provides for the busy people of Dubai will certainly reflect on your business and the revenue it generates. Your business incorporation process will be rather easy, as the demand for a good cafeteria is high in Dubai and the people are always on the lookout for nice hangout places.
BENEFITS OF STARTING A CAFETERIA IN DUBAI
Budget Flexibility
As an investor, the key advantage that will greatly benefit you is the flexibility and adaptability of your budget when establishing a cafeteria business setup in Dubai, UAE. The decision-making power lies entirely in your hands. You have the liberty to determine the amount of money you wish to invest in this café venture. Whether you opt for a fully furnished interior with enchanting fairy lights or an open space that embraces the city's beauty, the budget can be tailored to accommodate your preferences and desires.
Booming Tourism Industry
With the high inflow of tourists into the emirates is going to be so beneficial for your café business in Dubai. With the high volume of people wandering through the streets, you will have regular customers as well as foreigners who are here for pleasure. This scenario can help your cafeteria to have a consistent customer base that can contribute to your growth and success. Who wouldn't buy refreshments when they are on vacation in Dubai??
Freedom
The ultimate thing about being an entrepreneur is having freedom. The same feeling arises when you run a cafeteria by yourself. Every decision will be yours; every chair will be the colour you wanted, the menu will be your decision and so many more. Starting a cafeteria business setup in Dubai can ultimately give you the opportunity to pursue the flashy lifestyle you deserve and the business venture your dreamed of.
Experimentation
The diversity of the population also allows you to taste success when you try new and innovative ideas. For instance, if you are planning to introduce a new cuisine, it would be warmly welcomed by the people of Dubai, as they are ready to try and explore something new. This means you have the freedom to create unique schedules, operate in a way that aligns with your vision, and design the interior according to your intentions. With such a receptive and adventurous audience, there is little need to worry about experiencing losses in Dubai
STEPS TO START A CAFETERIA BUSINESS IN DUBAI
Research & Planning
Conduct thorough market research to understand the demand for cafeterias, identify your target audience, and assess the competition. Develop a comprehensive business plan that outlines your unique concept, menu offerings, pricing strategy, marketing tactics, and financial projections. This research and planning phase will lay a strong foundation for your cafeteria venture.
Business setup & Licensing
Choose the most suitable jurisdiction for your cafeteria, whether it's a free zone or mainland Dubai, based on your specific business requirements. Acquire the necessary approvals and licenses, including a cafeteria license from the Department of Economic Development (DED) or a relevant free zone authority. Register your business, obtain the required permits, and ensure compliance with all legal and regulatory obligations.
Location & Infrastructure
Identify a strategic location for your cafeteria business setup in Dubai, that aligns with your target market and zoning regulations. Secure a lease or purchase a suitable premise that meets health, safety, and infrastructure standards. Design the layout and interior of your cafeteria, considering factors such as seating capacity, food preparation areas, storage facilities, and an appealing ambiance that reflects your brand identity.
Compliance & Regulation
Adhere strictly to health and safety regulations, including proper food handling, hygiene practices, and sanitation procedures. Comply with legal requirements related to taxation, accounting, and record-keeping to ensure transparency and legal compliance. Stay updated on any changes in regulations and adapt your practices accordingly to maintain a high standard of compliance.
DOCUMENTS REQUIRES FOR SETTING UP A CAFETERIA BUSINESS IN DUBAI
Passport Copies
Location Layout
Approval Dubai Municipal Planning Department
Application with necessary signatures
Memorandum Of Association (MOA)
Martin Luther King once famously said, "It all started with a dream," and indeed, every successful business begins with a visionary dream. Just like you, with the aspiration of establishing a thriving cafeteria business in Dubai, your dream can become a reality with the assistance of Marqueway business setup services. By carefully analysing the market and its potential, it becomes evident that profitability is an inevitable outcome, and your growth trajectory will be remarkably swift.
Dubai, renowned for its unparalleled support towards small and medium-sized enterprises (SMEs) and entrepreneurship, is the ideal destination for your flourishing business. The city's vibrant economy, coupled with its pro-business environment, paves the way for limitless opportunities and success. Dubai's commitment to nurturing SMEs is evident in its robust infrastructure, favourable legal framework, and extensive network of resources, which all work together to foster business growth. Moreover, Dubai's entrepreneurial ecosystem is designed to empower businesses, offering a range of incentives, initiatives, and support programs. From simplified licensing procedures to access to funding options and mentorship programs, Dubai provides the necessary tools and resources for entrepreneurs to thrive. The government's commitment to innovation and technology further amplifies the opportunities for growth and expansion, enabling businesses to stay ahead of the curve in this dynamic market.