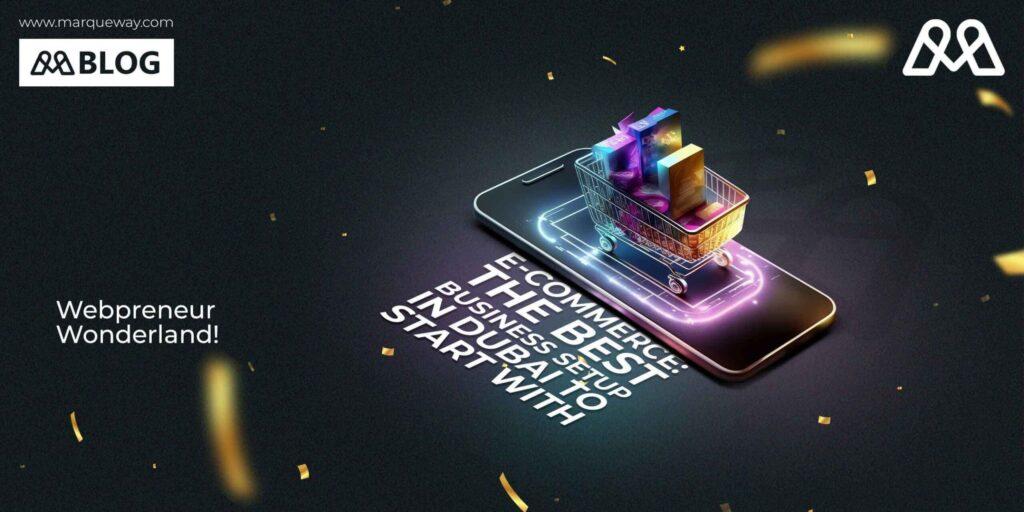 In the wake of the COVID-19 pandemic, daily life has undergone a significant transformation, with the Internet playing a pivotal role in fostering widespread acceptance of online shopping and services. This shift has been particularly pronounced in Dubai, where internet usage has expanded on an unprecedented scale. Window shopping, in particular, has become a prevalent cultural phenomenon. Notably, the UAE boasts the largest business-to-consumer (B2C) eCommerce market in the region, with Dubai leading the way by accounting for over 60% of online buyers in the Gulf Cooperation Council (GCC). This flourishing market has captured the interest of foreign investors who seek guidance on commencing an e-commerce business setup in Dubai.
Dubai is currently experiencing a remarkable boom in the e-commerce sector, primarily driven by the aftermath of the COVID-19 crisis. The city's infrastructure has undergone significant advancements, creating an ideal environment for establishing and operating an e-commerce business. Regarding business setup in Dubai, particularly in the e-commerce industry, the process has become comparatively straightforward. Moreover, the development of logistics, technology, and connectivity has propelled Dubai's e-commerce sector to surpass that of any other city in the world. If you are considering starting an e-commerce business in Dubai, continue reading to discover detailed information and valuable insights.
Important Steps Behind Setting Up An E-Commerce Business Setup In Dubai
Determine Business Activity and Structure:
Define the specific e-commerce activities you plan to undertake, such as online product sales or service provision. Choose the appropriate legal structure for your business, such as a sole proprietorship, partnership, or company.
Obtain the E-Commerce License:
Apply for the e-commerce license from the Department of Economic Development (DED) in Dubai. This license authorizes your business to conduct e-commerce activities legally.
Register Your Business:
Register your e-commerce business with the DED or the relevant free zone authority, depending on your chosen business location. Provide all required documents, such as passport copies, proof of address, and a business plan.
Consider Trademark Registration:
Protect your brand by considering trademark registration. Registering your business name, logo, and other intellectual property rights can safeguard your e-commerce business from potential infringement.
Ensure Compliance with Tax Obligations:
Familiarize yourself with the tax regulations for e-commerce businesses in Dubai. Register for VAT (Value Added Tax) if your annual turnover exceeds the specified threshold and fulfills other tax obligations as required.
Secure Web Hosting Services:
Choose a reliable web hosting service to ensure your e-commerce website is securely hosted and accessible to customers. Consider factors such as server reliability, security measures, scalability, and customer support when selecting a web hosting provider.
Things To Remember Before Starting An E-Commerce Business Setup In Dubai, UAE
Researching the E-Commerce Landscape in Dubai
Analyze market trends, customer behavior, and competition to gain a comprehensive insight into the e-commerce business setup in Dubai. Identify popular product categories and target markets to adjust your company approach accordingly. Thorough market research can allow you to grasp client preferences and leverage market demand.
Business Planning and Legal Considerations
Create a comprehensive business plan that outlines your e-commerce business's vision, mission, and target audience. Familiarize yourself with the legal requirements for setting up an e-commerce business in Dubai, including business registration, licensing, and permits. Choose the appropriate business structure and ensure compliance with the relevant authorities.
Selecting the Right E-Commerce Platform and Website Development
Choose an e-commerce platform that suits your business needs and goals. Consider factors such as ease of use, scalability, payment gateway integration, and customization options. Develop a user-friendly website that showcases your products or services. Optimize your website for search engines to improve its visibility and attract organic traffic.
Secure Payment Gateway and Logistics Setup
Integrate a secure and reliable payment gateway to facilitate seamless transactions and build trust with your customers. Partner with reputable payment service providers to offer multiple payment options. Establish efficient logistics and delivery systems to fulfill orders promptly. Collaborate with reliable shipping partners to ensure timely delivery and customer satisfaction.
Inventory Management and Supply Chain Optimization
Implement an effective inventory management system to optimize stock levels and streamline procurement. Build strong relationships with suppliers and manufacturers to ensure a steady supply of products. Optimize your supply chain processes to minimize costs, reduce delivery times, and enhance operational efficiency.
Digital Marketing and Customer Acquisition
Develop a comprehensive digital marketing strategy to promote your e-commerce business setup in Dubai and attract customers. Utilize channels such as SEO, social media marketing, content marketing,
and email marketing. Create engaging content, optimize your website for search engines, and leverage social media platforms to reach your target audience.
Providing Excellent Customer Experience
Focus on providing exceptional customer service to build trust and loyalty. Implement effective customer support systems and offer personalized recommendations and promotions. Prioritize customer satisfaction to encourage repeat purchases and positive word-of-mouth.
Compliance and Legal Considerations
Ensure compliance with local regulations and consumer protection laws. Familiarize yourself with tax obligations, data protection, and privacy regulations. Seek professional advice to ensure adherence to legal requirements.
Analyzing Performance and Making Informed Decisions
Use analytics tools to monitor key performance indicators and make data-driven decisions. Analyze website traffic, conversion rates, and customer acquisition costs. Continuously track and analyze your e-commerce business's performance to drive growth and profitability.
Scaling and Expanding Your Business
Explore opportunities for growth and expansion as your e-commerce business in Dubai matures. Consider diversifying product offerings, entering new markets, or expanding to brick-and-mortar stores. Continuously adapt to changing market trends and customer preferences.
Expert Advice Is Just A Call Away
You may have a lot of questions in your head after reading the blog. Don't worry, Marqueway, the perfect business setup consultants in Dubai are only a phone call away to assist you with all the procedures and questions. Marqueway business setup consultants can assist you in obtaining a license until you begin your business setup in Dubai. Our complete consulting services are available to make the process of establishing an e-commerce business in Dubai as simple as possible. Give us a call right away.
For more information about the legal procedures, read the legal documents that every startup must have while establishing a company setup in Dubai