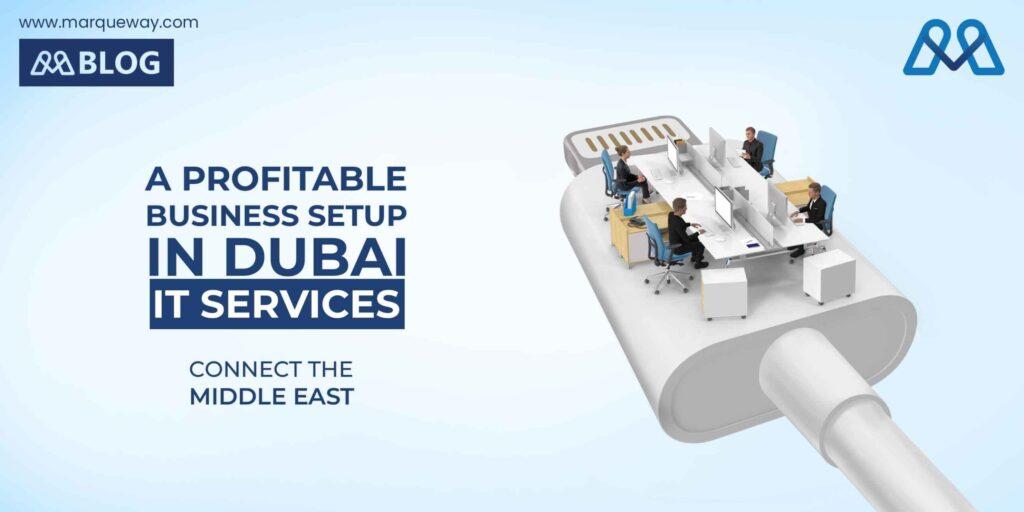 Information technology has pervaded every corner of the globe, leaving no part of the world untouched. In this modern era, it is crucial to establish connections among every region across the planet. Dubai is no different, actually, the vibrant economy, strategic location, and ambitious vision for the future, make this ample for starting an IT startup or branch office. IT is an industry that is always going to stay strong even amidst chaos, the greatest example is the survival of the industry during the covid pandemic. When every business sector in the world was crumbling, IT was the industry that stood the test of time and held its ground. Dubai was also a place that supported its SMEs and other businesses during the covid pandemic, as the government understand the important role that businesses play in their economy. This proves that the best place for IT business setup is in Dubai, UAE and it is the place where you can get the maximum returns on your investment.
The opportunity is big for IT sector in Dubai, as it is a place where the spotlight always shines. The futuristic working atmosphere in Dubai allows you to handle your IT business with ease and tension free. The infrastructure itself takes care of half your problems and now with the arrival of Artificial Intelligence things has become even easier. The digital revolution of Dubai is propelled by the thousands of IT companies and investors allured by the city's luxurious lifestyle, architecture, technology, diverse population and so much more. Dubai has risen to the top of the most desired locations for IT business setup and it is not going to fall back any time soon.
CHOOSING THE LOCATION FOR YOUR IT BUSINESS IN DUBAI
One of the important decisions you have to take when starting your IT business setup in Dubai is to decide upon the location that which you are going to operate from. You can choose between the Dubai Mainland as well the freezone, both having their own positive benefits.
1. International Exposure
2. Zero trade restriction
3. Government Contracts
4. No restriction on the number of visas
5. No currency restriction
1. Full Foreign Ownership
2. Full Profit repatriation
3. No currency restriction
4. Logistics is more easy
5. 0% corporate, import and export tax
Now that you know the benefits of both jurisdictions, you can choose whichever one you want or seek the help of a company formation consultant in Dubai, like Marqueway, to guide you in the right direction and speed up your business setup process. Some locations that are very prominent for IT company business setup in Dubai are Dubai Silicon Oasis (DSO), Dubai Techno Park (DTP), Dubai Internet City (DIC), etc.
MERITS OF STARTING AN IT BUSINESS IN DUBAI
1. Ease of Business
There are only minimal restrictions on what you can do, who you can hire and how you can manage your money. Dubai is a very easy place to set up an IT company as the approvals only takes a matter of days and the application process is overall stress-free with the help of company formation consultants in Dubai.
2. Support from Government
One of the significant advantages of setting up an IT company in Dubai is the minimal restrictions imposed on businesses. Compared to many other locations, Dubai offers a business-friendly environment that allows entrepreneurs to operate with greater flexibility. The government has created an ecosystem that encourages innovation and entrepreneurship, providing ample opportunities for IT companies to thrive.
3. Availability of talented employees
As Dubai is a hub of excellence, people from all around the world come here to be valued and to maximize their potential. The benefits that the Dubai business landscape provides for employees is going to make your employee search an easy process. Be it any department like sales, marketing, software, designing etc, Dubai will help you easily find a talent, national or expatriates, that your IT business requires.
4. Tax Benefits
Foreign investors get to enjoy huge tax benefits when they set up an IT business or any business for that matter in Dubai. The businesses are devoid of paying taxes like income tax, corporate tax or personal tax, although a 5% VAT could be applicable on certain businesses. This tax-free environment will make your IT business flourish better than any other place in this world.
5. Infrastructure
Dubai offers the essential infrastructure required by software companies, including high-speed internet connection, local cloud server centres, and well-equipped office spaces, enabling efficient operations. Entrepreneurs gain access to a wide range of support industries and partners, encompassing hardware suppliers, software developers, legal and compliance experts, and public relations firms, who can assist with various aspects of your business.
STEPS TO START AN IT BUSINESS IN DUBAI
1. Reserve a Trade Name
Your company name should be aligned with the legal requirements setup by the government. It should not contain abbreviations or offensive language.
2. Deciding the Location
Choosing the right place for your IT business can help you save a lot of money as well as help you increase productivity. It also helps you run your business in a smooth manner.
3. Completing Paperwork
There are many legal documents and processes before the business setup in Dubai. This includes certain processes like trade name reservation, acquisition of legal trading license etc.
4. Application of Visa
To commence operations of your IT business in Dubai, you must complete the requisite paperwork for obtaining your visa, along with those of any additional partners or employees (if permitted by the jurisdiction). Once your entrance permission, medical fitness exam, and other prerequisites have been verified, an official visa stamp will be issued, granting you full authorization.
DOCUMENTS REQUIRED FOR IT BUSINESS SETUP IN DUBAI, UAE
1. Passport copies of owner and partners
2. NOC from sponsors
3. Partnership agreement for companies with more than one partner
4. Application form
5. Copies of Visa of yourself and staff
In conclusion, Dubai's IT services industry stands as a testament to the city's commitment to technological advancement and innovation. With a thriving ecosystem of businesses and a government dedicated to digital transformation, Dubai has become a global hub for IT services. As Dubai continues to evolve and embrace emerging technologies like artificial intelligence, blockchain, and the Internet of Things, the opportunities for IT service providers will only grow. Dubai propels itself towards a smart and sustainable future and the IT services industry will play a crucial role in shaping the city's digital landscape.
If you have any more queries and assistance regarding IT business in Dubai, then feel free to contact us!!