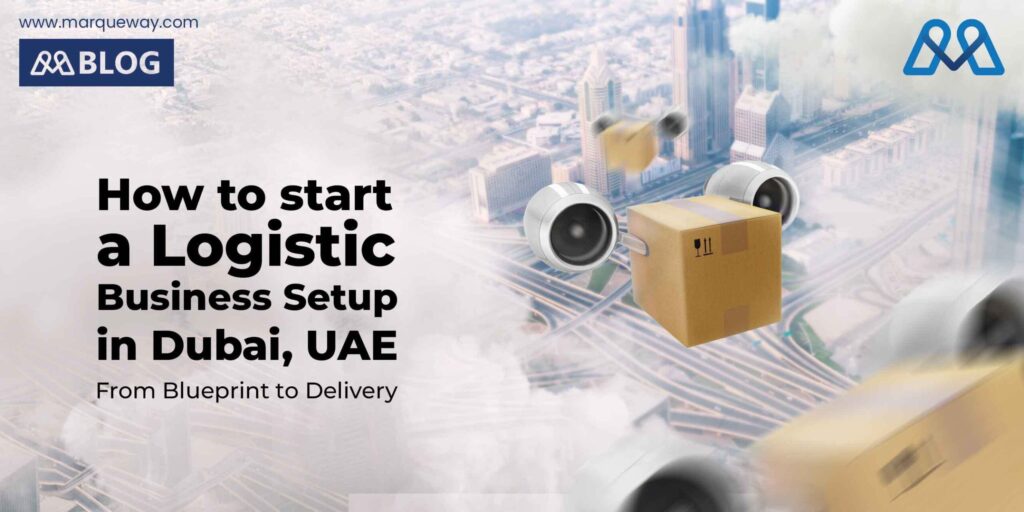 Dubai, an enormous meadow of inconceivable potential, invites enterprising spirits with its desert of opportunities. Set up your ideal business in this active metropolis, which is nestled in the center of the world's most strategic position. Dubai offers a remarkable backdrop for your business setup, with an infrastructure that is unmatched and designed to support the expansion of your company. And if logistics are your thing, Dubai is the perfect place to get started.
Dubai's excellent location at the crossroads of Asia, Europe, and the Western Hemisphere is a siren's song that entices visionaries to enter the logistics industry. Diversification of sectors, seamless harmonization of legal commerce, and export rules dance in harmony here, opening the path for exponential expansion and modernization of logistic services. Join us as we dig into the enticing opportunities and uncover the flawless procedure of launching your very own logistical wonder in the bustling center of the business setup in Dubai.
Why Starting A Logistics Company In Dubai Spells Success?
1. Strategic Location Deepens Global Connectivity
The unmatched geographical location of Dubai at the crossroads of Asia, Europe, and the Western Hemisphere is a logistical gold mine. Your logistics business may easily handle international trade lines and get access to worldwide markets because of the city's astounding connectivity by air, sea, and land.
2. Superior Infrastructure for Smooth Operations
Dubai has a modern infrastructure that has been precisely constructed to handle logistical operations. The city offers a reliable logistical foundation, including advanced ports, airports, and an extensive road network. Your business setup in Dubai may prosper by assuring on-time delivery and client satisfaction by streamlining operations and effective supply chains.
3. A Vibrant Trade Ecosystem with a Wide Range of Possibilities
Dubai's diverse business environment fosters a dynamic trade ecosystem that acts as a driving force for logistical success. Your logistics business may access a variety of sectors, forming profitable alliances and unleashing limitless development possibilities, from re-exporting goods to enabling commerce between Asia, Europe, and beyond.
4. Policies Favorable to Business Accelerate Success
The pro-business atmosphere in Dubai attracts entrepreneurs looking for development and success. The government's dedication to supporting innovation and attracting international investment facilitates the procedure of establishing a logistics business setup in Dubai. With minimal bureaucracy, helpful rules, and an advantageous ecosystem, Dubai sets the road for your company setup to thrive.
5. Tax Advantages Maximize Profitability
Dubai's tax advantages are a boon for logistics companies. As you establish your business setup in Dubai, you can leverage the city's favorable tax regime, enjoying exemptions on corporate and personal income, import and export duties, and capital gains. This advantageous tax structure allows you to optimize profitability and reinvest in the expansion of your logistics empire.
6. Access to Top Talent for Operational Excellence
Dubai's cosmopolitan appeal draws a smart workforce with competence in logistics and international trade. You may draw from a broad pool of experts from all across the world as you assemble your team. Their experience and insight will foster operational excellence, allowing your logistics business to flourish amidst intense competition.
What Are The Procedures And Papers Needed For Setting Up A Logistics Business In Dubai?
Determine Your Business Structure
Begin by selecting the most suitable business structure for your logistics company. Options include setting up as a mainland company, a free zone entity, or a branch office. Each structure has its own advantages and compliance requirements, so carefully assess your business needs before making a decision. Below are the steps for each option where you can setup the business
Free Zone Logistics Company Setup:
Choose the desired free zone.
Determine the business activity and obtain the relevant license(s).
Complete company registration by submitting required documents.
Lease office space within the free zone.
Receive the business license from the free zone authority.
Mainland Logistics Company Setup:
Decide on the legal form, such as an LLC.
Engage with a local partner holding majority shares (51%).
Reserve a trade name and notarize the Memorandum of Association (MOA).
Secure office space and obtain necessary approvals.
Apply for the required licenses from the Department of Economic Development (DED).
Branch Office Setup:
Obtain approval from the parent company.
Reserve a trade name and gather required documents.
Lease office space for the branch office.
Apply for the branch office license from the DED.
Choose a Company Name
Selecting a compelling and unique name for your logistics company is a crucial step. Ensure your chosen name aligns with Dubai's naming guidelines and does not infringe on any existing trademarks.
Engage with a Local Sponsor or Partner
Depending on your chosen business structure, you may need to engage with a local sponsor or partner. For mainland companies, a UAE national or a company wholly owned by UAE nationals must hold a majority share (51%) in the company. Free zones may have varying regulations, so thoroughly research and select a suitable sponsor or partner, if required.
Prepare the Required Documentation
To proceed with your logistics business setup, gather the necessary documentation, including:
Passport copies of shareholders and managers
No-objection letter from the sponsor (if applicable)
Memorandum and Articles of Association
Initial approval from relevant authorities
Proof of address for the proposed business location
Lease agreement or tenancy contract for office space
Bank reference letters
Business plan outlining your logistics operations, market analysis, and growth strategies
Obtain the Required Licenses
Licenses are essential for legal logistics operations. The particular licenses depend on the kind of services you provide, for example, freight forwarding, warehousing, or transportation. Consult with the relevant authorities, such as the Department of Economic Development (DED) or the respective free zone authority, to determine the specific licenses you need.
Open a Corporate Bank Account
Research and choose a reputable bank that offers suitable services for your logistics company. Prepare the necessary documents, including company registration certificates, shareholder details, and passport copies, to complete the account opening process.
Visa and Employee Sponsorship
If you plan to hire employees for your logistics business, initiate the visa and employee sponsorship process. Familiarize yourself with the visa requirements and follow the prescribed procedures to obtain the necessary work permits and visas for your staff members.
The Bottom Line
If you've reached this point, it's likely that you have some concerns and questions about starting a business in Dubai. And that's perfectly normal. But fear not, because Marqueway is here to help address all those doubts and criticisms. As one of the leading business setup consultants in Dubai, we offer a wide range of services to assist you in establishing your business setup in this dynamic city. Don't hesitate to reach out to us for expert guidance and support.