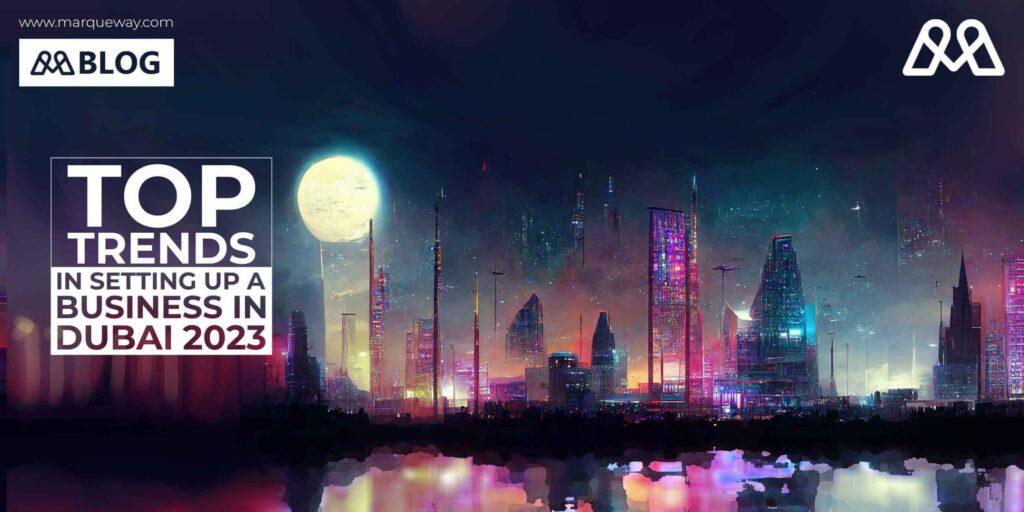 Dubai, a paradise for business, is capturing global attention with its innovative changes and future-oriented mindset. The government continuously updates rules and regulations, making it easier than ever to establish a business setup in Dubai. In fact, there has been a 4% increase in business licenses and approximately 42,000 new company registrations, showcasing the remarkable growth in the region.
Dubai offers a wide range of business opportunities, thanks to its diverse and multicultural population. With the rise of technology and remote or hybrid work, the e-commerce sector is particularly lucrative for entrepreneurs willing to try to succeed.
This blog will explore the top trends and procedures entrepreneurs should know when setting up a business in Dubai. We will have a closer look at specific business opportunities and provide essential insights for entrepreneurs venturing into the world of business setup in Dubai.
Top Business Ideas In Dubai 2023
E-Commerce Business
The pandemic era served as a catalyst for the extraordinary growth of the e-commerce industry as individuals increasingly turned to online shopping as a primary means of obtaining goods and services. This shift in consumer behavior not only provided convenience during the turbulent times of COVID-19 but also fostered a lasting inclination toward digital transactions. As the world gradually adapts to the new normal, an exciting opportunity arises for aspiring entrepreneurs seeking to establish an e-commerce business setup in the vibrant city of Dubai. The world of Internet business enterprises provides a plethora of possibilities just waiting to be explored and fully realized. The key lies in uncovering the finest idea amidst this ocean of opportunities, ensuring a prosperous and flourishing venture in the realm of e-commerce, specifically tailored for the dynamic market of Dubai.
Gym
In light of the pandemic situation, one of the most sought-after business ventures in Dubai that has garnered immense reliance and trust from individuals is the fitness industry. As people have become increasingly conscious about their overall well-being, there has been a remarkable surge in the demand for gym facilities. The citizens of Dubai, renowned for their inclination towards healthcare, beauty, and fitness, present a unique and unparalleled market for gym entrepreneurship. By establishing a meticulously maintained and fully equipped gym, entrepreneurs can seize the exceptional opportunity to create a thriving business setup in Dubai. With a focus on delivering top-notch services and catering to the evolving needs of health-conscious individuals, a gym venture in this bustling city holds the potential for remarkable success and prosperity.
Restaurant business setup in Dubai
Dubai's culinary scene is a melting pot of flavors from around the world, making it a prime destination for starting a food business setup. With its cosmopolitan population and an insatiable appetite for diverse cuisines, the opportunities are boundless. But conducting thorough research and understanding market demand is essential for success.
Whether it's setting up a trendy restaurant, launching a food truck, or opening a cozy café, Dubai offers a receptive audience eager to explore new culinary experiences. From authentic international cuisines to innovative fusion concepts, the city embraces gastronomic diversity. Providing top-notch quality, optimizing profit margins, and delivering exceptional dining experiences are key factors to consider when venturing into the competitive food business setup in Dubai. With careful planning and a focus on customer satisfaction, entrepreneurs can tap into the city's vibrant food culture and establish a gourmet food business in this culinary haven.
Logistic business
Since internet shopping has become so popular, there has never been a greater need for effective logistics. With its sophisticated transport systems and aviation connections, Dubai offers the perfect setting for creating a successful logistics company. The welcoming regulatory environment increases Dubai's appeal as a logistics center. So, let's uncover the enormous potential of the logistics sector in this vibrant metropolis and take the opportunity to develop a successful company setup in Dubai.
Real estate
The real estate industry in Dubai is experiencing remarkable growth, driven by increased infrastructure development and the influx of global settlers. As a result, the demand for land and property within the city has soared. Following a period of gradual progress, certain areas in Dubai are now yielding returns exceeding six percent, surpassing many major cities such as London, Singapore, and Hong Kong. Capitalize on the thriving real estate market and explore the potential for establishing a successful business setup in Dubai.
Tourism Services
Dubai has emerged as a favored global destination, captivating individuals from all corners of the world. The city's breathtaking architecture, most modern shopping malls, cultural diversity, and luxurious lifestyle offer a truly enchanting experience. Dubai encapsulates a harmonious blend of culinary delights, thrilling sports, exhilarating adventures, and unparalleled luxury, making it a paradise in the desert. Travel enthusiasts are drawn to this oasis, leading to a surge in hotel occupancy rates. Even the smallest travel businesses have the potential to thrive by providing exceptional customer service. Whether specializing in visa services or offering incredible accommodations, a tourism-focused business setup in Dubai can seize the opportunities in this vibrant market.
The "City of Gold," Dubai, has a profound appeal to gold dealers and lovers. For individuals with in-depth expertise and comprehensive investigation, this bustling metropolis offers a perfect opportunity to launch a prosperous jewelry business. Dubai Gold and Diamond Park, Dubai Multi Commodity Centre (DMCC), and Dubai Gold Souk are well-known centers that prioritize gold-related business activities. Entering the City of Gold can result in enormous success with careful preparation and true enthusiasm for the field. Explore all of your options and start a jewelry business setup in Dubai, where the fascination with gold never fades.
Explore the opportunities with best business setup consultants in Dubai
After you finish reading, you are going to have numerous questions about the basics and processes for establishing a business setup in Dubai. The following blogs may help you find answers to some of your questions:
Starting a business in Dubai – Things that nobody will tell you
Do's and Don'ts of Setting up a Business in Dubai
Why should you start a business in Dubai?
How can Marqueway help you all the way?
For a very long time, Marqueway has continually been Dubai's top business setup consultant. We have considerable expertise and have successfully aided many ardent entrepreneurs in realizing their aspirations. So, if you are trapped with your worries and concerns, Marqueway will undoubtedly be your guide till you realize your ultimate aim, which is to create a successful business setup in Dubai.