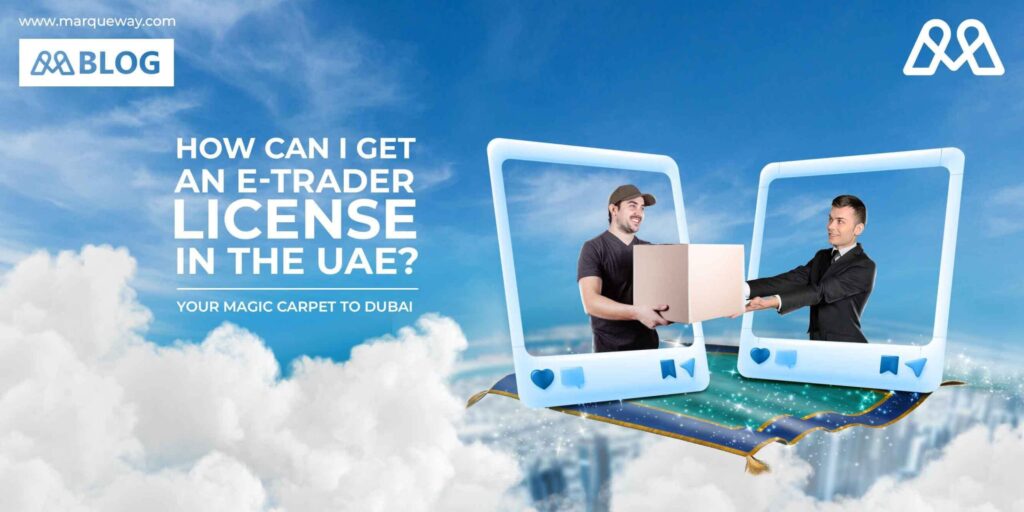 Embracing the vast potential of social media extends far beyond mere connections between individuals. It has revolutionized the way we conduct business, enabling seamless e-commerce activities and fostering the growth of innovative ideas across borders. The convenience and productivity offered by social media platforms have allowed entrepreneurs to operate thriving businesses from the comfort of their own homes, without the need for exorbitant investments in establishing physical stores or promoting their products and services.
Dubai, renowned as one of the world's premier markets for online businesses, generates a staggering $8.5 billion in annual revenue for the city's economy. To ensure legal compliance and safeguard both business owners and their clients, acquiring an e-trader license is a prerequisite for establishing an online business in Dubai. This license opens the door to the realization of your dreams of setting up a successful business in the vibrant landscape of Dubai, UAE. If you aspire to transform your dreams into reality, delve further into this article to discover the essential steps to obtain an e-trader license in Dubai and unlock the possibilities of business setup in the UAE.
Benefits Of E Trader License In Dubai, UAE
An E Trader license in Dubai presents a host of advantages for entrepreneurs planning their business setup in Dubai. Let's explore the benefits of having an E Trader business license in Dubai, which opens up remarkable opportunities for online business setup in Dubai.
Expansive Target Audience:
With the majority of people in Dubai actively engaged in social media, having an online business setup in Dubai allows you to tap into a larger target audience compared to traditional brick-and-mortar establishments.
Minimal Investment Requirements:
When it comes to business setup in Dubai, the barrier of hefty investments is not a major concern for online ventures. All you need is a workspace, whether it's your home or any suitable location, to kickstart your online business.
Tax Exemption:
An E Trader business setup in Dubai offers complete exemption from taxes. This means you can enjoy the advantage of setting up an online business in Dubai without the burden of paying personal or professional taxes.
Excellent Logistical Landscape:
For those interested in e-commerce business setup in Dubai, the city boasts an exceptional logistical infrastructure. Dubai's strategic geographical location makes it a global crossroad, facilitating swift movement of products in all directions.
Diverse Expat Community:
With over half of Dubai's population comprising expatriates from around the world, your business setup in Dubai can benefit from a diverse and cosmopolitan customer base. Regardless of the size or nature of your online business, you will always have a significant target audience in the city.
Advanced Technological Infrastructure:
Dubai is renowned for its cutting-edge technology and fast internet services. By choosing Dubai as your business setup location, you gain access to one of the world's most technologically advanced cities, ensuring seamless online operations.
These advantages make an E Trader business license in Dubai an attractive option for entrepreneurs looking to establish their online business in Dubai. By leveraging these benefits, you can build a solid business foundation and pave the way for future success.
How Can I Apply For An E-Trade License In Dubai?
If you're eager to kickstart your E-Trader business in Dubai, securing an E-Trader license is the key that unlocks the door to success. The best part? The process is refreshingly straightforward, especially when compared to other business setup options in Dubai. So, let's dive deeper into the details of how you can grab that coveted E-Trader license and start your entrepreneurial journey with confidence in Dubai, UAE.
Visit the Department of Economic Development (DED) website
Go to the official website of the DED in Dubai, which is the regulatory body responsible for issuing E-Trader Licenses.
Navigate to the E-Trader License section
Look for the dedicated section on the DED website that specifically provides information and resources related to E-Trader License applications.
Gather the required documents
Before starting the application process, make sure you have the necessary documents readily available. These typically include:
Valid passport copy (for UAE citizens) or a valid GCC ID card copy (for GCC nationals residing in the UAE)
Emirates ID copy
Passport-sized photograph
Proof of UAE residency (e.g., utility bill or tenancy contract)
Bank statement or financial statement (if required)
Fill out the application form: Complete the application form provided on the DED website. Ensure that you enter accurate and up-to-date information.
Submit the application
Once you have filled out the form and attached the required documents, submit the application through the online portal.
Pay the necessary fees
Upon submitting the application, you will be required to pay the applicable fees. These fees may vary, so it's advisable to check the current fee structure on the DED website.
Await approval and issuance
After submitting the application and paying the fees, your application will undergo a review process. If all requirements are met and there are no issues, the DED will approve your application and issue the E-Trader License in Dubai, UAE.
Collect your E-Trader License
Once the license is approved, you will be notified by the DED. You can then collect your E-Trader License either online or in person, as per the instructions provided by the DED.
Remember to carefully follow the instructions provided by the DED throughout the application process. It's also recommended to keep copies of all submitted documents for your records.
Conclusion
If the concept of obtaining an E-Trader license and navigating the vast market seems overwhelming, fret not! We understand that you may have numerous questions and uncertainties. That's why Marqueway, a leading business setup consultant in Dubai, is here to assist you every step of the way. With our expertise and experience, we have helped countless entrepreneurs turn their dreams into tangible realities. Our comprehensive packages offer complete support throughout the E-Trader license application process. So, if you're ready to transform your dreams into a thriving online business in Dubai, UAE, don't hesitate to reach out to us today. Together, let's make your entrepreneurial aspirations a resounding success.