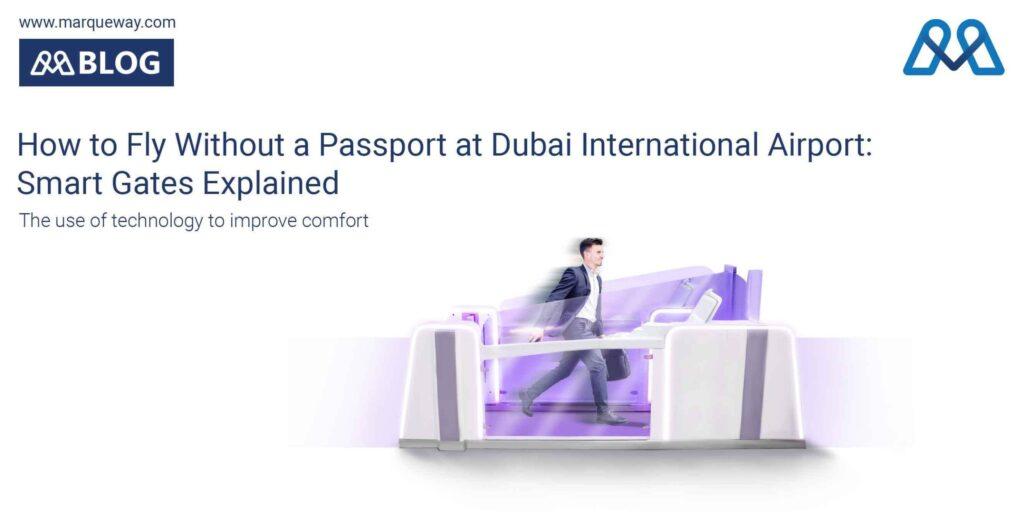 Innovations are being created without reluctance in Dubai. This draws individuals from all around the world to the desert of possibilities. With these novel developments and concepts, business is elevated to new heights. The nation has excellent technological infrastructure that constantly enhances Dubai's economic environment. From travelers to businesspeople, the standard of living in this country is unparalleled. The business structure in Dubai has continuously changed as a result of these discoveries and the development of technology. Travel is the most pressing issue for entrepreneurs who want to move faster. Time is money to them, and it counts a lot. Dubai has already acknowledged this and taken steps to defend it. The most significant step they have taken is to install Smart Gates at the airport.
The introduction of Smart Gates at Dubai International Airport aims to enhance the traveler experience by expediting security screening and minimizing processing timings at Check-ins. These gates employ advanced biometric technology to authenticate visitors' identities, such as face recognition and iris scans, allowing them to pass through passport checks without having to present a physical passport.
This article aims to examine the technology underlying the Smart gates at Dubai International Airport, how to sign up for and use them, and the advantages they provide for travelers.
How do Smart Gates work?
Smart Gates employs advanced biometric technologies to authenticate travelers' identities. These technologies, which use iris and face recognition, are more reliable and secure than conventional means of identification. Travelers must register their biometric information at one of the airport's registration kiosks in order to utilize Smart Gates.
Once a tourist has registered, the Smart Gate system will check their biometric data against the information in their passport to verify their identification. In order to have their identification verified, travelers only need to go up to the smart gate, scan their boarding card, and gaze into the camera. If the system recognizes the passenger, the gate will open, and they will be able to go through passport checks.
Who is eligible to use Smart Gates?
Residents of the UAE, GCC nationalities, and foreign tourists who are 18 years of age or older have access to Smart Gates. The Dubai Airport website maintains a list of the nations that qualify, which is updated often.
How do I register for Smart Gates?
Travelers must stop by one of the registration kiosks at the airport to sign up for Smart Gates. These kiosks may be found at Concourse B of Terminal 3 and Concourse D of Terminal 1. Smart Gates can be registered on the day of travel or in advance.
Travelers must have their passports and, if appropriate, a valid UAE residency visa to sign up for Smart Gates. In order to register, a tourist must have their passport scanned, have their picture taken, and have their iris scanned.
Travelers can use Smart Gates after registering, which will speed up and simplify the process of getting through passport control on subsequent travels.
What are the benefits of using Smart Gates?
Smart Gates offer a number of benefits for travelers, including:
1. Increased processing speed
Passengers may move through the procedure swiftly and effortlessly thanks to Smart Gates, which are intended to shorten wait times at passport check.
2. Enhanced security
By lowering the possibility of identity fraud and making it harder for people to enter the country illegally, the use of biometric technology contributes to strengthening security at airports.
3. Convenience
Passengers may easily pass through passport checks using Smart Gates without having to pull out their passports or speak to airport officials, which can be very useful for people who might find it difficult to communicate in English.
4. Cost-effective
As they require less human processing and personnel at passport check desks, Smart Gates are a cost-effective solution to administer border checks.
5. User-friendly
With simple interfaces and clear instructions, Smart Gates is intended to be user-friendly.
Traveling has gotten simpler as a result of the modifications that the UAE government often provides. Smart Gate is one of the benefits that Emiratis receive, yet it does not end there.
Let's see what other inventions the UAE develops.
Virtual assistants
Dubai Airport has implemented virtual assistants to assist passengers in navigating the airport and answering any issues they may have. The interactive kiosks spread out across the airport provide access to these tools, which are offered in a variety of languages.
Baggage monitoring
Dubai Airport has implemented a baggage monitoring system that allows passengers to monitor the status of their bags in real time. This system employs RFID technology to track the whereabouts of luggage throughout the airport, lowering the possibility of lost or delayed luggage.
A cashless transaction
To make it simpler for travelers to buy food, beverages, and other products, Dubai Airport has introduced contactless payment options. Mobile payments and contactless credit cards are examples of these technologies, which decrease the need for cash and make transactions faster and more convenient.
Immigration counters with electronic gates
Dubai Airport has installed immigration counters with automated gates, allowing passengers to pass through immigration swiftly and simply without having to engage with a human immigration officer. These gates employ biometric technology to confirm the traveler's identification, accelerating and securing the process.
Have you ever imagined completing airport formalities in such a short period of time?
If you didn't already believe it, you can now. You may take advantage of it by establishing a business setup in Dubai. Visit our blog for more information on how business setup consultants in Dubai can assist you in starting your dream business
Dubai is the most advantageous location from which to operate in order to enter the global market since it is positioned at the crossroads of Europe, Asia, and Africa. The resources that the country offers inspire more people to pursue their entrepreneurial interests there. Wish to establish a business setup in Dubai? Call us right away.