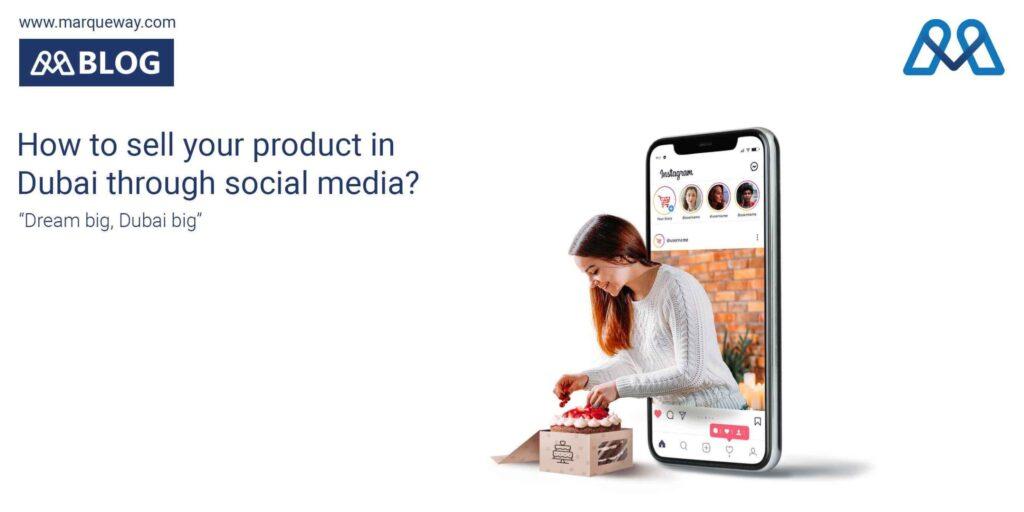 Dubai is always changing and opening the way for new and creative commercial ventures. Inventions are constantly happening in the field of business as young entrepreneurs are eager to achieve success. They gladly adhere to the new maxim of fusing necessity with technology. Fewer investments and more turnover are two trends that constantly surround Dubai's corporate environment. By generating ideas while keeping this in mind, creative business concepts may arise, resulting in a business setup in Dubai that is open to all possibilities. Selling goods or services via social media is a new idea that motivates prospective business entrepreneurs.
Selling products or services through social media is a popular and expanding trend around the world. The Department of Economic Development (DED) in Dubai administers the regulation of this kind of enterprise, which needs a trade license to operate lawfully. In this article, we will go through the prerequisites and process for acquiring a trade license in Dubai to sell via social media.
Why Do You Need a Trade License to Sell Through social media?
Each firm operating in Dubai is legally required to get a trade license, regardless of whether it conducts online or offline sales. The license, which is provided by the DED, is evidence that your company has permission to operate in the emirate. If you don't have a trade license, you might be liable for sanctions, fines, or even legal action.
A commercial license is not only required by law but also has several advantages. For instance, it enables you to create a bank account in your company's name, apply for staff visas, and use government services and perks. A trade license also provides your company legitimacy and reputation, which may assist you draw in clients and business partners.
Types of Trade Licenses in Dubai
There are three main types of trade licenses in Dubai:
Commercial License: Companies that participate in commercial operations, including trade, manufacturing, and retail, must obtain this type of license.
Professional license: This license is needed for companies offering expert services, including consulting, accounting, and legal representation.
Businesses that participate in industrial operations, such as manufacturing and production, must have an industrial license.
Depending on the type of your business, you may require a commercial or professional license in order to sell on social media.
Steps to Obtain a Trade License for social media Sales in Dubai
To obtain a trade license for social media sales in Dubai, you will need to follow these steps:
Step 1: Choose Your Business Activity
Selecting the proper business activity is the first step in acquiring a commercial license for social media sales in Dubai. You can select from a list of more than 2,000 business activities upheld by the Department of Economic Development (DED). It's critical to choose the one that most accurately reflects the products or services you want to promote on social media. The following are some examples of business activities:
Retail Trade – Clothing
Retail Trade – Electronics
Business Consultancy
Advertising
Legal Services
Step 2: Determine Your Business Legal Structure
Sole proprietorship: This is the most basic type of business structure, in which you are the single owner and are responsible for all elements of its management.
Partnership: A partnership involves two or more people who share ownership of the business and are responsible for its operation and finances.
Limited Liability Corporation (LLC): An LLC is a distinct legal entity with one or more members who are the proprietors. The members are only partially liable for the debts and liabilities of the business.
Free zone business setup in Dubai: A free zone business setup in Dubai is a corporation that has been created in a designated free zone, which provides tax advantages and other benefits.
Your choice of legal structure will be influenced by your personal preferences, the magnitude of your company, and your tolerance for risk.
Step 3: Choose a Company Name
You must choose a distinctive and suitable name for your business after deciding on its economic activity and legal structure. Your company's name should accurately describe what it does, and it shouldn't be the same as the name of another company in Dubai. You can verify the availability of your selected name on the DED's website.
Step 4: Apply for the License
You may move on with the trade license application once you've determined your business's activity, organizational structure, and name. You can submit an application for the license either online through the DED's website or in person at one of their offices. You must fill out the following information for the application:
Business activity
Legal structure
Company name
Contact information
Owner's passport copy
Proof of address
Business plan
In addition, you will need to pay the necessary fees for the license. The fee amount will depend on the type of license you are applying for and the legal structure of your business.
Step 5: Obtain the Approval
The DED will examine your application and accompanying papers after you submit them. They will provide a trade license for your social media sales company if everything is in order. The license will specify the sort of license you have as well as your business's activities and organizational structure.
It's important to remember that applying for a trade license in Dubai to sell goods via social media is a continuous procedure. Your license must be renewed every year; failing to do so might result in penalties or legal action.
Regulations and Requirements for social media Sales in Dubai
Licensing Requirements
The obligation to get a commercial license is one of the most significant regulations for companies that sell through social media in Dubai. Failure to get a trade license can result in penalties or legal action. A trade license is a legal document that permits a firm to operate in the UAE. Commercial, professional, and industrial licenses are the three categories of trade licenses available to business setup in Dubai.
Companies must pick an acceptable business activity, figure out their legal structure, select a company name, and apply for the license in order to get a trade license for social media sales. The application will need firms to provide contact information, proof of residence, and a business model, among other papers.
Companies that perform social media sales must also make sure that their operations are authorized by their license. For example, a company that has a licensing to sell apparel cannot use its social media platforms to sell gadgets. The licensing procedure may be fairly complicated, so it's crucial for firms to consult legal experts in order to make sure they adhere to all applicable laws.
Advertising Regulations
Dubai's social media sites must abide by all applicable advertising rules and regulations. All advertising in the UAE must adhere to the requirements outlined in the Advertising Standards Code (ASC). In Dubai, the National Media Council (NMC) is responsible for enforcing the ASC.
All advertising must comply with the ASC's rules and be decent, honest, and truthful. Advertisements are not permitted to make false or deceptive claims or to include information that is not supported by facts. Also, it must be easy to tell apart advertisements from journalistic material.
Companies that conduct social media sales must also abide by the Consumer Protection Law and the Electronic Transactions and Commerce Law (ECTL) (CPL). According to the ECTL, all electronic transactions must be done in a safe and trustworthy way, and companies must get customers' permission before sending them any electronic messages.
All products and services offered for sale in the UAE must adhere to the CPL's quality and safety requirements. Companies that sell things via social media must make sure that their goods adhere to these criteria and are not in any way misrepresented or improperly marketed.
Payment and Shipping Regulations
Companies in Dubai selling on social media must also abide by UAE shipping and payment laws. These regulations set out the standards for the safe and secure processing of online payments, as well as the standards for the delivery of goods.
The UAE Central Bank has released rules for online payments that require enterprises to utilize safe and dependable payment mechanisms and to protect client data from unauthorized access. The Payment Card Industry Data Security Standard (PCI DSS), which mandates that all organizations that take credit card payments maintain a secure payment environment, must also be followed by business setup in Dubai that conduct social media sales.
Business setup in Dubai that conduct social media sales must also abide by the UAE's shipping laws, which demand that all products be delivered promptly and safely. The laws establish criteria for products' packing, labelling, and transportation, and enterprises must guarantee that their shipping procedures adhere to these requirements.
Intellectual Property Rights
Companies that conduct social media sales in Dubai must also make sure they respect other people's intellectual property rights. The guidelines for the protection of intellectual property in the UAE are outlined in the copyright and trademark laws of the nation.
Also, they must make sure that any copyrighted content they use in their marketing or promotional materials is used with the appropriate permits and licenses.
Conclusion
In Dubai, a fundamental shift is taking place in the way businesses are sold and run. Selling through social media is unquestionably the most unique and cost-effective method of establishing a business setup in Dubai. So, as we draw to a conclusion, you may start to realize your aspirations and launch a social media-based business setup in Dubai. Marqueway is always available to assist with all of your queries and concerns.