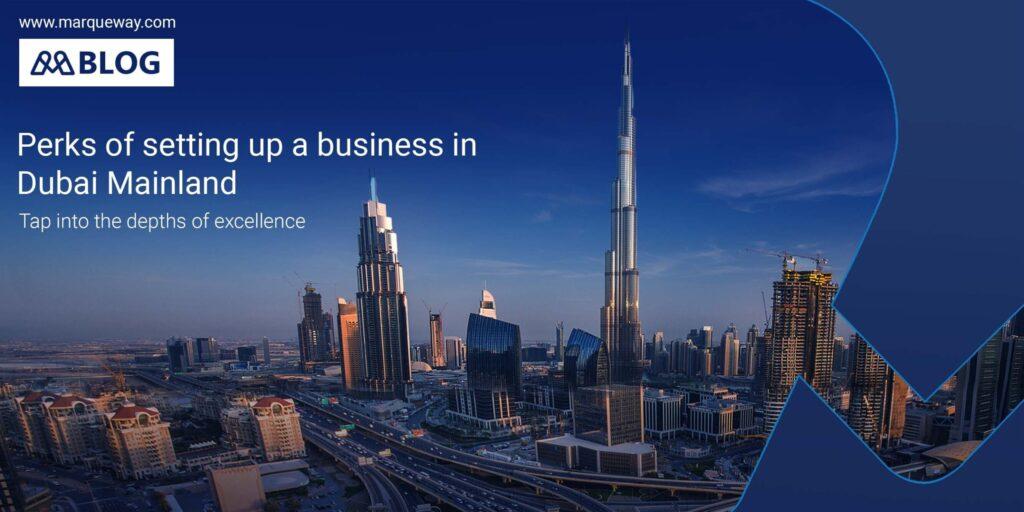 Are you pondering over the idea of setting up a business in Dubai?
Then Dubai Mainland is the most vibrant place for fulfilling your desire. All the ingredients for a successful business are there in Dubai, like a streamlined visa process, less paperwork, strong revenue streams, top-grade technology and infrastructure, a virtuous and welcoming society, supportive and encouraging Government, ease of access, and a far-fetched vision for the future. Mainland companies can get into different sectors of business like commercial, industrial, trading, professional, tourism, etc. Some areas of businesses need approvals from the respective authorities that have the governing power and some business activities are registered for UAE nationals only. Previously, expatriate business owners were only allowed to own a maximum of 49% of the business while the remaining 51% share was to be dedicated to the Emirati sponsor. Now, Foreign investors/entrepreneurs have the opportunity to own 100% of their companies located on the Mainland given they follow the resolution policies outlined by the UAE Cabinet. The enactment of reforms to the Commercial Companies Law was in effect from June of 2021 by the Government of UAE; this is to charm different business giants from around the world to setting up a business in Dubai and as well as other Emirates, which leads to the overall development of the economy and the business sector.
If you have made up your mind of setting up a business in Dubai Mainland then first you need to select a unique trade name that matches your company's nature. Then register your company in the Department of Economic Development (DED) which prepares the Memorandum of Association (MOA) and verify all your documents like partnership documents, passport, visa, EID etc. The next step is to select a suitable office space in the premium world of the Mainland which then leads to the issuance of Business Trade license.
Types of business entity you can form on Dubai Mainland:
Limited Liability Company (LLC): An LLC can either be private or public, depending on the company's nature and purpose and subject to few requirements in terms of incorporation. An LLC can be created by shareholders with a minimum of 1 and a maximum of 50. New rules allow 100% ownership for foreign nationals.
Private Shareholding Company: Foreign investors in partnership with a local company or entrepreneur can set up a private shareholding company. The company cannot invite the public for subscribing in its shares and it is incorporated by minimum 3 members.
Joint-Stock Company: It's called as a Public Shareholding Company. It should have a minimum of 10 founding members. In this business setup in Dubai, the capital is divided into equal shares and the liability of the shareholders are limited to the number of shares in the company.
Major benefits of Company setup in Dubai are:
1. Omnipresent Business opportunities: Commencing your business in Dubai Mainland can open up new spheres of the international market and high-profile customers. You can grasp international exposure to develop and diversify your business. The reach of your business will conquer untouchable heights and that will lead you into constant revenue flow.
2. Effortless Acquiring of Office Space: In the premium area of Dubai mainland, you can easily find an office space that is equipped with everything that you need to move in immediately. Desks, phone and internet access, fluid reception service etc are some usual inclusions in these spaces. There are also spaces where the business owner can design the space according to their wish and furnish the space with equipment of their own choice.
3. Freedom for Business: Dubai mainland businesses are allowed to conduct business activities with other mainland businesses as well as fee zones and with companies outside UAE. They face no restriction for trade and thus business owners enjoy the ultimate joy that is freedom. There is no minimum capital requirement for formation of Mainland Company and also is exempted from corporate tax.
4. Lucrative Government contracts: By forming a company in Dubai mainland you can directly get in touch with the Government sector. Yearly, the Government released or introduces new projects or assignments for the betterment of the business sector and by being an entity in the mainland you will be in a position to take advantage of such opportunities.
5. Stress-free business setup formalities: There are certain guidelines issued by the License issuance authorities and other governmental agencies. You just have to follow these guidelines to set up a mainland business in Dubai. This can also be accomplished with the help of experienced business setup consultants in Dubai.
6. Geography: Dubai is also a strategic business location rather than just a place for top-notch tourism. The geographical advantage can mostly be utilized when you are based around the mainland because it consists of places that all of Dubai or the Emirates look up to
7. There are no currency restrictions for mainland companies: The entire profit and capital can be completely absorbed by the business owners.
As one of the most advanced places in the world, many numbers of international investors and businessmen are showing interest in company formation in Dubai. Some notable business locations on the mainland for you to setting up a business in Dubai are:
1) Sheik Zayed Road…
The most prestigious road in Dubai-the Sheik Zayed Road- is one of the best commercial centres of the world. Running parallel to UAE's coastline, the region is filled with architectural marvels. Connectivity to other commercial places makes this region more and more valuable. It's not only about the geographical significance, the region is also housing professional companies to world renowned brands and also start up business ventures.
2) Business bay…
Business Bay opens up various possibilities and opportunities to diverse business plans, so that huge brands as well as SMEs can also be part of the business elite. This is the result of the Dubai Government's vision to make this city a focal point for business titans. This is not only a commercial area but also opens up to various tourism ventures. The lion's share of the area is dedicated to business purposes and the rest is used up for Residential space and for the entertainment industry.
3) Al Quoz…
This is one of the major manufacturing and industrial site in this city. The area is divided into warehouses, storage areas, business centres and also for residential purpose. The region is also equipped with medical centres, shopping malls, restaurant chains, educational institutions etc. Al Quoz consists of some of the oldest manufacturing companies which assists the industrial sectors and factories. The closeness to the Jebel Ali airport and Dubai International Airport also increases the market for trading sectors in the region as well.
4) Deira…
Deira exhibits the cultural side of Dubai which is a cosmopolitan city. The region is fast developing and suitable for business set up in Dubai. The Government is developing this region by also giving importance to its cultural heritage. Situated in the centre of Dubai, it connects the old Dubai and the New Dubai. Deira gives you variety of options for business setup in Dubai, cause the region has trading sectors, hospitality industry, commercial Industries etc. Deira has no restriction to real estate, so you could achieve a low-cost office in Dubai. This region also gives importance to tourism, as it is home to some of Dubai's oldest souks. The scope of restaurant chains and textile business are great in this region.
5) Jumeirah…
The best bet for luxury and lifestyle business formation is in Jumeriah. The region is divided into three: Jumeirah 1, Jumeirah 2, Jumeirah 3. Tourism and real estate are the basic business trends in Jumeirah. Jumeirah is mainly a coastal residential area with hotel developments and private dwellings. One of the most visited public beaches in Dubai, the Jumeirah open beach, is a prime tourist attraction.
The development plans and projects for the future is so demanding that it would be a big lapse from your part if you don't have a plan for starting a business in Dubai. There could not possibly be any better place to start your business than Dubai as it is poised to grow than what it is right now. Dubai has one of the most active airports and seaports in the world and that provides good connectivity for your business. Dubai mainland is always a centre of attraction for everybody in and around Dubai. This premium area contains all the good things that everyone says about Dubai. People from around the world visit this area seeking prime services and shopping experience and this also improves the business sector as well. Dubai mainland is now living the future and in the coming years the Dubai authorities are going to amaze the whole world with their magnificence.
If you have any more queries or doubts about this, feel free to contact us.