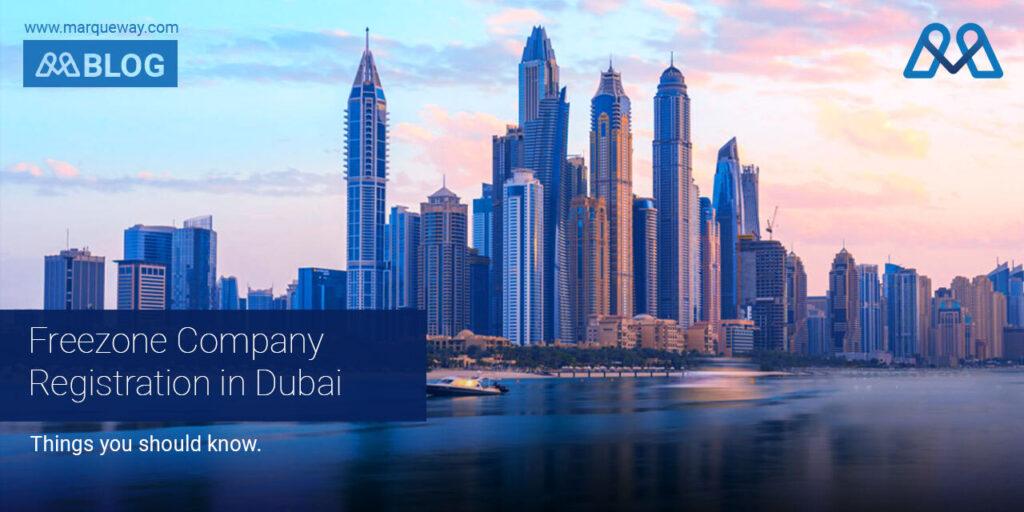 Are you planning to set up a freezone company in the UAE? Do you still have questions about the whats and whys of freezone company registration in Dubai or anywhere in the UAE? Here are some pieces of information that may help you in setting up a business in UAE.
The first question you may have is obviously, what is a freezone company? Freezones are outlying areas in the United Arab Emirates that have special legal status and are regulated by specialized laws that promote the growth of particular industries across the nation. Most of the freezones permit 100% foreign ownership, attracting a high volume of investors and businesses to the UAE.
Each freezone has distinct requirements for things like minimum capital, office, and warehouse space, permitted operations, approved industries, etc. Specific industry-oriented licenses are required to complete a Dubai freezone company setup.
Why should you register your freezone company in Dubai?
The global economy is growing in the UAE at the speed of light. The United Arab Emirates, with t
he fastest growing economy, has around 50+ freezones in the country which has helped many global leaders as well as high-potential startup entrepreneurs to expand their business territory in and all around the United Arab Emirates. Why do these companies set up as a freezone company? There are numerous advantages, which primarily include;
Foreign investors can acquire 100% ownership of the business.
Availability to top-notch logistical resources.
Supply of a vast, multicultural pool of qualified experts.
Industry-specific benefits based on the freezones.
One-stop-shop work visa services for hassle-free international recruitment.
Tax lasting up to 15 or 50 years.
100% tax-free imports and exports to the freezone.
100% of the capital and profits are returned.
Tax exemptions on corporate tax for up to 50 years.
Can apply for the UAE tax residency certificate.
Things to consider in registering a freezone company in Dubai.
Setting up a business in Dubai, especially a freezone company, should be a heedful process. You should choose a business setup consultant that has sound working experience as well as wide knowledge in the domain. A freezone company formation in UAE requires various documentation processes with regard to jurisdiction, legal type & structure, the process of establishment, etc. Having the right business setup consultant in Dubai, like Marqueway, can help you in determining and completing the company formation process hassle-free depending upon the nature of your business. Marqueway will provide you with top-notch consultations by understanding your business in-depth and making your journey absolutely stress-free.
Steps involving a freezone company registration in Dubai.
When you have a business setup consultant like Marqueway, registering your company in Dubai freezone is much easier. We complete the process with minimum paperwork within the lowest time frames. So how do you get it started?
Talk with Marqueway and elaborate on your requirements.
Choose a business activity with the help of best-in-class consultation.
Decide the freezone which you want to opt for starting your dream business.
File your license application.
Apply for a Visa (Or visas)
Open up a corporate bank account for your business
We offer expert support services at every step to complete your dream business registration in Dubai and all around the UAE. Do you nod in agreement with these advantages? Complete your freezone company registration in Dubai with Marqueway, the best business setup consultant in UAE.