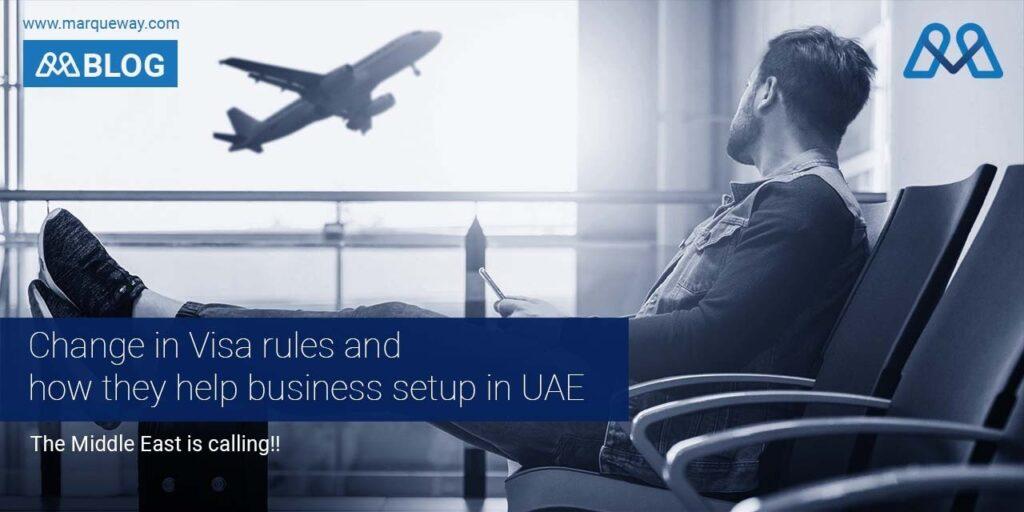 UAE with its over-the-top architectural designs, extravagant luxury lifestyle and other eye-popping attractions, draws people's attention from every corner of this world in choosing UAE as a place to settle down or at least visit the place once in their lifetime. On October 3rd, 2022, UAE revamped its visa rules paving way for more entry into the country which enhances UAE's position as a prime destination to live, work, study, invest, etc. UAE has launched new visa rules that introduced new types of entry visas, and resident permits, widened the categories of Golden Visa, and many more. This new model is to allure high caliber talents and proficient workers from around the world to improve the economy. This new visa system will lessen the burden of the visa application process and act as a catalyst for increased tourist visits which opens up new routes for development and business setup in UAE.
The notable changes in the UAE visa rule are as follows:
Entry Visa
UAE has introduced a new group of entry visas that doesn't require a sponsor or host. This is the first time that UAE has taken an intitiation into something of this sort. One of the major improvements in the visa rule is the duration of the on-arrival visa. Previously it was just 30 days for many nationalities but now it has been upgraded to 60-day visa on arrival. The new visa regime allows all types of tourist and visit visas to be renewed twice for the same time duration. Visitors can apply for renewal before the expiry of the first time period.
The job exploration visa allows young talents and experienced professionals to take a peek at the various job opportunities/vacancies in the emirates. The basic requirement for this visa is to have a bachelor's degree or its equivalent preferably from one of the top 500 universities in the world. Then comes the business entry visa which enables aspiring entrepreneurs, investors and businessmen to survey the country and find prospective investment/business oppurtunity. Apart from regular tourist visa, a five-year multiple-entry visa was also instigated. Each time you visit under this visa,
you can stay in the country for a period of 90 days which can be extended. In order for you to get this visa you need to have a bank balance of around AED 15000 or equivalent in foreign currencies during the last 6 months before setting forth your visa application.
Golden Visa
Golden Visa allows foreign nationals to live in UAE for up to 10 years for education and work.
The UAE has extended the categories of eligibility to apply for a Golden visa. The 10-year Golden residence will be permitted to investors, entrepreneurs, unique talents, scientists, outstanding students and graduates, and other skilled workers. The new updation allows the golden visa holder to sponsor their respective family members regardless of their age. The new scheme allows the golden visa card holder to remain outside the Emirates for indefinite periods of time. Earlier on, they were only allowed to stay outside UAE for below 6 months and if this time period was exceeded visa was declared invalid. Real estate investors who purchase a property worth AED 2 million are eligible for the golden visa permit. This is also applicable when a property worth AED 2 million is brought by an investor through loan from specified local banks. Entrepreneurs can also obtain the Golden visa if their company is registered within the UAE and should come under the small and medium enterprise (SME) category with annual revenues of AED 1 million or more. Doctors, nurses, and other medical staff are also being granted the golden residence in "recognition of their efforts and sacrifices". A 10-year visa is allowed for people with exceptional talents in the field of sports, arts, culture, law and other fields. These are granted purely based on the outstanding ability and talent they possess in their area of expertise and approval from a local government or equivalent is required along with this.
Green visa
The new 5-year green visa is intended to attract eminent talents and proficient workers from around the globe. Freelancers, investors, businessmen, Self-employed individuals who wish to have a business setup in Dubai, Abu Dhabi or any other emirates, and other prominent personnel all can obtain green visas without a sponsor or host. Green visa holders will also have the merit of sponsoring their spouse, children and first-grade relatives. They have the option to sponsor their male child till the age of 25(previously 18 years) and unmarried female children can be sponsored indefinitely. They can stay back a period of 6 months after their green visa validity is over. Self-employed/freelancers with respective permits from the Ministry of Human Resources and Emiratisation, a bachelor's degree and a monthly salary of AED 15000 or more are eligible for a green visa. Five-year residence for investors is granted by producing their approval and proof of investment along with approval from local authorities.
The above-mentioned changes were approved in the month of April by UAE's cabinet and they were announced on October 3 by the Federal Authority for Identity, Citizenship, Customs and Ports Security (ICP). This has resulted in an increase in the number of visitors to the UAE, as well as an increase in the duration of stay for those who do visit. The new visa rule also has a favorable effect on business setup in UAE, as it has made it easier for companies to bring in foreign employees or clients. The rule has been particularly advantageous for companies that rely on international talent or that have clients based abroad. The increased number of visitors to the UAE has also led to an increase in business opportunities and investment.
Planning a business set up in UAE could be a very profitable decision as it is a hub of excellence and your business could benefit from the diverse range of people who visit/stay there. With that being the case and with the updation of these visa rules, the scope of business setup in UAE is through the roof. The procedures leading to company setup in UAE are now hassle-free and the availability of skilled employees has also increased. UAE is now in the spotlight, as the chance of success doing business here is very high cause of the updation in visa rules. The government is taking these initiatives for the development of the tourism sector and also for the overall development of the financial system.
The government understands the potential of developing this country through investors, business people and skilled personnel. So, as a first step, the government made changes in the visa regime and made it more flexible. If you are interested in having a business setup in UAE this is the right time as this is just the beginning of the more incredible things to come.
If you have any more doubts or queries regarding this matter, feel free to contact us.