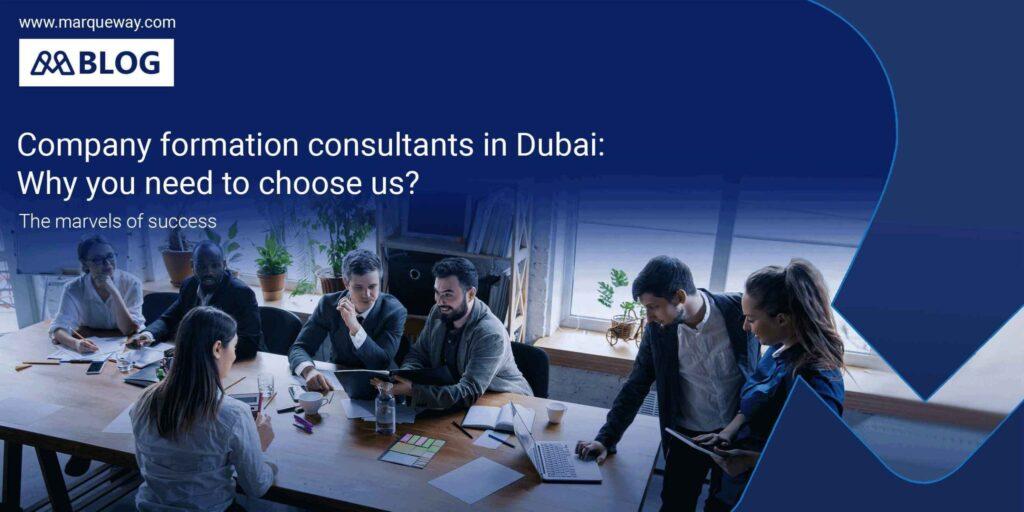 Dubai, one of the seven emirates of the United Arab Emirates, has grown into a major commercial powerhouse in the Middle East. Approximately 1.5 million people live there, and immigrants comprise around 82% of the total population. Dubai's outstanding Economical and Fiscal Policies have made it one of the most popular business paradises for investors from all industries. There are roughly 35 free trade zones in Dubai, all of which have sparked the interest of investors from all over the world for urging to establish their Business Entities in Dubai's Economic and Free Zones.
The rules and regulations for setting up a business in Dubai have long been arduous for aspiring entrepreneurs. Many people who want to do business in Dubai are ignorant about the fiscal policies that govern the business economy. If you want a simple and stress-free approach, business formation consultants in Dubai are the best option. The main goal of a business setup consultant is to relieve investors to ease of managing the entire company formation procedure on their own. Their background and expertise help to streamline the process of business formation in Dubai, United Arab Emirates.
Company formation consultants in Dubai provide below and beneath the scope of their skills to ensure that the light of success shines on you. Dubai boasts exceptional aviation facilities and exceptional connectivity to all major global destinations. Modern technology and High-End Infrastructure upgrades have helped it advance. Companies with UAE incorporation are allowed to operate in the free trade zones and are exempt from paying taxes, trade restrictions, and quotas. The ultimate fantasy of business aficionados is the paradise that people have aesthetically crafted for a futuristic business environment. Don't be afraid to have huge dreams. Visit Dubai. Company formation consultants in Dubai are there for you at all times. Marqueway has unquestionably shown the benefits of constant effort in the industry. The best-to-choose business consultants in Dubai have always supported innovative thoughts on business.
Why do you need to choose us?
Professional Market analytics
Dubai Market is a world business hub where entrepreneurs and investors from all over the world thrive for success. Maintaining that success is never a simple tale. Company formation consultants in Dubai can assist you to grasp market dynamics and offer data analysis based on years of expertise and up-to-date information. They are the ones who deal with these scenarios and clients on a daily basis. They can provide you with sensible advice, and their choices will help you choose the best company venture and location. Marqueway has consistently sought to shed light on the situation and continues to do so. We choose a strategy to take the lead in the voyage after thoroughly analyzing the market for your company's operations. It is quite advantageous to have a skilled consultant with a solid understanding of many different industries to assist you in outperforming your competitors. We are aware of the most abrasive technologies, strategies, and techniques that can improve your performance. We will help existing businesses think differently and acquire the skills needed to prevail in the corporate world.
Giving exact clarity on business setup zones
The company formation consultants in Dubai are effectively assessing every transformation that the city's infrastructure is through. We are well aware of the commercial areas that are best suited for the operations you want to carry out. Business setup in Dubai is a world of wonders, and depending on the business you choose, each area of the city has a distinct experience. Each of the UAE's several business zones has its own set of rules, standards, and practices. It is imperative that you follow them, and doing so requires professional advice. If this is not handled appropriately, penalties may be imposed. As a result, company formation consultants in Dubai help to mitigate such issues by supporting in the selection of a particular framework and offering sage advice. Our qualified team thoroughly analyses the rules and requirements of the legal processes, which helps you save a ton of time.
Light up your concerns about business activities
Every foreign investor must carefully consider where to locate a business in the UAE before drafting the application. Investors have a choice of incorporating their UAE company offshore, on the mainland, or in one of the 45 free zones. Investors may also get guidance on the advantages and disadvantages of each of these business locations from company setup consultants in Dubai.
A mainland company in the UAE, in contrast, can conduct business everywhere in the UAE, but a free zone company can only conduct business within the free zone. Furthermore, offshore firms are not allowed to conduct business in the UAE. Find out more about forming a corporation in the Dubai free zone. (link) Before taking legal action, you must first obtain your business license and lay down the operations of your organization. A precise understanding of business operations may also help you plan the approaches to success. Take this into account as a major aspect when setting up a business in Dubai.
Professionalism in choosing a trade name
An organization must adhere to a stringent regulatory requirement as outlined in the protocol before validating the trade name. Company formation consultants in Dubai may be quite helpful at this point. Based on trade name requirements, we could be able to assist you in validating the trade name. The experts will make sure that the company's establishment in Dubai goes well.
They verify the name and afterward emphasis on the legal requirements. The time required for registration may be diminished significantly with the assistance of company formation consultants in Dubai. You may also remember when and how to renew your licenses with the aid of a business expert. The first thing your consumers will notice about you is your trade name. The pursuit of perfection at its highest level could accelerate the projects you started toward success and sustainability.
Laws and regulations will be handled by business experts
Each of the business zones in Dubai has its own set of rules and policies. Depending on where you have your business set up, different laws and regulations apply. In addition, the UAE often updates rules and regulations to provide a better business climate. As a result, compliance with the rules and regulations has to be evaluated by a professional. It will be challenging for business owners to remain on top of all the laws and rules in Dubai.
The legal entities should firmly rely on the paperwork. One procedural mistake might cause a whole mess and unexpected problems. Business service consultants in Dubai will steadfastly guarantee that your company does not encounter any legal issues in the future. In accordance with your preferences and the characteristics of your company, the authorities will also provide you operational advice. Only if you have all of your papers and documents in order will the registration procedure go well. The best company formation consultants in Dubai keep track of all the prerequisites and maintain the checklist so that you do not overlook any crucial paperwork or documents.
The experts at Marqueway skillfully handle each of these phases that contribute to the sea of successes. The greatest consultants might improve your work environment and shape your route to success in the proper way. Feel free to get in touch with us for further information.