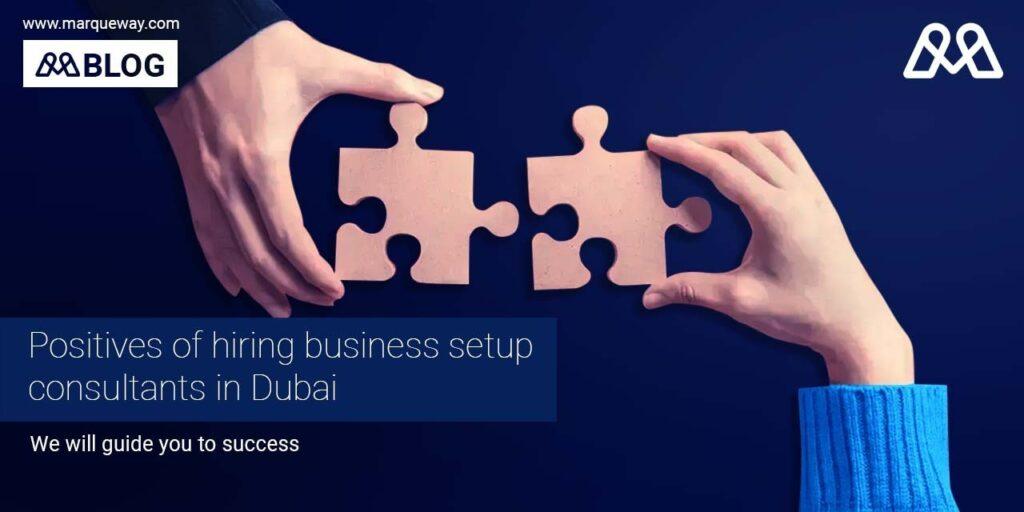 Although the processes and prerequisites for establishing a business in Dubai are not difficult, the rules are stringent. The government has developed tight norms and regulations for business establishments to promote seamless governance and a spam-free operation. The procedure may appear a little complicated when you first see it, but after you are familiar with all the steps, it becomes rather straightforward. Have you heard of business setup consultants in Dubai? If you are a budding entrepreneur seeking to establish a business setup in Dubai, you should conduct research on business setup experts in Dubai. A business consultant may save you a significant amount of time. With the assistance of specialists, your chances of making mistakes throughout the process of business setup in Dubai are also reduced significantly.
This article will go through business setup procedures and the assistance available from business setup consultants. To guarantee a seamless completion of operations, the regulations must be rigorously observed.
Dubai is well-known for its excellent commercial infrastructure and way of life. Investors are drawn to Dubai by tax incentives, a business-friendly atmosphere, and an open gateway to the global market. Before we get there, let's have a look at company formation in Dubai and the assistance that business consultants may provide.
Here is a list of procedures for company formation in Dubai, as well as an explanation of how business formation consultants may help you.
1. Clear idea about your business activities
Having a clear-cut idea about your business activities is the first and foremost step you should take before registering your business setup in Dubai. But many of you could have a doubt that how it is related to the procedures. The answer is for specific approvals for the functions should be applied before the functioning.
You should pick a free zone setup if you want to form a company in Dubai in a specialised economic business zone. The company structure will rely upon that chosen business activity. If you also want to start your business on the mainland, you can register as either a single establishment or an LLC.
For your business licence, you also need to list out your company's operations. It's a prerequisite before engaging in legal action. A precise identification of company operations may also assist you in planning the stages to success. So, take this into consideration as a key factor before registering a company setup in Dubai.
Business setup consultants' obligation
Business setup consultants can aid you in laying out company operations based on the business concept you have. Business consultants in Dubai will assist you in achieving a clear notion, whether it is a hazy idea of action. This covers marketing, formulating the company's strategy, operating, and so on. They support you in identifying the legal activities to be conducted based on the functions once you have listed them.
2.Registering the company's trade name
Finding a name that fits your business operations is an essential phase of business setup in Dubai. It is also a crucial aspect of branding. It represents the major pull for your organisation.
The most essential thing to remember is to completely adhere to the UAE government's standards while choosing a trade name. Names that are offensive to any group, particularly religion, should be avoided at all costs.
The responsibility of company formation consultants in deciding a trade name
Before verifying the trade name, an organisation should follow a strict regulatory requirement, as outlined in the procedure. At this stage, company setup consultants in Dubai could be of great assistance. They could be able to assist you in confirming the trade name based on trade name regulations. With the assistance of these specialists, the company setup in Dubai will proceed effectively.
They concentrate on the legal formalities after certifying the name. The assistance of company setup consultants might significantly reduce the time required for registration. A business consultant can also assist you to remember when and how to renew your licenses.
3. Choose the best location for your company.
A good business location is very important in creating your company. The budget, future planning, and processes are all determined by the place you choose. Furthermore, exposure to other economies; resource availability, infrastructure, tax and regulatory systems, and so on—varies from place to place. There are several benefits and drawbacks in selecting business zones.
Experts in business consultants in Dubai will help you select the ideal site for the organisation
Regardless of whether you are a business aficionado, you may have reservations about doing business in Dubai. There are various tactics for surviving in Dubai, the most important of which is to pick the right location. The location must be suitable for long-term planning. Dubai is undergoing rapid transformation. So, choosing a place that may change shortly is thus a huge difficulty. Business consultants in Dubai look at bigger business settings that are relevant to your company's nature. It might end up saving you a lot of money in the long run. Several business models did not even require a physical site to operate. Consultants propose that you employ virtual space if your company doesn't require a physical site to operate.
4.Legalizing the functioning of your business setup in Dubai
If you wish to start a business in Dubai on the mainland, you must work through a local service agency (LSA). He or she wouldn't interfere with your company decisions; instead, they would only help you get the licences and other authorizations you need. You are no longer obligated to provide UAE citizens a 51% stake in your business, even if you are on the mainland.
Depending on your company's organizational structure and commercial plan, the Memorandum of Association (MoA) must then be signed and formed. Company registration in Dubai necessitates that all documentation be completed in order for the business to function smoothly in the future.
Laws and regulations will be handled by business experts
Dubai is divided into business zones, each with its own set of laws and regulations. Laws and restrictions vary depending on where your business setup is located. Aside from that, new laws and regulations are often updated in the UAE for a better business environment. As a result, conformity to the laws and regulations need professional assessment. Entrepreneurs will find it difficult to stay on top of all the laws and regulations in Dubai. So, hiring a company setup consultant in Dubai is a wise decision.
Business consultants in Dubai timelessly help you in leading your business setup towards success. Other than helping with the process they also assist you in other aspects for the betterment. Here are some points of assurance.
1. Help you in establishing a positive connection with the government.
If you employ a business consultant, they will be in charge of your whole relationship with the government. Hiring a well-known business consultant will therefore assist you in developing positive relationships with the government.
2. Assists you in socializing.
Dubai is a city where people from all over the world live together. As a result, a basic marketing plan would not be able to reach all of the individuals from various cultures and lifestyles. Socializing with everyone will only serve to strengthen your bonds with them. The expos and events offer several opportunities for socialising. Business consultants in Dubai may assist you in attending events and connecting with other entrepreneurs.
3. Assist you in avoiding faults.
An expert business consultant ensures that you do not make any business-related mistakes. This establishes a complete strategy with a low likelihood of failure. They establish defined goals and stick to the strategy. This could make chances for business collaborations and sharing of ideas.
So don't hesitate. Reach out to us today to receive assistance from the top business consultant.