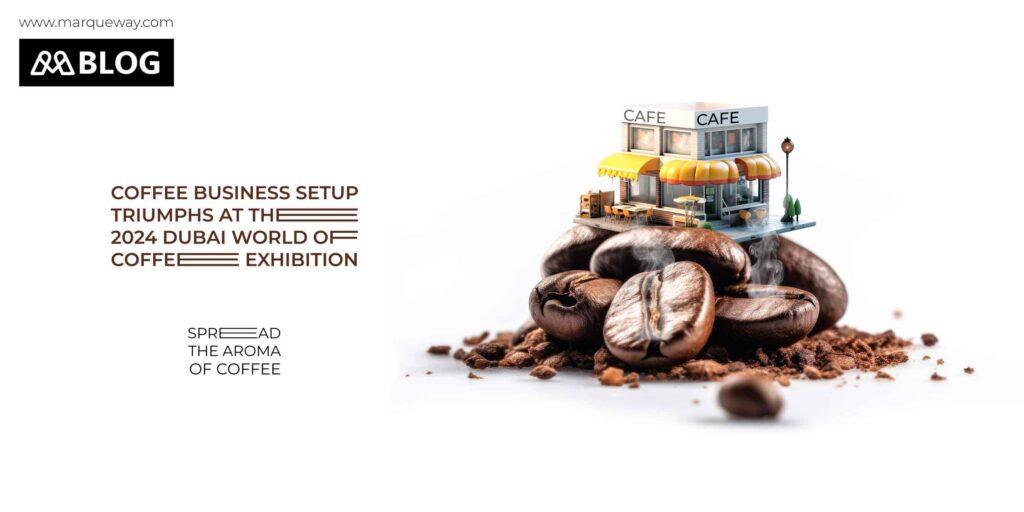 Spread the Aroma of Coffee
In a city known for its opulence and fast-paced lifestyle, coffee is not just a beverage, it's a culture. The Dubai World Trade Centre is buzzing with anticipation as it prepares to host the 3rd edition of the World of Coffee exhibition from January 21st to 23rd, 2024. With remarkable growth anticipated in the coffee business setup in Dubai, and the entire Middle East, this event is generating widespread interest among industry leaders, experts, and specialists from around the world.
A Booming Coffee Market
The Coffee business setup in Dubai, UAE is on a steep ascent, projected to grow annually by 8.4 percent between 2023 and 2029. Meanwhile, the Middle East and Africa are also set to witness a significant 7.5 percent annual growth in coffee consumption from 2022 to 2027. According to reports, individual coffee consumption in the UAE is expected to reach 1.36 kg in 2023, with the Dubai coffee market eyeing sales exceeding AED 1 billion this year.
Dubai's charm as a global coffee hub has been steadily growing, thanks to the presence of renowned coffee shop brands and its role as a regional coffee trade epicenter. Over the last decade, coffee export revenues from Dubai have soared beyond AED 3.5 billion which strengthens its position on the global coffee map.
Dubai: A Coffee Heaven
The city's unique status as home to numerous international coffee brands makes it an ideal location for the World of Coffee exhibition. The event provides an exceptional platform for coffee businesses to offer new and unique experiences for coffee enthusiasts around the world who are eager to experience Dubai's fast-paced lifestyle and the aroma of coffee beans. According to Statista's (a German online platform specialized in data gathering and visualization) predictions for 2022, a staggering 82 percent of worldwide coffee revenues are generated by consumption from cafes and restaurants, underlining the importance of the coffee trading and cafe business setup in Dubai. UAE's vibrant coffee culture aligns perfectly with this global trend.
Opportunities Abound
The World of Coffee Dubai 2024 is not just an exhibition, it's an opportunity for coffee businesses to race towards profit. The big companies participating in the event are excited to showcase their latest innovations in coffee makers and advanced accessories. They aim to foster connections and collaborations that will further enhance the coffee experience for aficionados.
Bridging International Coffee Markets
The event is also a bridge between different coffee markets. Vinícius Estrela, Executive-Director at Brazilian Specialty Coffee 'BSCA,' highlights the significance of this exhibition in fostering collaboration between Brazilian and international coffee markets. With the MENA region being one of the largest markets for Brazilian coffee, the World of Coffee serves as a platform to explore new prospects and strengthen cooperation among major industry players.
Celebrating Diversity
The coffee business setup in Dubai, UAE is as diverse as its population, catering to a wide range of preferences and cultural backgrounds. This diversity presents an array of opportunities for global coffee companies to strengthen their presence locally and regionally. The availability of diverse coffee varieties and preparation styles is essential to meet the demands of this vibrant market.
How the event helps coffee business setup in Dubai
The 2024 Dubai World of Coffee Exhibition is poised to be a game-changer in the coffee industry. With Dubai's thriving coffee culture, burgeoning market, and international attraction, this event promises to be a triumph for coffee businesses and to start a business setup in Dubai. As Dubai continues to make its mark as a global coffee hub, the World of Coffee exhibition is set to play a pivotal role in shaping the future of the coffee industry in the UAE and beyond.
Marqueway is always here to assist you
The stage is set, and the excitement is palpable in the UAE as we gear up for this upcoming event. It's natural to have questions about starting a coffee business setup in Dubai. We firmly believe that there's no better time than now to start your coffee business journey in Dubai, given the event's influence and the market that paves your way for success.
With just four months to go until the event, the timing couldn't be more perfect to dive into the market. If you're considering launching your business venture here, don't hesitate to reach out to us. Our team is always ready to provide you with expert guidance. Let's start the conversation today and make your coffee business dreams come true.