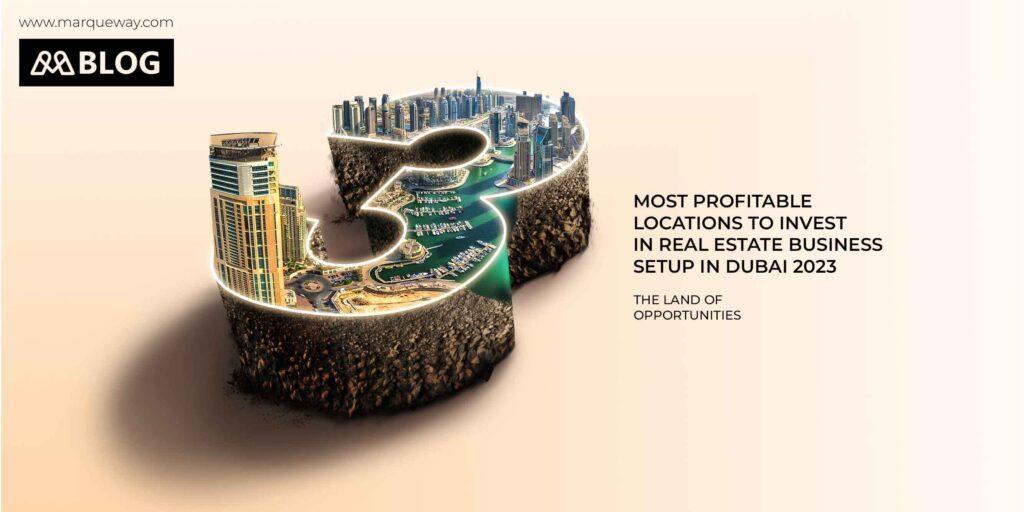 Are you considering investing in a Dubai real estate business? The city's booming real estate market offers an endless number of opportunities, and now, a new algorithm known as Realiste AI has selected the best three places for your real estate business ventures in 2023.
Forming a business in Dubai provides many possibilities for aspiring entrepreneurs, particularly in the bustling real estate sector. With the steady and significant growth in real estate, Dubai is a popular location for investors. Beginning a business setup in Dubai offers doors to potential possibilities, making it a perfect alternative for those with property business ambitions. Let's read about the best areas where you might invest to meet your real estate investing objectives.
Sobha Hartland
Annual Price Growth: 17.6%
Sobha Hartland has emerged as a prominent player in Dubai's real estate landscape. With an impressive annual price growth rate of 17.6%, it demands attention as a potentially profitable investment destination. This strategically located neighborhood is within a 15-minute drive to iconic landmarks like the Burj Khalifa and the International Airport, ensuring excellent accessibility.
One of Sobha Hartland's standout features is its commitment to greenery, encompassing over 30% of the area with lush parks, pools, and fitness facilities. Beyond its eco-friendly charm, this development enjoys proximity to a serene lagoon with an embankment and is conveniently situated near two prestigious Dubai international schools, making it an enticing choice for families and investors alike.
Dubai Harbor Part 1
Annual Price Growth: 16.5%
Dubai Harbor Part 1 emerges as another compelling option for real estate investment, boasting a solid annual price growth rate of 16.5%. This locale caters to those seeking a vibrant lifestyle combined with utmost convenience. Located just a short five-minute drive from the lively Promenade, this place offers a wide range of shopping and dining choices. It also provides convenient access to the Marina & Yacht Club and effortless connectivity to Sheikh Zayed Road.
What sets Dubai Harbor Part 1 apart is its private beach, featuring pristine sands and breathtaking vistas of the Arabian Gulf. From this vantage point, residents and visitors can savor panoramic views of Palm Jumeirah, Ain Dubai, the Cruise Terminal, Dubai Marina, and Dubai Harbor Boulevard, creating a luxurious and lively ambiance that draws both discerning residents and tourists.
Bu Kadra Part 2
Annual Price Growth: 14.5%
Bu Kadra Part 2, nestled in proximity to two iconic Dubai areas, Downtown and Creek, showcases robust annual price growth of 14.5%. This locale presents a harmonious blend of tranquility and entertainment, making it a standout investment option. Notably, it features a golf course, perfect for leisurely weekends, and a private beach for relaxation.
For investors, the prime real estate products in this complex are the 1BR and 1.5BR apartments on the middle and upper floors, offering captivating panoramic views of the surrounding areas. Bu Kadra Part 2 represents an appealing mix of nature and urban living, making it an enthralling prospect for those considering real estate business endeavors.
The Future of Dubai's Real Estate Market
As per the insights of Alex Galt, the visionary founder of Realiste, Dubai is poised to remain alluring to foreign buyers who seek to safeguard their assets, particularly in the face of geopolitical instability and energy crises. This confidence in Dubai's real estate market is grounded in the consistent double-digit annual price growth and the diversity of projects on offer.
The alignment between AI-derived data and observed market trends reinforces the belief that Dubai's real estate sector is ready for expansion, presenting promising investment opportunities in 2023. If you are contemplating the establishment of your real estate business in Dubai, remember that Sobha Hartland, Dubai Harbour Part 1, and Bu Kadra Part 2 stand as the top contenders. These locations not only promise attractive returns but also offer an enviable lifestyle for residents and investors alike.
How Marqueway can guide your way to business setup in Dubai
Marqueway Business Setup Consultants in Dubai are a well-known team that makes entrepreneurial aspirations a reality. If you're considering starting a business setup in Dubai, please feel free to get in touch with us right away. Whether it's a real estate project or any other business venture, we are dedicated to offering you the advice and assistance necessary to help you succeed.