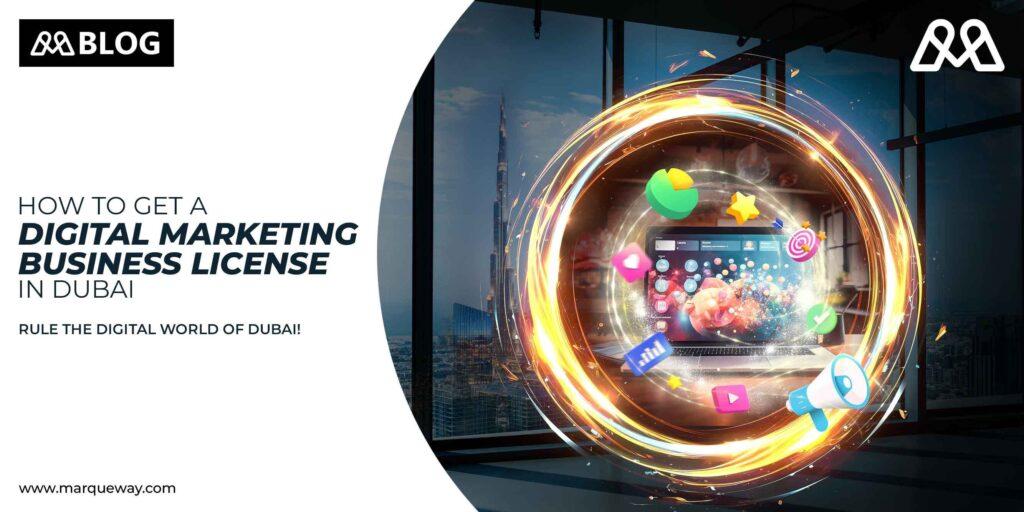 Starting a digital marketing business setup in Dubai is a promising venture, given the rapid growth and fierce competition in the region. Dubai's discerning consumer base keeps businesses on their toes, making it an ideal location for a booming digital marketing enterprise.
The MENA region has about 180 million people using the internet, showing that online advertising is becoming more important. Traditional marketing methods like banners, billboards, and print ads are gradually being supplanted by digital marketing strategies. In this blog, we will discuss the steps involved in obtaining a digital marketing business license in Dubai.
Legal requirements before applying for digital marketing business license in Dubai
We have pointed out the important things to remember before starting the procedures below:
Department of Economic Development (DED)
The DED oversees and regulates digital marketing licenses in Dubai, making it a fundamental authority for businesses looking to engage in digital marketing activities within the city.
Free Zone Licenses for Digital Marketing
If your business setup in Dubai is within free zones (FTZs), obtaining a free zone license is mandatory to conduct digital marketing operations. These zones offer enticing benefits such as tax advantages, discounts, and customs duty benefits. Notable FTZs include Dubai Internet City and Dubai Media City.
Advertising Regulations by Municipality of Dubai
The Municipality of Dubai is responsible for governing and regulating all marketing efforts, including digital marketing. They have established precise rules and procedures to ensure fairness and transparency in advertising practices.
Additional Legal Requirements for Data Privacy:
Beyond licensing and advertising regulations, organizations engaged in digital marketing in Dubai must adhere to data privacy laws. Privacy and data protection rules have been introduced by the Dubai International Financial Centre (DIFC) and the Dubai Data Protection Law.
Intellectual Property (IP) Standards
Intellectual property (IP) standards are a vital thing to consider before applying for a business license in Dubai. Both the UAE Ministry of Economy and the DIFC set these standards to protect creative work and inventions from unauthorized use or duplication in the realm of digital marketing in Dubai.
Procedures of setting up a digital marketing business setup in Dubai
Starting a digital marketing service in Dubai might seem a bit tough, but it's not as complex as it first appears. To kickstart your digital marketing services, you'll need to secure a digital marketing license. Here's a step-by-step guide on what you need to consider for your Business Setup in Dubai:
Define Your Business
Before stepping into the licensing process, it's important to determine the nature of your business. Be clear about the type of firm you're seeking the license for.
Choose Your Business Model
Dubai offers various business models to choose from, including free zone, mainland, and offshore businesses. Each comes with its own set of advantages, such as tax benefits and exemptions.
Select the Right Free Zone
If you opt for a free zone business, the next step is to pick the right free zone in Dubai. Options like Dubai Silicon Oasis (DSO), Dubai Media City (DMC), and Dubai Internet City (DIC) are popular choices for obtaining digital marketing licenses. Take your time to research and compare the unique advantages each free zone offers.
Prepare Necessary Documents
The application process typically involves submitting required documents and paying the necessary fees. Commonly needed documents include copies of shareholders' and managers' passports, the business plan, evidence of address, a certificate of no objection from the company's Memorandum of Association (MoA) and Articles of Association (AoA), and details of the existing sponsor.
Secure Physical Premises
Depending on the type of digital marketing license you're applying for, your company may need physical office premises in the free zone. Ensure you meet these requirements to progress smoothly.
Obtain Visas
Securing visas for your business and potential employees is an important step. The visa application process varies depending on the nature of your business establishment.
Start your digital marketing service in Dubai with Marqueway
Starting a digital marketing business in Dubai holds great promise for success. However, the initial setup can be time-consuming and stressful. That's where Marqueway business setup consultants in Dubai can assist you. We'll take care of all the necessary legal procedures, ensuring a stress-free start to your business setup in Dubai at an affordable cost. Reach out to us for more details and our package options