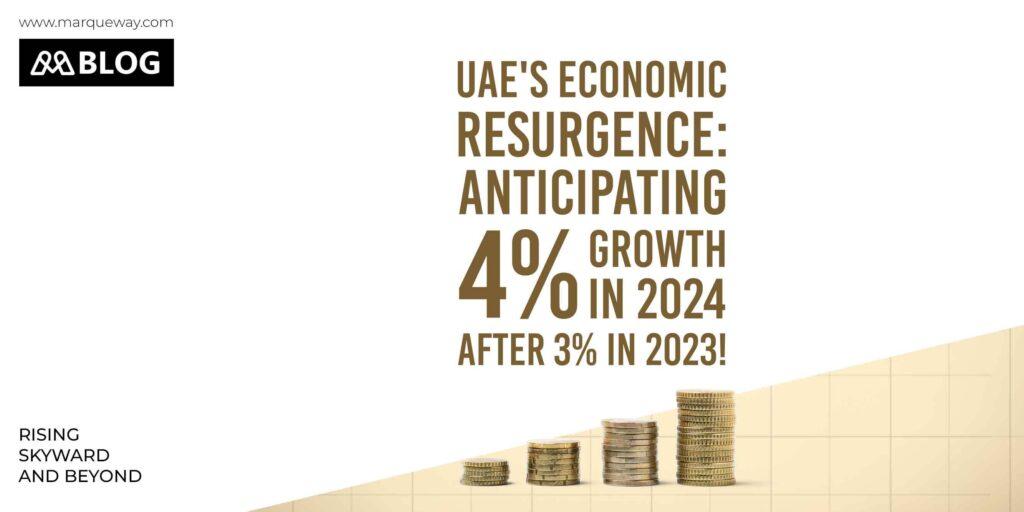 In recent news, the United Arab Emirates (UAE) has been making headlines for its promising economic forecast. The UAE's economy is projected to grow by 3% in 2023 and a robust 4% in 2024. What's driving this growth? It's primarily the non-oil sector that's set to benefit from various factors, such as the booming tourism industry, forward-thinking government initiatives, and technological advancements. Let's explore the finer points of this exciting progress and its connection to starting a business setup in Dubai.
Tourism Takes Center Stage
One of the cornerstones of the UAE's growth story is its flourishing tourism sector. The country's ability to host major international events plays a pivotal role in its ambitious goal of attracting a whopping 40 million visitors by 2030. As part of this strategy, the UAE plans to expand its hotel room capacity to 250,000 over the same period, ensuring that tourists have ample accommodation options.
Dubai, in particular, has been making significant strides in this regard, attracting 14.7 million international visitors in 2022—double the number achieved in 2021. This remarkable growth indicates that visitor numbers may reach their 2019 peak of 16.7 million this year. Meanwhile, Abu Dhabi has also been making waves, welcoming 4.1 million hotel guests in 2022, marking a 24% increase from the previous year.
Economic Initiatives that clear the path forward
The UAE government's proactive approach to economic and social initiatives over the past few years is laying a strong foundation for long-term economic expansion. Key measures include allowing 100% direct foreign ownership in over 1,000 commercial and industrial activities, introducing insolvency laws to help individuals reorganize their debts and borrow on favorable terms, and enhancing the country's competitiveness for business.
The introduction of new visa categories, such as the Golden Residence Visa, Green Residence Visa, and multiple-entry tourist visas, is composed to attract skilled workers and tourists to the UAE, bolstering the non-oil economy.
Diverse Economic Drivers
The growth story of the UAE isn't confined to a single sector. It encompasses various industries, including oil and gas, wholesale trade, real estate, construction, financial services, and tourism. These projects are expected to flourish due to an influx of immigrants and tourists, as well as positive sentiment from investors, consumers and the private sector
Trevor Cullinan, a sovereign ratings analyst at S&P, emphasized the government's commitment to diversify revenues away from the oil sector through initiatives like the corporate tax system. This modernization of the business environment in the UAE will create a more attractive landscape for businesses.
Banking on Success
The UAE banking sector is expected to remain strong, with profitability set to exceed pre-pandemic levels thanks to rising interest rates and technological advancements. The capitalization of the UAE banking system is also expected to remain robust, supported by good financing and liquidity conditions.
In sum, the UAE's economic prospects are looking brighter than ever, with a focus on sustainable growth in the non-oil sector. For businesses eyeing expansion in the UAE, particularly in Dubai, this upbeat economic climate presents a golden opportunity for business setup. The government's commitment to creating a favorable business environment and diversifying the economy makes Dubai an attractive destination for entrepreneurs and investors alike.
What's next
As you consider your options for setting up a business in Dubai, pay close attention to the prevailing economic climate and the many businesses that are shaping the future of the UAE. With the right strategy and a strong understanding of market dynamics, you can participate in the UAE's growth story and be part of its exciting journey to prosperity.
Remember that the key to success in this dynamic business environment is staying informed, adapting to change and seizing opportunities as they arise.
Marqueway business setup consultants in Dubai are committed to answering questions about setting up a business plan in the city or answering doubts about the booming economy here. Contact us for the best support for your professional dreams.