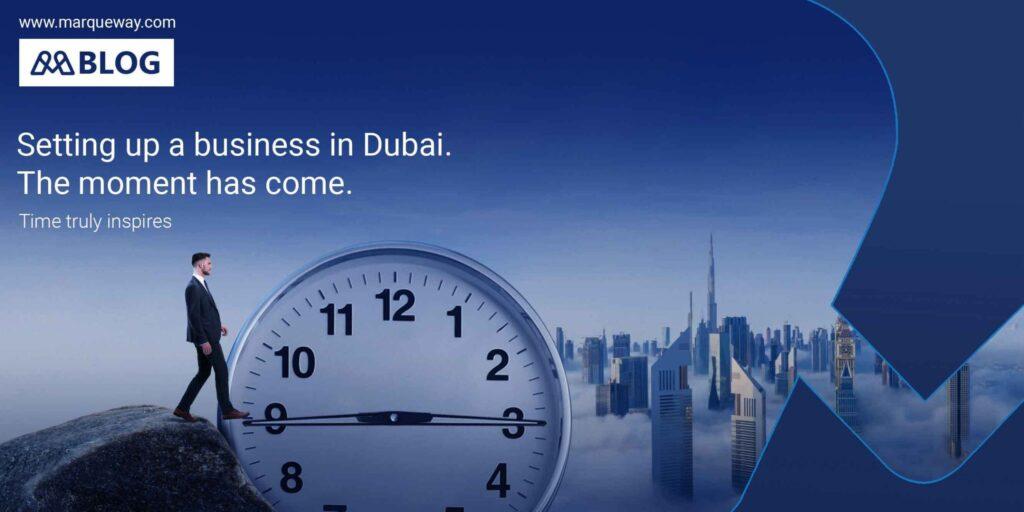 The idea of setting up a business in Dubai has long aroused the curiosity of entrepreneurs worldwide. Even though is this the best moment to open a business in Dubai? Yes, this is the right time.
The economic sector in Dubai is undergoing a never-before-seen modernization and expansion. The desert of dreams is receiving the greatest inflow of funds. The City of Dreams used to be primarily focused on the gasoline industry. However, the focus has now expanded to encompass startups, travel, and a number of other cutting-edge enterprises. The Dubai administration is making huge efforts to encourage international investors in setting up a business here. In Dubai, starting a business is tantamount to purchasing a ticket to paradise. The infrastructure has progressed to the point that it is the best place to live and do business.
Aside from recent developments in its status, Dubai has successfully implemented several post-pandemic amendments to its laws and regulations to ensure investors have full privileges when setting up a business in the Emirate. It is now more advantageous for all international entrepreneurs to start a business set up in Dubai with the introduction of 100% ownership for foreign investors in Dubai. There are many business prospects in Dubai for investors to take advantage of as company activity picks up. Also exceeding all expectations are the low tax rates, ease of doing business, upgraded infrastructure, e-government system, and business prospects. The business wonderland is prepared to wow you now.
Let's examine the specific elements that entice international investors to the UAE in greater depth.
100% foreign ownership
The UAE government has most recently modified Ownership in legislation. This increases the potential for foreigners to launch a company setup in Dubai and make a complete ownership investment. Investors previously had to look for a sponsor, who should be an Emirati. This severe headache has an end-to-end cure. This opens the door to lower startup costs for businesses in Dubai. Additionally, the UAE offers investors an unrivaled economic return. Furthermore, by allowing foreign, legal non-citizens to fully own industrial activities, this judgment would boost the UAE's position on the global investment map.
New laws have been enacted to help the SME and business ecosystems
Startups have long been encouraged in Dubai, and recent legal amendments have effectively sped up their development. The more favorable business climate and new regulations in Dubai promote small and medium-sized businesses and produced a favorable economic environment for the perfect launchpad for aspirant businesses. The Dubai government has made great efforts to guarantee that the infrastructure and foundation of the start-up ecosystem are strong.
With new legal frameworks, improved venture capital investment, banking partnerships, and more government support, there has never been a better moment to set up a business in Dubai.
Increase in foreign investments
People across the world are inspired to start a business setup in Dubai by the upgradation in the regulations that help investors draw themselves to the UAE. This would eventually assist Dubai's business owners in gaining global recognition for their enterprises. There will be fantastic prospects in the city as the economy grows. Dubai's business environment is constantly evolving. You should move forward without hesitation on setting up a business in Dubai right now.
Easy procedures to enter the market
It is now simpler to comply with rules and regulations thanks to the government's goal to diversify the economy. Authorities and processes are conducive to drawing business entrepreneurs to the city. Numerous expenses for setting up a business in Dubai have been eliminated by the new business packages. The company structure in Dubai is relatively simple for adapting to new investors. The length of the proceedings is further shortened by the new, advantageous payment conditions. No other location has ever been this welcoming to the business world. The growth of the UAE is currently heavily focused on investors willing to invest not only in Dubai but also in the entire country. Don't be concerned about the prospects since you have access to the best infrastructure and visibility you could ever conceive. Use it to its utmost potential.
Registering a company at a comparatively lower rate
By removing several levies for new businesses and SMEs, the Dubai government's new initiatives, programs, and economic stimulus packages now make it cheaper to launch a business. Due to the new favorable financial regulations, SME suppliers to government agencies will now get payments within 30 days rather than 90 days, offering them adequate funds.
In addition to the authorities, a number of banks are prepared to offer financial help to new businesses and their branches. They offer excellent opportunities and financial help for ambitious business owners with their exciting financing packages. For all SME account categories, banks provide lower minimum average balance requirements to strengthen their finances.
Development planning for the future
The Dubai administration is not prepared to stop its commercial aspirations. They are starting initiatives for the future and effectively carrying them out with a higher level of commitment and thoughtfulness. There is still work to be done on a futuristic approach to all the expansions and advancements. Beyond 2023, the objective is to put into practice these cutting-edge strategies of diversification and expansion, which are crucial components for business owners. Enter the Dubai market now to take advantage of all the opportunities it offers.
Great tax reductions
The UAE takes pleasure in having tax-free business and personal income. The VAT's current flat rate of 5% was put into effect in January 2018. It is the only substantial tax in the Emirates that you should be aware of. The value that these streamlined and advantageous tax regulations offer to business owners is considerable and should be maximized.
The country's excellent economic situation is a motivating element for entrepreneurs. The Emirates has the second-largest economy in the Arab world. With a GDP of over AED 692 billion, it is the second-largest economy after Saudi Arabia. There are many various fields in which you may start a business setup in Dubai, ranging from healthcare and hospitality to technology and trading.
High standard of living
Dubai's infrastructure is futuristic and unfathomable. They offer a high-quality, premium ecosystem for living. They have provided a framework that saves a lot of money and transformed the city into a location with everything. As you go into the city, your living conditions improve. The United Arab Emirates is now ranked number 23 on the list of the best places to live.
The vast talent pools
Dubai's infrastructure and way of life draw the brightest talent from all over the world. The city is home to a sizable international population. This makes it possible for business owners to hire qualified personnel. HR is a less expensive option for you since you can hire remote workers from all around the world in fields like customer care and IT support and design.
A 30-day visiting visa is available from the UAE, inviting talented individuals from all around the city to come and pursue their aspirations in the city of dreams. Dubai's friendly culture and abundance of opportunities make it one of the world's largest employers. Therefore, there is no shortage of skilled labor.
We have discussed the opportunities that a global business hub like Dubai provides. But what about setting up a business in Dubai? Also, check out our blog on the procedures of setting up a business in Dubai.
What did we get to do now?
These are the major factors that every entrepreneur is attracted to when setting up a business in Dubai. The numerous opportunities for company growth are beckoning you to a promising future and recognition on a global scale. In the city of dreams, the expansion of your creative ideas for business setup will undoubtedly be encouraged. You should take the call when Dubai calls. For all the information you need about setting up a business in Dubai, get in touch with us. We'll make sure you succeed.