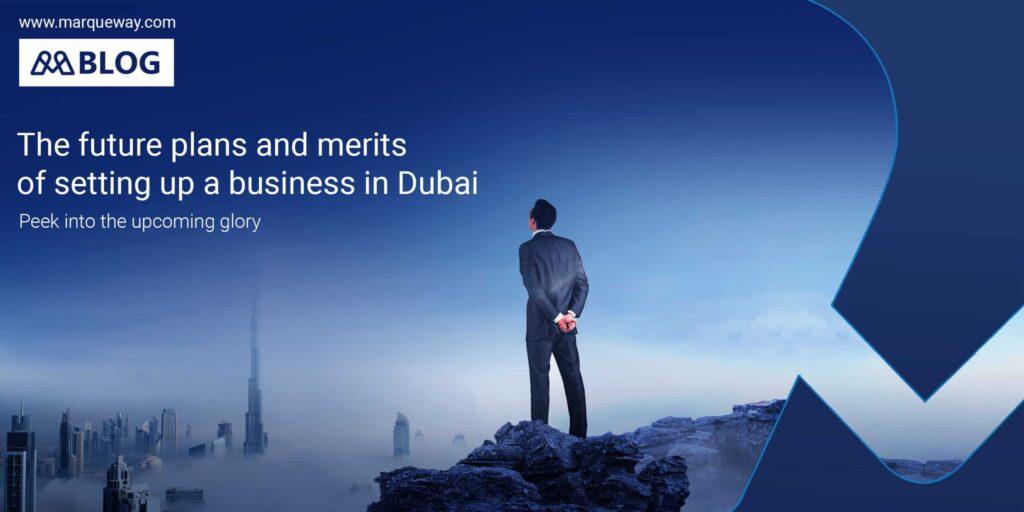 Far across the distance, there lies a place where your dreams become reality. That place is none other than the perennial city of Dubai. More than ever, Dubai is now ready to do business with the world and form mutually beneficial partnerships that promise a brighter, better future for all. People from different backgrounds live in harmony and in unison in Dubai. This means that no matter where you bring your business from, which part of the world you're from, no matter what your beliefs are, Dubai will always feel like a home. The future-focused visionaries at the helm of Dubai have laid the foundation from the start, for this Emirate to become a global gateway for success. Business setup in Dubai could only help you to completely revamp your life and strive towards success.
Some merits and initiatives the government has taken for the development of the Emirates:
Imagine setting up a business in Dubai in which you are able to enjoy maximum ownership and no need to exist within any boundaries. Previously, it was only 49% that the foreign owners were allowed to own, and rest of the 51% was dedicated to Emirati sponsors but now it has changed and the foreign investors could own up to 100% of the business they are planning to start. As a result, the playing field for international entrepreneurs looks even more attractive, particularly when paired with other developments. This will lead to a lot of expatriates being interested in starting a business in the advanced world of Dubai.
Extended Visa for entrepreneurs
The government understands the potential of developing this Emirate through investors, business people, and skilled personnel. So, as a first step, the government made changes in the visa regime and made it more flexible. This new framework has allured so many investors into the region and also loads of fist rate talents. The government wants the tourism sector and the business sector to have a massive revamp so that it leads to the development of the overall economy. Notable changes have been implemented to Golden Visa, Green Visas, and also Entry visas. For more information regarding the visa rules, you can click here Change in Visa rules and how they help business setup in UAE
Support for smaller businesses and start-ups
Innovation is the one biggest thing that is essential for the development of a country, the Dubai Government is deeply aware of this and has ingrained this into the way they operate and deliver services to uplift both the citizens and expatriates. This system is extended into the method the Government handles the SMEs and start-ups. Dubai recognizes these 2 types of businesses as very important as is evident from the way the government bosomed the SMEs during the pandemic. When the Global economy was crippled during Covid 19, the Dubai government offered a stimulus package to the SMEs which acted as a helping hand during the period of high economic uncertainty and in turn succored them survive the pandemic. Even without the influence of a pandemic, the Government put forward incentives, benefits, and assistance needed to help them excel in the market. It is crystal clear that the government is willing to help any entrepreneur who wishes to start an SME and also any budding entrepreneur who is willing to take a leap of faith. The Government will always continue with its efforts to increase the incentives designed to attract independent and established business people from all over the world. Entrepreneurs who are able to tap into Government-led initiatives, programs, and resources will have many options available to them. This will strengthen the overall start-up ecosystem in Dubai and thus setting up a business in Dubai will be a worthwhile venture.
Favorable environment for business
Dubai is a thriving multicultural hub where anything is possible if you put your mind into it. The future-centric approach of the Dubai Government has attracted some of the world's greatest minds which have aided in developing a business-friendly environment. The vision of the Emirate is to embrace the future and develop the economy with the help of technological and research-based industries. With an awe-inspiring future, Dubai presently also encompasses towering infrastructures, top-notch technology, luxurious facilities, supportive government, easiness of travel, etc. Dubai has access to numerous international markets and a smooth flow of trade with excellent business establishments helps them to foster economic growth. These perks certainly reduce the operational burden of running a company in Dubai and provide a great place to work as well as life.
Administrative efficiency
Dubai is basically a crimeless and transparent place because the administrative efficiency and openness to business have motivated breath-taking growth. The police department is very efficient in preventing and responding to crimes which helps to bring peace and quiet for the common folks. The Dubai authorities are also well-equipped with intelligent minds and there exists an atmosphere of utmost security for your well-being. Exceeding all the regular barriers, the authorities implement unconventional methods with a high success rate that benefits society and in turn evolve the economy.
UAE CENTENNIAL 2071
The Government is always in search of innovative and positive projects to invest in and elevate the overall outlook of the society. One of the most important plans regarding that though for the Emirates is the UAE Centennial 2071.His Highness Sheik Muhammed Bin Rashid Al Maktoum, Vice President and Prime Minister of UAE and Ruler of Dubai, announced about this project which focus on a vision that is extended to the next 5 decades. This is a very farfetched thinking process as the main benefactor of this will be the future generations. The goal is to make UAE the best country in the world to live by focusing on four aspects: Education, Economy, Government Development and Community Cohesion. Technology is a paramount for achieving this plan and that will aid in promoting advanced science and technology, space research, health industry, business sector, Artificial Intelligence and other fields of necessity. Dubai is also included in this with focus to clean energy, waste management, environmental, autonomous transportation, industrial, 3D printing etc. This project is going to benefit all the Emirates in variety of ways and it is a very great decision for you to business setup in UAE, especially in Dubai.
Mars 2117
The ambitious efforts of the Emirati Government don't end in just this realm but extends to the outer space. The UAE Government is planning to build the first inhabitable human settlement on Mars. They are planning to do this wonderous project by the year 2117 which is less than 100 years from now. Setting up a business in Dubai, UAE and being a part of this extensive growth of a country will benefit your business in numerous amounts of ways and lead you to the promised land.
There are also other concept projects for the future, based around Dubai that are not exactly Government backed but will act as a catalyst for all the business and cultural endeavours If they ever come to fruition. Some of them are:
Downtown circle
This is for now a concept project developed by the ZN era Space an architectural firm. The downtown circle will be a 500m circle around the Burj Khalifa and when made will have a circumference of 3 KM. This project was an entry into a design competition conducted by the Dubai Future foundation. If this is ever build, it will be self-sufficient and self-sustainable providing us with public and commercial spaces.
Moon Dubai
UAE has plans to build space cities and other ventures, but they are also planning to bring celestial bodies to the city of Dubai. Moon Worlds resorts Inc is behind the idea of this lunar sphere. The spot will be a premium tourist destination and will blow the mind of the people who set their eyes on it. Moon Dubai will have everything from spas, night clubs to training for various space agencies and astronauts.
Pearl Mosque
This is a concept born from one of the most popular professions of UAE, pearl diving. Inspired from the design of a shell housing large white pearl, the images of this building will leave you in awe. If ever constructed, this will be one of the most beautiful and unique mosques in this world.
The above-mentioned projects may or may not happen, but it is of no doubt that Dubai is poised to grow beyond our wildest imagination. These innovative development plans will attract hordes of people from all the corners of the globe to come visit, work or live at Dubai. Setting up a business in Dubai is one of the most fruitful idea any entrepreneur could ever have as the Emirate is providing boundless amenities and innovative platforms. The vision of the UAE is to be the best country to live and conduct their business activities in peace. So, it is only vital for you to acquire your share of the glory and be a part of something extraordinary.
If you have any more queries regarding this matter, feel free to contact us!!