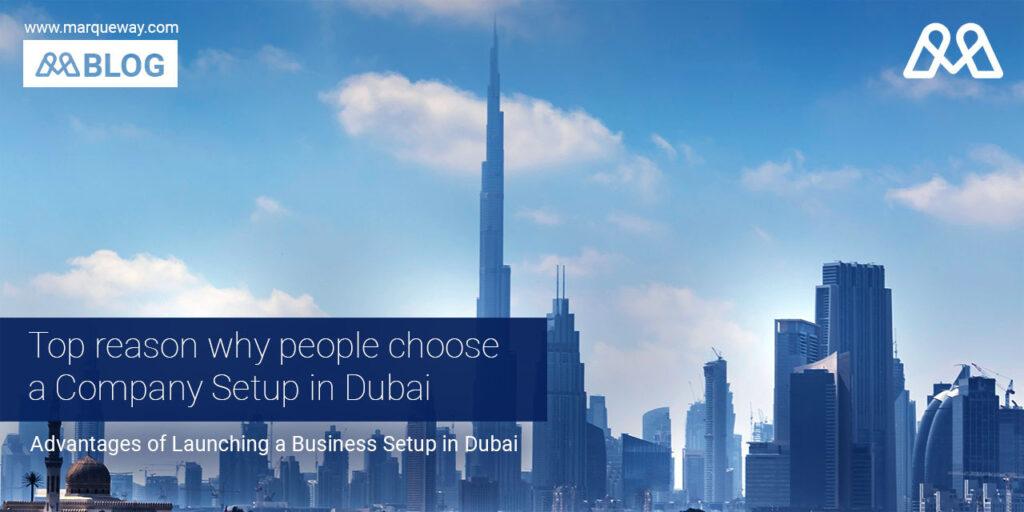 Every business owner is aware that in order to ensure that his company outlives all others, he must fight the unprecedented levels of competition. He has to put up more of a battle than any prior generation to maintain the integrity of his corporate ideals and maintain his position at the top against the heap of competitors. The location of your company's headquarters is one of the elements that can influence how you view the competition. This can cause an impact on a variety of factors, including profitability and ease of doing business.
The UAE is one of the top choices for business registration among the several Tax-Free Zones in the world. And in that, Dubai has become one of the most alluring locations to incorporate a business. But, why Dubai? Dubai has one of the best economies in the Middle East, with a stunning annual trade surplus and outstanding per capita income. Here, companies are given access to extremely stable financial conditions and financially advantageous circumstances. Furthermore, recent years have seen a sharp rise in investments in Dubai. The enormous infusion of foreign wealth has helped Dubai's economy even more. Therefore, if you want to start a new business, you can gladly invest in Dubai.
As a corporate service provider, we've learned that a lot of entrepreneurs consider Dubai as the best place to do business. Here are some of the top benefits of opening a business in Dubai.
Benefits of Setting Up a Business in Dubai
Ease of Starting a Business
Due to Dubai's friendly government and quickly evolving tech infrastructure, starting a business there is now easier than ever. A few clicks and a few days are all it now takes for company setup in Dubai. Here, establishing a corporation is a straightforward procedure that requires minimal paperwork. Plus, you can seek assistance and guidance from competent and qualified business setup companies in Dubai for more convenience.
Recruit Expatriate Employees
Dubai is highly known for being one of the world's preferred corporate hubs. The opportunity to make substantial profits draws investors from throughout the world to this region to conduct business. Furthermore, it has successfully expanded outside the oil business to other industries like tourism, hospitality, logistics, etc. Those industries make up 60% of Dubai's GDP. In spite of this, these sectors offer a substantial number of employment opportunities, making it possible for private companies to employ expatriates. Thus, the company setup in Dubai becomes more advantageous.
The lack of taxes is one of the main advantages of starting a business in Dubai. It gives complete tax exemption, which includes protection from income, business, and personal taxes. However, some businesses may be subject to a 5 percent VAT that applies to a specific economic activity.
Dubai offers the choice of a Freezone or a region on the mainland for the establishment of your business. The city has access to more than 20 free zones. Since entrepreneurs can fully own their company there, starting a company setup in Dubai free zone is viewed as beneficial. Furthermore, it enables the complete repatriation of capital invested and profits earned. A free zone gives you the opportunity to collaborate with other businesses in the same industry.
Advantageous Geographical Location
With its location at the confluence of the East, West, North, and South directions, Dubai serves as a logical linkage between the manufacturers, distributors, and exporters of significant goods from all over the world. The world's busiest and most active airports are located here. Logistics are made simple by the fact that both seaports and airports are situated in highly connected areas. This encourages the expansion of the tourism, re-export, and import-export industries. This could benefit any company setup in Dubai.
Dubai, the capital and largest city of the United Arab Emirates, is renowned for having the best infrastructure on earth. The infrastructure is constantly developing and improving, which draws many entrepreneurs. It also has excellent terminals, a first-rate telecommunication network, and a top-notch public transportation system. Due to the anticipated rise in demand, the Dubai government is investing in infrastructure upgrades and improvements.
Friendly and High-Quality Lifestyle
Residents in Dubai have the opportunity to live side by side with individuals who adhere to a diverse variety of cultures, religions, and communities. Since they live in such a diverse location, they are therefore aware of the various traditions and practices. This enables them to create and maintain wholesome connections. Another constant need of Dubai residents is for high-end goods and services. Thus, going for a company setup in Dubai will be to your full advantage.
Easy Visa Obtaining Process
In Dubai, opening a business makes it easy to get a job and a resident visa. Having a company setup in Dubai makes it simple to obtain a UAE resident visa since the visa policy is accommodating to ex-pats. It makes renting property, traveling to and from the UAE, and obtaining a permit easy as pie. The UAE is now one of the world's most accessible commercial centres for foreign citizens to relocate and launch their own businesses thanks to this visa arrangement. Once you get your visa, you can travel internationally, rent or lease property, and buy vehicles.
Exceptional Government Support
The government of Dubai consistently provides the best services, subsidies, and security to foreign investors. It regularly adjusts the regulations and ordinances controlling how to execute business in the city in terms of quality, breakthroughs, and expanding commercial prospects. A number of commercial mega-projects are also developed by the government, and it continues to host numerous international conferences. The government offers a straightforward, predetermined set of rules and regulations for conducting business. All entrepreneurs must follow these guidelines for a smooth company setup in Dubai and the continued operation of their enterprises.
Bottom Line
Now you might have understood why Dubai is regarded as the greatest location to start any business. Expats, immigrants from roughly 200 different nations, make up nearly 90% of Dubai's total population. They are drawn, among other things, by the Emirate's commercial and investment opportunities. Get in touch with our business specialists if you want more specific details about establishing a company and licensing a business. We will provide you with all the information you need to successfully launch a business with our business setup services in Dubai. Our experts will assist you with developing a solid plan, compiling all the required documentation, and affordably acquiring your business license for setting up a business in Dubai.