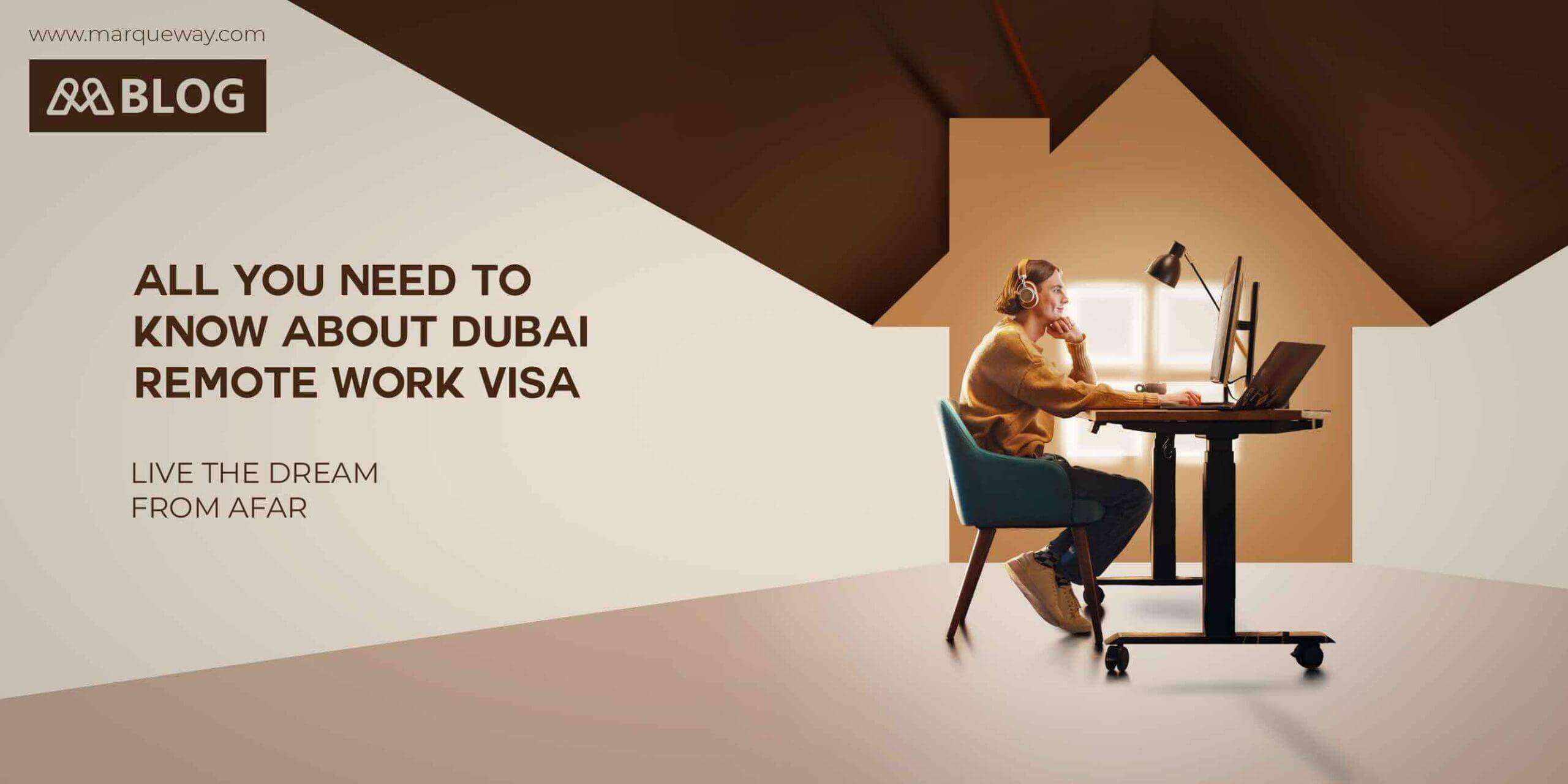 Live the dream from afar
Imagine working from an exotic oasis tucked between golden dunes and gleaming skyscrapers. Welcome to Dubai, a city that beckons remote workers from across the globe. Known for its opulent lifestyle and iconic skyline, Dubai is emerging as a prime destination for remote work, thanks to the "Work Remotely from Dubai"program and the Dubai Remote Work Visa. In this blog, we are going to take a
deeper look at the detailed information about Dubai remote work visas.
Understanding Dubai's Remote Work Visa Program
Dubai, long renowned as a magnet for businesses and entrepreneurs, expanded its appeal to digital nomads with the introduction of the "Work Remotely from Dubai" program in October 2020. This initiative offers exciting opportunities for remote workers and their families to establish a base in Dubai while continuing to work for overseas employers.
Who Can Benefit from the Virtual Working Program?
The Virtual Working Program caters to both business owners and employees. The primary requirement is a minimum monthly income of $3,500.
Duration of the Virtual Working Program
When applied to your customer data, AI unlocks a treasure trove of enhancements and revelations for your marketing efforts. For example, AI models can curate personalized content, ensuring that each customer enjoys a unique interaction with your brand. Personalized experiences significantly enhance resonance with your target audience, leading to increased engagement and conversion rates, as your messaging becomes more relevant.
Perks of Dubai's Remote Work Visa
Dubai offers a bunch of advantages for digital nomads. The city boasts high-speed internet with fixed speeds of 190 Mbps and mobile connection speeds of 274 Mbps, ensuring efficient work from any location. Visa holders receive an Emirates ID, providing access to services like banking, phone lines, and housing rentals. Enrolling children in local schools is an option, and a notable advantage is the favorable tax environment, with no income tax, capital gain tax, withholding tax, or local taxes for digital nomads. Dubai's healthcare facilities, managed by the Dubai Health Authority (DHA), offer high-quality medical care, providing peace of mind for you and your family.
Eligibility for Dubai's Remote Work Visa
Dubai's remote work visa is open to applicants of all nationalities, making it an attractive prospect for international business owners and remote workers. The fundamental requirement is a verifiable remote work arrangement. For employees, this entails providing proof of employment, including a one-year contract and a minimum monthly income of $3,500. Entrepreneurs need to
demonstrate business ownership for at least one year and an average monthly income of $3,500.
Financial Requirements
Proof of income can be established with recent pay slips and bank statements from the last quarter.
Health Insurance
Comprehensive health insurance covering expenses in the UAE is a vital requirement to ensure coverage for potential health-related expenses during your stay in Dubai.
Application Process
Initiating your Dubai Remote Work Visa application is possible online or through an agency. Begin by creating a username and password on the GDFRA portal and find the "Golden Visa" service to submit your application.
Required Documents
Essential documents include a valid passport with a minimum of six months validity. If you plan to bring family members, you must provide valid health insurance and passport proof for each family member. An application fee is also applicable.
Application Timeline
The processing of the remote work visa application typically takes five to seven days, ensuring a quick and hassle-free process for your stay in Dubai.
Expenses
Investing in the Dubai Remote Work Visa is worthwhile for those planning a year in Dubai. The benefits include the ability to lease an apartment, register utilities, and rent a vehicle
Understanding the Dubai Remote Work Visa
The Dubai Remote Work Visa is a groundbreaking initiative that transforms Dubai into an enticing destination for digital nomads. Priced at $611, this visa covers application expenses, including medical insurance premiums and the Emirates ID issuance. In addition to the visa, holders receive an Emirates ID, a multi-functional tool that facilitates various services. For those relocating with their families, this visa offers the opportunity to experience Dubai's cultural richness and high standard of living. Dubai's robust healthcare system, administered by the DHA, provides access to advanced facilities and high-quality medical care. Dubai offers a tax-friendly environment, exempting digital nomads from various local taxes, although it's essential to consider taxes in their home countries. While the Dubai virtual work visa is valid for a year and renewable, it doesn't directly lead to permanent residency, requiring a new evaluation for each renewal.
Experiencing Dubai: A Nomad's Perspective
Recognized for its contributions to global trade and commerce, Dubai attracts remote workers with its robust infrastructure and ambitious economic outlook. Whether you're eager to connect with a vibrant professional network or savor sun- soaked days on Jumeirah Beach, Dubai offers an appealing destination for remote work.
Is The Dubai Remote Work Visa a Bargain?
While the advantages of the Dubai Remote Work Visa are evident, several crucial details are worth noting.
Understanding the Application Process
The application process for the Dubai Remote Work Visa may initially appear complex, but it's straightforward. Regardless of whether you're an entrepreneur or an employee, the initial steps remain the same. The process involves filling out an online form, providing a valid passport and digital passport photo, proof of accommodation, and comprehensive health insurance valid in the UAE.
Maintaining Your Dubai Remote Work Visa
After securing the Dubai Remote Work Visa, remember the "six-month requirement." If you're absent from the UAE for over six consecutive months, your visa becomes invalid. Plan your travel accordingly to maintain your digital nomad status in Dubai
Addressing Common Queries About the Dubai Digital Nomad Visa
You may have lingering questions about the Dubai Remote Work Visa.
Dubai – Your Next Remote Working Destination
Dubai's strategic focus on innovation and sustainability, embodied in the D33 strategy, combines with a balanced lifestyle, promising an enriching experience for digital nomads. Whether you're launching a startup, networking, or simply enjoying the beauty of Jumeirah Beach, Dubai offers an appealing and prosperous life. As the future of work takes shape, the Dubai Remote Work Visa is a milestone. It's not only about geographic mobility but also a forward-thinking approach that serves as a blueprint for global cities to follow. Pack your bags; your Dubai adventure awaits!
BONUS: Business Setup in Dubai with Expert Guidance
If you're considering establishing a business setup in Dubai, consider enlisting the services of a reputable business setup consultant in Dubai and Marqueway is one of it. We can offer invaluable expertise and assistance in navigating the process of setting up a business in Dubai, making your entrepreneurial journey in this emerging city smoother and more successful.