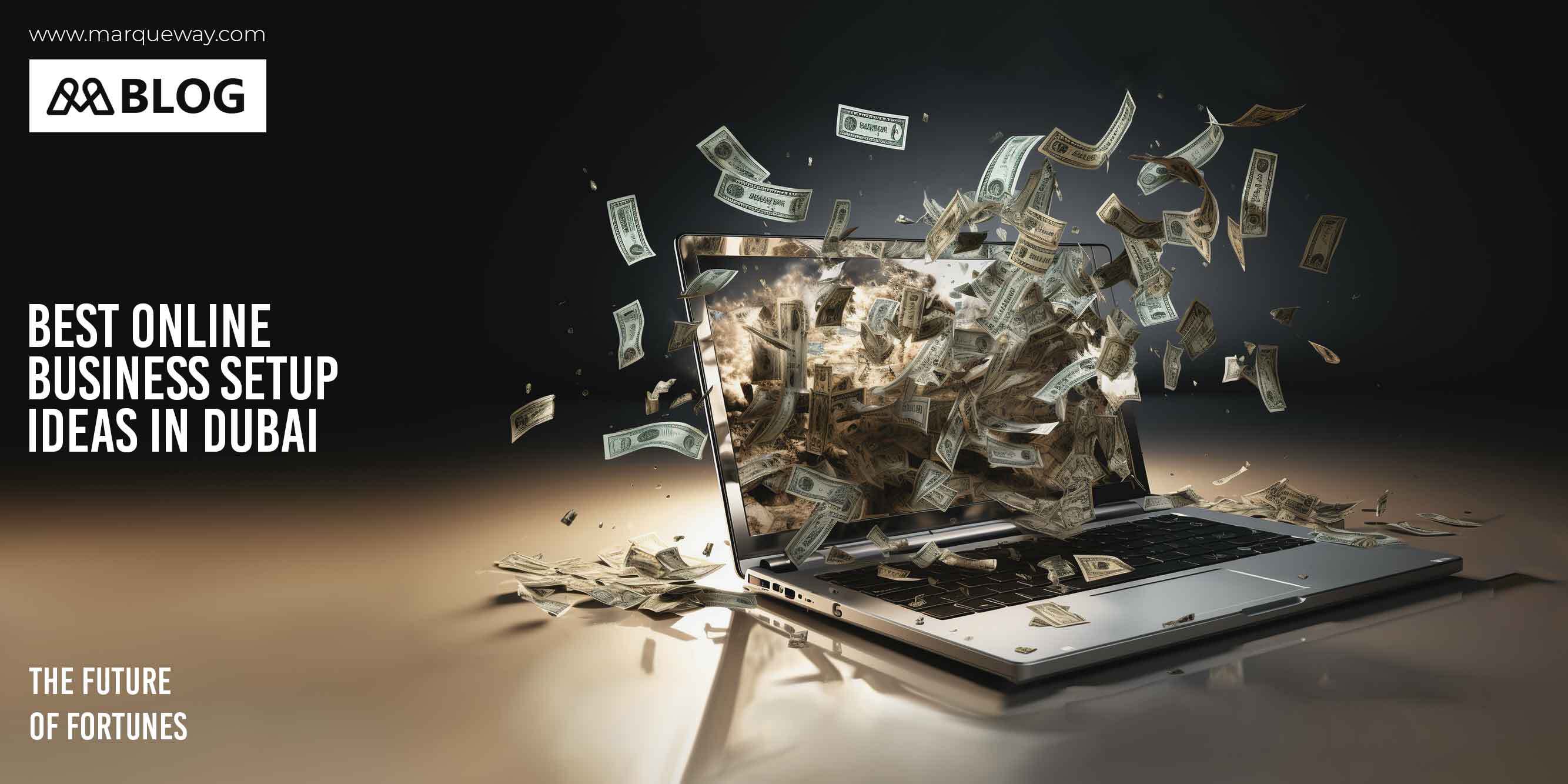 Starting a business setup in Dubai is a dream and a potential fortune for aspiring entrepreneurs globally. If you have a well-thought plan but unsure about the best business possibilities, this blog will assist you in identifying optimal online business ideas. Starting an online business is a smart choice for budding entrepreneurs due to lower risks, reduced costs, and a higher success rate.
This blog explores the best online business ideas and the legal framework for their establishment. Read on to discover the future prospects for your fortune and take a significant step forward in the business world.
E-commerce Ventures
The e-commerce business setup in Dubai is rising with high rates, spearheaded by industry giants like Souq.com, Amazon.ae, and Noon.com. Notable success stories include Basharacare.com, renowned for its specialized body and skincare products, and LetsTango.com, celebrated for its distinctive shopping experience and swift delivery.
Market projections indicate a robust 7.7% growth in the UAE's e-commerce domain by 2027. For aspiring online retailers, meticulous attention to pricing strategies, easy payment methods, top-notch SEO optimization, and robust security protocols is paramount.
Freelance Opportunities
In the dynamic digital expanse of the UAE, freelancing has emerged as a goldmine for those with diverse skills. Whether it's writing, programming, consulting, graphic design, or video editing, success hinges on identifying a niche that not only aligns with personal strengths and interests, likewise, fulfills existing market needs.
With the average pay for freelancers in the UAE witnessing a $6 uptick since 2021 and a whopping 70% of businesses actively seeking freelance talent in 2023, the freelance arena is undoubtedly a successful space.
Online Tutoring Platforms
The demand for private tutors in the UAE has spawned a surge in affordable online tutoring platforms catering to a global audience. Launching a successful online tutoring business in Dubai entails selecting an unexplored niche and incorporating key features such as a user-friendly interface, virtual interaction capabilities, diverse payment methods, and compatibility across devices.
Digital Marketing Consultancies
As online businesses proliferate in the UAE, the need for robust digital marketing strategies has never been more apparent. This presents a golden opportunity for digital marketing consultancies to craft tailored online marketing strategies encompassing social media, SEO, and content marketing. These consultancies play a pivotal role in assisting companies in building and engaging online audiences, taking cultural nuances and local preferences into account.
Fitness and Wellness Entrepreneurship
The fitness and wellness industry in the UAE provides fertile ground for online business ventures. Entrepreneurs can explore virtual fitness classes, wellness coaching, or online sales of health and wellness products. As with any new business endeavor, assessing demand, understanding the competition, and identifying market gaps are crucial steps in making a mark in this sector.
Graphic Design Services
The appetite for top graphic design services in the UAE is insatiable. Businesses are on the lookout for professional designs for websites, marketing materials, and products. Delving into freelance graphic design services can prove to be a lucrative online business, especially by carving out a unique niche or offering a distinctive style.
Video or Photo Editing
With the digital media wave sweeping across the landscape, the demand for video and photo editing services is on the rise. This could involve anything from editing videos for businesses to creating compelling promotional videos or offering expert photo editing services for professional photographers or businesses.
Social Media Marketing
In a digital age dominated by social media, business setups in Dubai are constantly seeking effective ways to engage their audience on these platforms. Offering social media marketing services, encompassing tasks like managing company accounts, crafting engaging content, and running targeted advertising campaigns, can be a promising online business idea. 
Legal aspects of online business setup in Dubai
While the digital landscape promises abundant opportunities, aligning with specific legal and regulatory frameworks is equally essential.
Licensing Requirements: Setting the Foundation
Obtaining an e-commerce license is the foundational step for launching an online business in the UAE. Issued by the Department of Economic Development (DED) in the respective emirate, this license integrates online trade activities. In Abu Dhabi, entrepreneurs can seamlessly incorporate online trade into existing licenses or acquire a new license for online business via websites and social media networks. Dubai, on the other hand, offers the E-Trader license from Dubai Economy (DED), facilitating UAE and GCC nationals in conducting business activities through various social media platforms.
Structuring Your Business Legally: A Critical Decision
Determining the legal structure of your online business is a crucial decision. The UAE offers diverse business structures, including sole proprietorships, partnerships, and corporations. The selection depends on factors such as the nature of your venture, financial capabilities, and long-term business objectives.
Online Sales Regulations: A Regulatory Framework
Supervising the e-commerce landscape and transactions falls under the jurisdiction of the Telecommunications and Digital Government Regulatory Authority. Ensuring adherence to relevant laws and regulations, Federal Decree-Law No. 46/2021 promotes electronic transactions, investment, and e-commerce, establishing the authority responsible for regulating activities, issuing rules for the Electronic Identification System, and verifying procedures for digital identity.
Safeguarding Intellectual Property: A Legal Imperative
Protecting intellectual property rights is non-negotiable in the UAE's online business scenario. Various laws and regulations, such as Federal Law No. 15/2020, shield consumers from deceptive online advertisements. As an online business owner, aligning marketing and advertising practices with these regulations is essential to mitigate legal consequences.
Setup your business with Marqueway
Navigating the intricacies of setting up a business in Dubai involves understanding the legal framework and addressing potential doubts and risks. However, you don't have to face these challenges alone. Having a knowledgeable guide by your side can make the process smoother, ensuring a tension-free start to your business.
Marqueway business setup consultants in Dubai could be your committed partners in the Dubai business landscape. With enough experience and expertise, we are dedicated to helping you swiftly and securely reach your entrepreneurial dreams. Contact us now, and let us reshape your fortunes for the better.