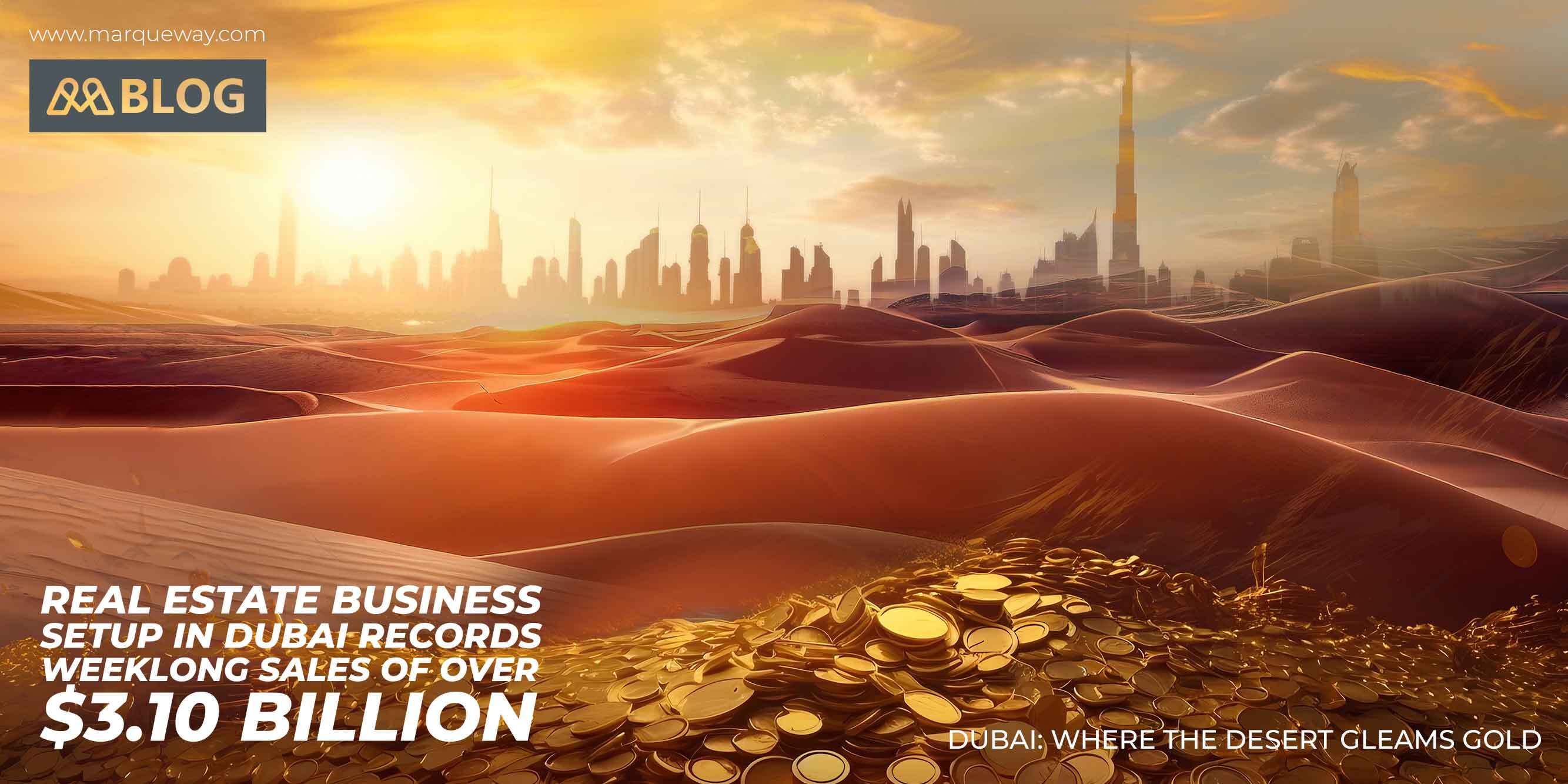 With time, the real estate business setup in Dubai leaps to new heights. This is a city where people desire to live, and the consistent record of land sales supports this claim. Even the most recent Dubai Land Reports highlights the highest number of land transactions ever.
If you want to achieve instant success unrivalled by any other business idea, starting a real estate business in Dubai  is the best option. This blog covers recent record-breaking sales and the future of real estate industry. If you are an aspiring business enthusiast, read further to discover key facts and insights about this topic.
The recent news:
In a testament to Dubai's economic resilience, the real estate market experienced a significant surge, surpassing AED 11.4 billion in transactions for the week ending November 17, 2023. This upswing which was reported by the Dubai Land Department (DLD)  not only underlines the strength of the emirate's property sector but also unveils promising opportunities for investors and budding entrepreneurs.
The Week's Highlights:
Last week showcased extraordinary real estate activity, with a total of 2,421 sales transactions valued at AED 9.32 billion. Notably, 492 plots changed hands, contributing AED 4.78 billion, while 1,929 apartments and villas collectively amounted to AED 4.54 billion. Have you ever thought a bunch of sand could be a land of heaven? That is what Dubai has evolved into. With these record weekly sales, it has turned into a tiny slice of heaven on Earth.
Notable Transactions:
Three standout transactions captured attention during the past week. A parcel of land in Mohammed Bin Rashid Gardens fetched an impressive AED 201.82 million, followed by two lands in Wadi Al Safa 3, selling for AED 142 million and AED 132.95 million, respectively.
Geographical Distribution:
The geographical landscape revealed Me'aisem Second as a pivotal player, recording 101 transactions valued at AED 1.04 billion. Wadi Al Safa 2 closely followed with 80 transactions totaling AED 82.24 million, and Palm Jabal Ali made a significant contribution with 79 transactions amounting to AED 1.99 billion.
Also refer, https://www.zawya.com/en/business/real-estate/dubais-weeklong-real-estate-transactions-record-over-310bln-egl909g7 
Future Benefits and Opportunities:
As the real estate market in Dubai continues to evolve, the record-breaking transactions in the recent week presents multifaceted future benefits for investors and entrepreneurs:
Diverse Investment Opportunities:
Dubai's real estate sector offers a handful of investment opportunities, ranging from commercial ventures in the bustling Business Bay to residential plots in emerging neighborhoods. This diversity ensures that investors can find options best for their specific interests and financial objectives.
Thriving Market Dynamics:
The robust transactions witnessed in the recent report signal a thriving market with sustained demand. Entrepreneurs entering the real estate arena in Dubai can leverage this dynamic environment, backed by the emirate's resilient economic foundation.
Global Real Estate Hub:
Dubai's status as a global real estate hub is further solidified by the recent surge in transactions. Investing in the emirate provides access to an international market, attracting investors from around the world and fostering a cosmopolitan real estate landscape.
Innovative Urban Development:
Dubai's commitment to innovative urban development is evident in the transactions, with areas like Me'aisem Second and Wadi Al Safa 2 witnessing significant activity. Entrepreneurs can capitalize on this momentum by participating in projects that contribute to the city's modern and sustainable growth.
The reality of real estate business
The buoyancy in Dubai's real estate market sets the stage for a promising future. Entrepreneurs considering a real estate business setup in Dubai can benefit from diverse opportunities like it provides an excellent market, the city's global prominence, and the ongoing commitment to innovative urban development. As the market evolves, Dubai remains a beacon of opportunity for those looking to participate in the dynamic and lucrative world of real estate.
Marqueway is a dedicated business setup consultant in Dubai who provides constant support and confidence to entrepreneurs who wish to start their business ventures. With over 5 years of experience in the market, we have cultivated a distinct reputation among our clients. Whether your business concept revolves around real estate or any other industry, we are committed to assisting you in obtaining your license seamlessly. Initiating a business setup in Dubai is just a call away. Contact us to turn your entrepreneurial vision into reality.
Also read this blog to learn about the 3 profitable locations to invest in real estate business in Dubai.