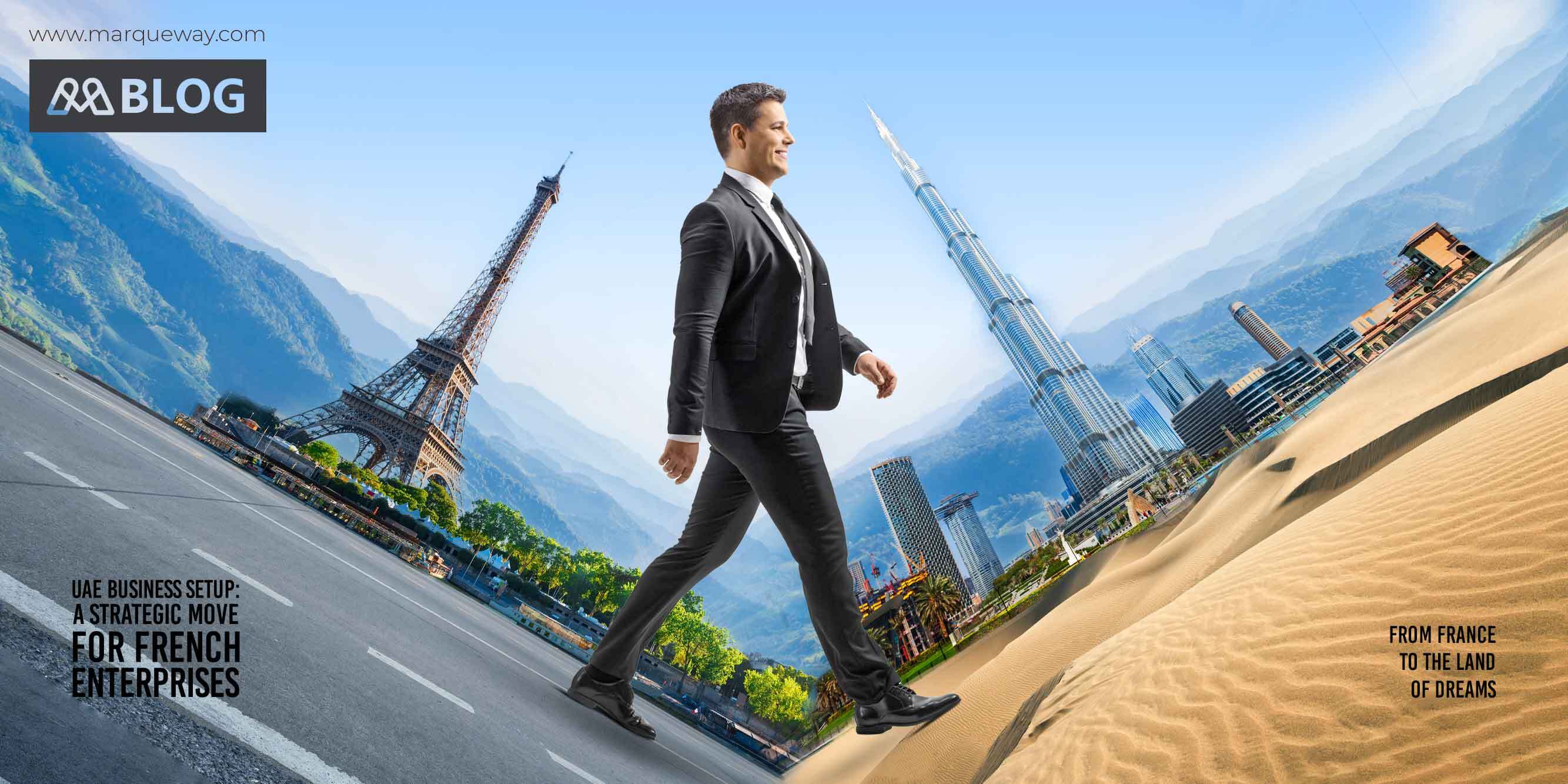 Setting up a business in UAE is becoming increasingly appealing, as it offers a multitude of promising prospects for enterprises. The global business community has its eyes set on the UAE, aiming to enhance its market position. Recently, the Trade and Investment Commissioner of France quoted the UAE's pivotal role as a key market for French companies and a gateway to regional markets. This recognition further encourages French enterprises to explore establishing their business setup in Dubai, UAE. This blog will go further into the most recent developments and news about French enterprises entering the UAE market.
Recent Update on French relation with UAE
Axel Baroux, the French Trade and Investment Commissioner to the UAE and the Regional Director of Business France in the Middle East, highlighted the impressive presence of over 600 French companies operating in the UAE. His note has made French relations with the UAE more intense, which will definitely help French enterprises confidently knot their attachment to the UAE market.
Successful Trade and Investment Ties
The UAE and France have already made strong trade and investment ties. French exports to the UAE exceed 4.8 billion euros, while the UAE imports from France surpass 2.5 billion euros. These numbers underscore the strong economic partnership between the two nations. French businesses have found  success in the UAE market, spanning diverse sectors, including food, food processing equipment, and transportation equipment. Notably, the pharmaceutical, health, and cosmetics industries are leading the way.
Showcasing Relations at the Gulfood Manufacturing Exhibition
The importance of the UAE as a business destination for French companies was evident at the Gulfood Manufacturing exhibition in Dubai, where France was represented by 48 companies. Out of these, 20 specialized in food processing, while 28 were involved in agricultural and food equipment and logistics services. This exhibition was a prime opportunity for French companies to explore new partnerships, sign agreements, and strengthen cooperation with specialized entities in the field of food industries and agricultural equipment in the Middle East region.
Future Plans for the GulFood Exhibition
French participation in events like the Gulfood Manufacturing exhibition highlights the long-term commitment of French companies to the UAE market. In the near future, about 100 French companies are set to participate in the GulFood exhibition, showcasing their advancements and exploring new opportunities. This continued engagement underscores the UAE's significance as a growth platform for international businesses.
Adapting to UAE's Food Safety Requirements
The UAE's food safety standards have paramount importance comparing to other companies. French participants in the exhibition are keen on adapting to these requirements. France is already the fifth largest European supplier of food ingredients to the UAE, and French businesses are committed to delivering quality products that meet the highest food safety standards.
Setting up a business in the UAE, particularly in Dubai, offers several key advantages:
Strategic Location: The UAE's geographical location creates a natural bridge between the East and the West. It provides easy access to both mature and emerging markets in the Middle East, Asia, and Africa.
Business-Friendly Environment: The UAE highlights a business-friendly regulatory framework with minimal bureaucracy, making it easier for foreign companies to start their business setup in Dubai.
Tax Benefits: Dubai, in particular, offers a zero-tax environment for businesses in many sectors. This tax advantage has attracted numerous international businesses.
World-Class Infrastructure: The UAE is known for its world-class infrastructure, including modern transportation networks, advanced ports, and communication systems that facilitate smooth business operations.
Diverse Economy: The UAE's diverse economy encompasses a wide range of sectors, from finance and tourism to logistics and technology, providing opportunities for businesses across various industries.
Business Setup in Dubai for French Enterprises
Dubai, as one of the UAE's leading business hubs, offers a multitude of business setup options for French enterprises. Whether you're looking to establish a Free Zone company, a mainland business, or a branch office, Dubai provides flexible solutions best suited to your business needs. The Free Zones, in particular, offer 100% foreign ownership and various incentives, making them attractive for foreign investors.
Marqueway business setup consultants are available at all times
The UAE is a place that presents a wealth of opportunities for foreign entrepreneurs, including those from France. The number of French businesses in the UAE is rising like wildfire, pointing out the innumerable opportunities and business-friendly environment that this part of the world provides. The UAE is the best choice if you are planning to expand your business globally.
Further, for making your UAE dreams soar, there are certain procedures that you need to follow. It may seem a bit daunting, and the best choice is to hire a business setup consultant in Dubai to assist you all the time. Marqueway business setup consultants are always a call away for you. With our professional assistance, you can swipe away all your daunting tasks for setting up a business in the UAE. Contact us to learn more.